Will and Guy ponder should it be spelt dog house, doghouse or even dog-house. What ever the spelling, here is the amazing story of
Zdzislaw.
Poor Pole in the Funny Dog House
In February, Zdzislaw Bukarowcz, a seventy-five year old Polish man from Scinawa, lived in a dog's
kennel for three weeks. It was all the work of his zona*, Mrs Bukarowcz, her reason for dishing out this punishment was because
Zdzislaw repeatedly
came home drunk.
She chained him to the kennel and fed him on dog food; Zdzislaw was given water from a dog bowl. At night the temperatures often dropped to minus 20 degrees Celsius.
Pani Bukarowcz told reporters that she was sick of him wasting all their money
on vodka. His drinking companions, worried by his non-attendance in the pub, eventually freed him from his imprisonment in the dog house and called the police.
* Zona is Polish for wife. Pani means Mrs in Polish.
(We don't know the Polish for 'Dog house')
Zdzislaw and Friends Celebrate
Eventually,
Zdzislaw's wife relented and let her husband and friends have a drink, but she said they must only have one cup each or it will be back to the
funny dog
house.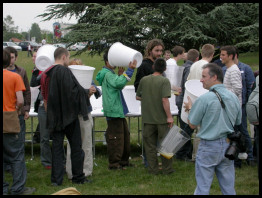 Chinese Proverb:
Wife who put husband in doghouse soon find him in
cathouse.
No-go Dog House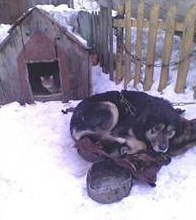 Possession is 9/10 of the law. Is that a cat I see in the dog house?
Surely it couldn't be a fox?
Please send us your funny dog house story or pictures.
Out of the Dog House?
Hitting on the novel idea that he could end his wife's incessant nagging
by giving her a good scare, Hungarian Jake Fen built an elaborate harness to
make it look as if he had hanged himself. When his wife came home and saw
him she fainted.
Apparently on hearing a disturbance their neighbour came over and,
finding what she thought were two corpses, seized the opportunity to loot
the place.
As she was leaving the room, her arms laden, the outraged and suspended
Mr Fen kicked her stoutly in the backside. This so surprised the lady that
she dropped dead of a heart attack.
We can confirm that Mr Fen was acquitted of manslaughter and he and his
wife have been reconciled.
When Thing Cannot
Get Worse for a Dog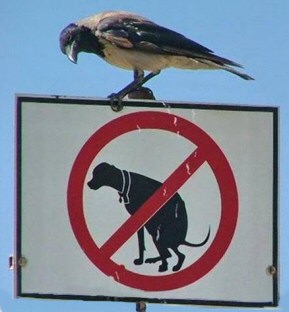 Animals Get a Nice Drink
At -40 0, animals at zoos in Moscow were feeling the cold. Kind keepers and decided to give them shots, or in some cases buckets, of vodka, to keep them warm.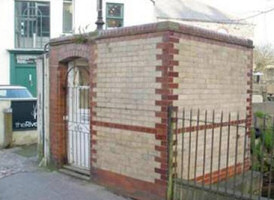 In Lipetsk, where the temperatures
was only -30 0, the zoo's
macaques were fortified with cheap French table wine to stave
off the chill.
Who will Buy the 'Tardis House'?
The 125 year leasehold on this 44 square foot property is for sale in Truro,
Cornwall, UK, for the sum of £19,950 [ $ 39,500 USD]. Will and Guy have learned
that the building has one door and a Perspex roof but they cannot confirm that
Dr Who has put in an offer.
The name TARDIS is a registered trademark of the British Broadcasting
Corporation [BBC]. The TARDIS [Time and Relative Dimension(s) in Space] is a
time machine and spacecraft in the British science fiction television programme
Doctor Who.
Finally, we muse, could this be the ultimate dog house? If you look at
the picture, could it be that the man in that white house behind gets banished to
the Tardis Dog House? How to
build your dog house
Politician in the Doghouse
A would-be mayor in Bacau, eastern Romania is in the 'dog house' after
turning packs of stray dogs into living billboards advertising his intention to
stand in the mayoral election. Puzzled voters found their streets flooded with
dogs; all wearing posters saying 'Vote for Radu Nicolau' on their backs.
The idea has angered local animal rights groups but the dogged Nicolau is
unrepentant, and is quoted as saying, 'It's the best way to get my message
across. I love dogs and they can spread the word about my campaign to lots of
places quicker than me and my campaign team could.'
From the Sublime to the
Ridiculous

The town of Pillsbury, Barnes County, North Dakota, USA, [population 11] were
meant to have their mayoral election last week. However, Will and Guy have
learned that no one turned up to vote, not even the candidates. So the
polling booths remained empty all day.
Apparently the hamlet usually has a splendid turn out on election day
with some half a dozen folks casting their votes. The sitting mayor, Mayor Brudevold, ran unopposed for re-election. His wife, Ruth, and Dan Lindseth faced
no challengers for their alderman seats. We have established that the main
reason for people not visiting the polls were that they were just too busy
working.
Footnote:
Please send us your funny dog house stories.