Here are our selection of funny football pictures and stupid remarks.
1) Do not wear football boots on the pitch.
They must have know that the Colombian team was in town!
NEUSS, June 1: The Colombian football team, who have not qualified for the World Cup but play Germany in a friendly on Friday, had to cancel their
training session Wednesday because they had no boots.
The South Americans arrived earlier in the day from Poland where they beat the Polish side - who line up in the same World Cup group as Germany - 2-1 on
Tuesday. The players'
boots somehow went walkabout between the two destinations. No word was given on when the Colombians will hold their first training session on German soil ahead of the friendly.
2) The big match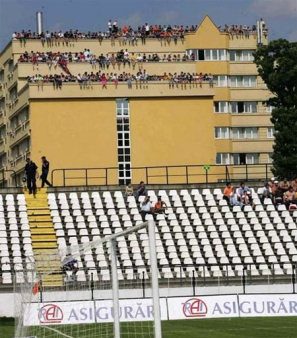 3) Guy's
Weather Stone
Here we have trusty technology from the past: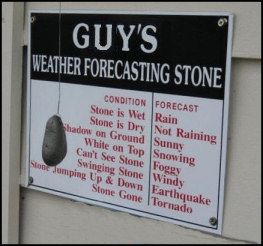 4) Football Joke - Seat in Stand?
Bernie and Eddie were fortunate enough to have a season ticket to watch Manchester United. They could not help noticing that there was always a spare seat next (K37) to them and they had a friend who
would love to buy a season ticket, especially if all three could have seats together.
One half-time Bernie went to the ticket office and asked if they could by buy the season ticket for K37. The
official said that unfortunately the ticket had been sold. Nevertheless, week after week the seat was still empty.
Then on Boxing day, much to Bernie and Eddie's
amazement the seat was taken for the
first time that season. Eddie could not resist asking the newcomer, 'Where have you been all season'
. Don't
ask he said, the wife bought the season ticket back last summer, and kept it for a
surprise Christmas present.
5) Stupid Remarks
I felt a lump in my mouth as the ball went in
Terry Venables
It will be a shame if either
side lose, and that applies to both sides
Jock Brown
At the end of the day, the Arsenal fans demand that we put eleven players on the pitch
Don Howe
Nottingham Forest are having a bad run, they've lost six matches in a row now without winning
David Coleman
He hit the post, and after the
game people will say, well, he hit the post
Jimmy Greaves
P.S. Please write to Will and Guy if you have any funny football pictures
See more clean football jokes and funny stories:
• Football Home •
2014 World Cup jokes •
Stupid footballers •
Football Jokes •
Football bloopers
• Crazy football
bets •
Funny football stories •
Funny footballer quotes •
Footballer nicknames
•
Funny Referee •
Funny football pictures
• Funny football photos •
Funny Super Bowl jokes