Will and Guy's collection of Christmas tales, many with a
humorous twist. Also, please send us your Short Christmas story
and we will publish it with a credit to you.
The Missing Five Pound Note
Dear Santa
Carol's in a
Stable at
Christmas
Santa Gets a Parking Ticket
Christmas is for Love
A Warm Witty Christmas
Story
Christmas Tree Stories
Funny Christmas Stories
The Missing
Five Pound Note
Chippenham George worked for the Post Office and his job was to process all the mail
that had illegible addresses. One day just before Christmas, a letter landed on his desk simply addressed in shaky handwriting: 'To God'. With no other clue on the envelope, George opened the letter and
read:
Dear God,
I am an 93 year old widow living on the State pension. Yesterday someone stole my purse. It had £100 in it, which was all the money I had in the world and no pension due
until after Christmas. Next week is Christmas and I had invited two of my friends over for Christmas lunch. Without that money, I have nothing to buy food with. I have no family to turn to, and you are
my only hope. God; can you please help me?
Chippenham George was really touched, and being kind hearted, he put a copy of the letter up on the staff notice board at the main Fareham sorting office where he
worked. The letter touched the other postmen and they all dug into their pockets and had a whip round. Between them they raised £95. [$170 USD] Using an officially franked Post Office envelope, they sent
the cash on to the old lady, and for the rest of the day, all the workers felt a warm glow thinking of the nice thing they had done.
Christmas came and went. A few days later, another letter simply
addressed to 'God' landed in the Sorting Office. Many of the postmen gathered around while George opened the letter. It read,
Dear God,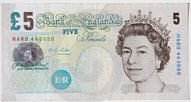 How can I ever thank you enough for what you did for me? Because
of your generosity, I was able to provide a lovely luncheon for my friends. We had a very nice day, and I told my friends of your wonderful gift - in fact we haven't gotten over it and even Father John,
our parish priest, is beside himself with joy. By the way, there was £5 [$10 USD] missing. I think it must have been those thieving fellows at the Post Office.
George could not
help musing on Oscar Wilde's quote: 'A good deed never goes unpunished'
Gerry Adams Joke Bank Note
A rumour circulated that Sinn Fein, the political wing of the IRA,
was involved in the £26.5m raid on the Northern Bank in Belfast in
December 2004. It was not long before humorists created Gerry
Adams pictures on 'funny money'.
Dear Santa....
French police have had their wish granted after writing to Father Christmas to ask for new police cars. Police in Marignane, near Marseille told Santa 'even your sleigh is faster' after being told
there was not enough money in the coffers to replace their ageing cars. The letter, addressed to Father Christmas and written on official police note paper, read, 'Dear Santa, our cars can't
handle the job any more. If you think we are exaggerating, you can try out the cars yourself. Even your sleigh is better than one of them.'
Local authorities have now put up the cash to
buy new cars for police after seeing the letter published in the Christmas stories section of a local paper.
The Saga of Santa Hats in the Philippines
More than 1,000 police officers are wearing Santa hats in the Philippine capital for the Christmas holidays, traditionally the busiest time for thieves.
Manila police spokesman Giovanni Valera
said, 'We are wearing this to show the people that during this Christmas season our hearts and minds are on serving the Filipino people.'
Metropolitan Manila police chief Geary Barias said 1,000
officers and 700 police recruits have traded their blue caps for Santa hats to patrols the crime-ridden streets. Residents generally praised the idea. 'This serves as a reminder that Christmas is coming
and we should have peace,' said Dennis Perez, one of the locals.
Footnote:
Will and Guy think that Santa hats for Police officers at Christmas is a nice 'softly softly' touch. But see
here for Santa hat killjoys in Hull UK
Very Short Christmas Stories
Carol's in a
Stable at Christmas
A mother named Carol Christmas is planning her family festive
celebrations in a stable. What happened was Carol was forced out of her home by the summer floods which swept across the UK in 2007. Mrs Christmas, said she has been preparing to take part in 'her own nativity' since
her cottage in Bushley, near Tewkesbury, Gloucestershire, UK, was wrecked by the deluge in July. Her family have been staying in a neighbour's stable conversion for the past five months while repair
work is carried out on their home.
See Christmas Traditions Around
the World
Merry Christmas to You, Mary Christmas
Merry Christmas to you, Mary Christmas. That's what the former Mary
Young is will be hearing this holiday season, after she married Brian
Christmas recently.
'It was meant to be,' Mary Christmas told her local newspaper. 'God
has a sense of humour. What are the chances that it would ever happen?'
She has found, however, that she is not alone. Mary Christmas has been
working at Ancestry.com for three years and discovered there are as many
as 100 other Mary Christmases in the United States. 'The last name of
Christmas has its origins in Wales,' she said, 'It was given to people
that were born on Christmas Day,' she continued.
Service?
It was a cold and misty Christmas morning in the very depth of winter
after a heavy fall of snow and only Farmer Evans and the Reverend Joseph
Lancaster managed to arrive at the church for the morning service.
'Well,' said the Vicar laconically, 'I guess there's no point in
having a service today.'
'Well that's not how I see it.' said Farmer Evans smartly. 'If only
one cow turns up at feeding time, I still feed it.'
See more stories about Christmas
Christmas Tale: Santa Get's a Parking Ticket
In England a jobsworth was at work in Nottingham where Santa got a
parking ticket, a warden booked him after his sleigh stopped on yellow
lines. Richard Walters, pictured left, dressed in a Father Christmas costume
had towed the sleigh behind his Land Rover to a street in Nottingham
where the Round Table was making a charity collection and as he
unhitched it and pushed it on to the pavement the warden struck.
Furious Richard, 38, exploded, 'It's ridiculous. We are raising money
for a good cause at Christmas. I will be appealing.'
Meanwhile in New Zealand Jobsworths See the Light
Nelson City Council, in South Island, New Zealand has withdrawn a
parking ticket issued to a Salvation Army van as it loaded up with
Christmas presents for needy children in a show of real Christmas spirit
which should be commended.
The van was parked on yellow lines while it collected the donated
goods in Nelson. Will and Guy have learned that parking the warden
apologised to the driver as the $60 ticket was handed over. The
council said it had received a satisfactory explanation from the
Salvation Army for the infringement and the notice had been cancelled.
Merry Christmas is what we say!
Christmas is for
Love - Classic Tale
'Christmas is for love' is a short story that Will and Guy have found on the
internet and we
would like to share it with you, the author remains unknown. It is not funny but is worth reading when considering what the Christmas message means to each of us as individuals.
Christmas is for
love. It is for joy, for giving and sharing, for laughter, for reuniting with family and friends, for tinsel and brightly covered packages. But, mostly Christmas is for love. I had not believed this
until a small elfin like pupil with wide innocent eyes and soft rosy cheeks gave me a wondrous gift one Christmas.
Matthew was a 10 year old orphan who lived with his aunt, a bitter, middle aged
woman greatly annoyed with the burden of caring for her dead sister's son. She never failed to remind young Matthew, if it hadn't been for her generosity, he would be a vagrant, homeless waif. Still,
with all the scolding and chilliness at home, he was a sweet and gentle child.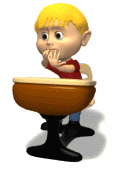 I had not noticed Matthew particularly until he began staying after class each day [at the risk of arousing his aunt's
anger so I learned later] to help me straighten up the room. We did this quietly and comfortably, not speaking much, but enjoying the solitude of that hour of the day. When we did talk, Matthew spoke
mostly of his mother. Though he was quite young when she died, he remembered a kind, gentle, loving woman who always spent time with him.
As Christmas drew near however, Matthew failed to
stay after school each day. I looked forward to his coming, and when the days passed and he continued to scamper hurriedly from the room after class, I stopped him one afternoon and asked him why
he no longer helped me in the room. I told him how I had missed him, and his large brown eyes lit up eagerly as he replied, 'Did you really miss me?'
I explained how he had been my best helper,
'I was making you
a surprise,' he whispered confidentially. 'It's for Christmas.' With that, he became embarrassed and dashed from the room. He didn't stay after school any more after that.

Finally came the last
school day before Christmas. Matthew crept slowly into the room late that afternoon with his hands concealing something behind his back. 'I have your present,' he said timidly when I looked
up. 'I hope
you like it.' He held out his hands, and there lying in his small palms was a tiny wooden box.
'It's beautiful, Matthew. Is there something in it?' I asked opening the top to look
inside. 'Oh you
can't see what's in it,' he replied, 'and you can't touch it, or taste it or feel it, but mother always said it makes you feel good all the time, warm on cold nights and safe when you're all alone.'
I gazed into the empty box. 'What is it, Matthew' I asked gently, 'that will make me feel so good?'
'It's love,' he whispered softly, 'and mother always said it's best when you give it away.' He
turned and quietly left the room.
So now I keep a small box crudely made of scraps of wood on the piano in my living room and only smile when inquiring friends raise quizzical eyebrows when I explain
to them there is love in it.
Yes, Christmas is for gaiety, mirth, song, and for good and wondrous gifts. But mostly, Christmas is for love.
A Warm Witty Short Christmas Story
It was the day after Christmas at St Peter and St Paul's church in
Borden, Kent, England. Father John, the vicar, was looking at the nativity
scene outside when he noticed the baby Jesus was missing from the figures.
Immediately, Father John's thoughts turned to calling in the local
policeman but as he was about to do so, he saw little Nathan with a red
wagon, and in the wagon was the figure of the little infant, Jesus.
Father John approached Nathan and asked him, 'Well, Nathan, where did you
get the little infant?'
Nathan looked up, smiled and replied, 'I took him from the church.'
'And why did you take him?'
With a sheepish grin, Nathan said, 'Well, Father John, about a week
before Christmas I prayed to Lord Jesus. I told him if he would bring me a
red wagon for Christmas, I would give him a ride around the block in it.'
Another Christmas Short Story: An Irreligious Slant Which May Make You
Smile
Continuing the current trend of large-scale mergers and acquisitions,
Will and Guy attended a press conference last week where was announced that
Christmas and Hanukkah will merge. An industry source said that the deal had
taken approximately 1300 years to agree.
While details were not available at this time, it is believed that the
overhead cost of having twelve days of Christmas and eight days of Hanukkah
was becoming prohibitive for both sides. By combining forces, we're told,
the world will be able to enjoy consistently high-quality service during the
'Fifteen Days of Chrismukkah', as the new holiday is being called.
Massive layoffs are expected, with lords a-leaping and maids a-milking
being the hardest hit. As part of the conditions of the agreement, the
letters on the dreydl, currently in Hebrew, will be replaced by Latin, thus
becoming unintelligible to a much wider audience.
Also, instead of translating to "A great miracle happened there," the
message on the *dreydl will be the more generic "Miraculous stuff happens."
In exchange, it is believed that Jews will be allowed to use Santa Claus and
his vast merchandising resources for buying and delivering their gifts.
One of the sticking points holding up the agreement for at least three
hundred years was the question of whether Jewish children could leave milk
and biscuits or cookies for Santa even after having eaten meat for dinner. A
breakthrough came last year, when Oreos were finally declared to be Kosher.
All sides appeared happy about this.
A spokesman for Christmas Ltd.,
declined to say whether a takeover of Kwanzaa might not be in the works as
well. He merely pointed out that, were it not for the independent existence
of Kwanzaa, the merger between Christmas and Chanukah [Hanukkah] might
indeed be seen as an unfair cornering of the holiday market. Fortunately for
all concerned, he said, Kwanzaa will help to maintain the competitive
balance.
He then closed the press conference by leading all present in a rousing
rendition of "Oy Vey, All Ye Faithful."
*Dreidel or dreydl is a Jewish game using a 4 sided top.
Christmas Celebration Banned - 1695
Let us go back in time; back to the year of our lord 1695, and to the place called Bay Colony in Massachusetts. We arrive at the meeting house just in time to hear the General
Council pass a law forbidding the celebration of Christmas. To enforce their diktat the Council require a five-shilling fine from anyone caught, 'Observing any such day as Christmas or the like,
either by forbearing of labour, feasting, or any other way.'
We have to remember that in 1695 these colonists were strict Puritans, thus they took the line that there was no Biblical reference to
seasonal excess at Christmas. Consequently, they kept to the pure religious observance of Christmas with no feasting.
See another Christmas story
World's
First Musical Sandwich
Tesco is launching what it claims is the world's
first musical sandwich.
The sandwich plays a medley of Christmas tunes when the packaging is opened. Tunes include Jingle Bells, Santa Claus is Coming to Town and We Wish You a Merry Christmas.
It features the same technology used in talking
greetings cards. 'The concept of musical sandwiches is something We've been looking at for a while now and we thought Christmas would be the perfect time', said Tesco spokesman Jonathan Church.
Tesco's
musical sandwich is a traditional Christmas combination of turkey and cranberry sauce with pork and cranberry stuffing.
A Silly, Short, Funny
Tale At Christmas
The Crist family worked at a zoo.
Each year they predicted the general luck and overall mood of the year by
watching the gnu. If the gnu's ears were forward, that meant a successful,
joyous year was almost certain to happen. But if his ears were laid back
flat against his head, it meant that an unlucky or very unhappy year was
sure to come.
One year it was young Mary turn to "survey" the animal and come up with
the prediction. It was her first time solo, and in her excitement, she
forgot to take the key to the cage. She was late in coming to check on the
gnu. Well, she saw the wrong ear position and predicted a bad year, when in
fact it was quite good. To explain the error, the local newspaper ran the
following headline a year later:
Mary Crist misses an happy gnu's year.
An Inspiring Parable At
Christmas: It Is More Blessed To Give Than To Receive*
Corinne was a little girl who was all alone in the world. Her father and
mother were both dead. Corinne was so poor that she no longer had a room to
live in; neither did she have a bed to sleep in. All Corinne owned were the
clothes that she was wearing. As regards food, she had nothing more to eat
than a small piece of bread that someone had given her.
Corinne was forsaken by all the world but hoped that God would find a way
to help her.
One day she left her home village. Corinne hadn't walked
very far when she saw an old man sitting by the wayside. 'Oh, my dear child,
give me something to eat. I'm so hungry,' he murmured to her. Corinne,
without hesitation, gave him her piece of bread.
When she had gone a little further and the church spire of her village
could no longer be seen, she came upon ayoung child. He only had a shirt on
and begged, 'Could you give me something to cover my head? I'm so terribly
cold.' Corinne, taking pity on the child took off her bonnet and gave it to
him.
Further along the road Corinne observed another child by the woods. She
only wore a vest and was trembling with cold. She pleaded, 'Dear girl, I'm
so terribly cold without a skirt. Haven't you a little skirt for me?'
Corinne, herself, only had her vest and skirt but without hesitating she
took off her skirt and presented it to the freezing child and walked on.
Meanwhile it had become evening. It was dark in the woods. Then another
child came towards her and asked, 'I'm so cold, haven't you a vest for me?'
Corinne considered this carefully; she thought it's dark here in the
wood. Nobody will see me. It won't matter if I have no clothes and she took
off her vest, too, and handed it to the child.
As Corinne stood there without any clothes, the stars started to fall
down from the sky. They were all hard, shining pennies and although she had
just given away her vest, she realized she had new one on. It was made out
of the most delicate fabric and much nicer than her own. Corinne held out
the vest with both hands and collected as many of the pennies as she could.
From then on she was rich and lived without any worries at all.
*Bible: Acts 20:35
More Short Christmas Stories
It really depends on what you mean by 'Short' Christmas story.
Perhaps ours are ultra-short Christmas tales, if so, try our collection of
medium length tales.
Footnote:
Please send us your short Christmas story.
See more funny Short Christmas stories:
∗
Short Christmas stories ∗
Funny Xmas stories ∗
Snowman stories ∗
Christmas kids stories
∗
Religious Christmas story ∗
Christmas children's
stories ∗
Christmas tree stories ∗
Mistletoe
∗
Funny nativity play ∗
Funny Santa letters ∗
Christmas angel stories ∗
Christmas news stories