Will and Guy are building a collection of amusing names for bars, drinking
houses, pubs, boozers, call them what you will. Our only criterion is
a pub sign that raises a smile.
Funny, Amusing, Hilarious and Strange Pub Names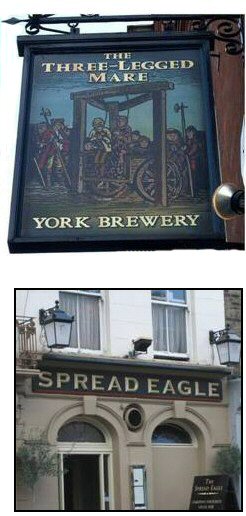 When younger, Will and Guy were regular pub goers, and the names of pubs
were often a source of some amusement. While listening to the BBC news the
other day we heard that the American Embassy in Baghdad had hired an
Englishman to create and make a pub sign for the embassy bar. We think it is
to be called "The Bolt Hole" an apt and amusing name.
This led us to research "funny and amusing pub names"
particularly in the UK and in Ireland.
History of Pub Names
Originally, public house names reflected the history of the country or the area in
which they were sited. Names from the past tended to be patriotic or royal.
Common names in the UK include:
The Crown - this is representative of the King or Queen.
The Red Lion - this pub name became popular when James I ordered red
lions to be displayed outside all public places.
Royal Oak - this only became popular after Charles II escaped during
the English Civil War by hiding behind an Oak tree.
Swan - a symbol used commonly in the coat of arms. All swans [the
birds] are owned by the Queen and protected by law.
White Hart - this was the heraldic symbol of King Richard II.

Duke of Buckingham - named after the Duke who was murdered in Old
Portsmouth in 1628.
Let Us Preserve Old Pub Names
Many of the old tavern names are in danger of disappearing as large
conglomerations buy up pubs and change their names to "modern" equivalents.
Throughout Britain "Harvester" pubs, "Slug and Lettuce" and "Beefeater" pubs
can be found, owned by these big groups.
Will and Guy bemoan the loss of the heritage connected with the old
names. Many of these inns can still be found when travelling around Britain
and Ireland.
Will and Guy have started a collection of funny pub signs to
bring a smile to your face. Here is a list of the best pub names that
we have discovered.
The Idle Cook - Idle, Bradford, Yorkshire
Bucket of Blood - Phillack, Cornwall
*The Fawcett Inn - Portsmouth, Hampshire
*The Ram Inn - Newark, Nottinghamshire
Moderation Inn - Reading, Berkshire
*The Pub with No Name - Priors Dean, Hampshire [known by locals as
The White Horse Inn]
The Vat and Fiddle - Nottingham
The Happy Medium - Chichester, West Sussex
The Hung Drawn And Quartered, London
*Hole in the Wall - Southsea, Hampshire; *Caernarvon, north Wales;
Little Wilbraham, Cambridgeshire; Waterloo, London; Lowside, Bowness
Windermere, Cumbria [Hole Int Wall]; and several other venues.
Bank Tavern, Keswick, Cumbria
The Bleeding Wolf, Hale, Altrincham, Cheshire
Blooming Fuchsia, Ipswich, Suffolk
The Cow and Snuffers, Llandaff, Cardiff, Wales
Drunken Duck, Hawkshead, Cumbria
Mad Dog, Odell, Bedfordshire
The Quiet Woman - York [The sign being a woman carrying her own
severed head]
Nobody Inn - Doddiscombsleigh, Devon
One that almost got away: The Cemetery in Rochdale, Lancashire.
The Tap Shop, Mid Calder, West Lothian, Scotland.
* These pubs have been visited by Will.
Another Tranche of Amusing Names For a Boozer
We think these are good pub names, if Will and Guy were to open a new
hostelry, this would be our short list of tavern names:
Devil's Punchbowl
The Elusive Camel
The Hung Drawn And Quartered
The Fawcett Inn
Dirty Nelly's
The Hairy Lemon
The Three-Legged Mare [Known locally as The Wonky Donkey]
The Hog In The Pound
Pig and Whistle
The Roaring Donkey
Spread Eagle
Dirty Dick's
Filthy Mc Nasty's
Bread of Heaven
More Funny Names of Public Houses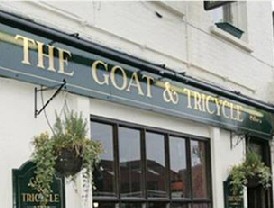 We are absolutely sure there are other, perhaps funnier pub names, and we
would appreciate a photo or an e-mail so we can add to the collection.
For example, Lisa reports there was a 'The Goat & Tricycle' in
Bournemouth.
Another interesting project would to go inside and research funny names
for individual bars.
Group Therapy - An Unusual Sign For a
Boozer!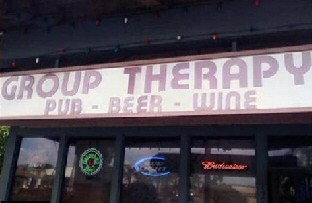 Message for the wife: Just off for my group therapy!
Alternatively, Wife Takes
The Initiative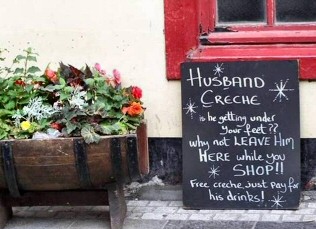 Crèche for Husbands
More Funny Bar Names
A Very Nice Cat!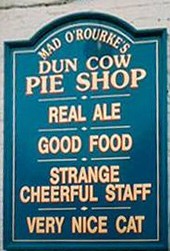 This Pub Name Seems to be 'The Plough'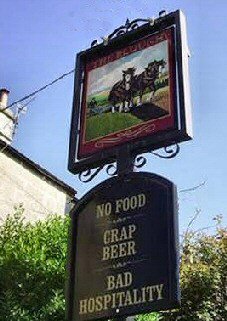 Guy thinks that it should be called 'The Pits'. Will thinks it must
have a peculiar clientele.
See more funny bar names.
Funny Pub Cartoons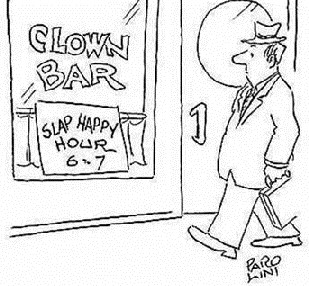 Footnote:
Please send us your funny pub names,
we particularly like signs from far flung places.