Who hides in the bakery at Christmas?
A mince spy!
'Waiter - There's a Fly in My Champagne'
A multi-national company held a reception to celebrate Christmas.
The waiter gave each
guest a glass of champagne, but on inspection, each guest
noticed that their glass contained a fly.
The Swede asked for new champagne in the same glass.
The Englishman
demanded to have new champagne in a new glass.
The Finn picked out the fly out and drank the champagne.
The Russian drank the champagne, fly and all.
The Chinese ate the fly but left the champagne.
The Israeli caught the fly and
sold it to the Chinese.
The Italian drank two thirds of the champagne and then demanded to
have a new glass.
The Norwegian took the fly and went off to fish.
The Irishman ground the fly and mixed it in the champagne, which he then
donated to the Englishman
The American sued the restaurant and claimed
$50 million in compensation.
The Scotsman grabbed the fly by the
throat and shouted, 'Now spit out all that you swallowed.' Footnote:
Funny how one fly reminds you of another...
I was visiting my nephew last night when I asked if I could borrow a
newspaper.
"This is the 21st century" he said. "We don't waste money on newspapers.
Here .... use my iPad."
I can tell you this ....
that bloody fly never knew what hit him!
Early Christmas Drinks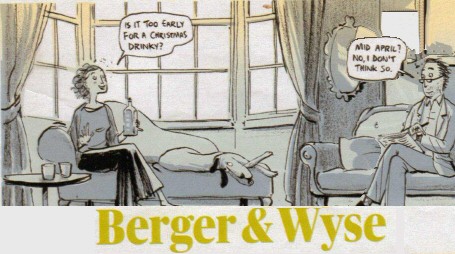 Is it too early for a Christmas drink?
Mid April? No, I don't
think so.
Christmas Eating Around The World
Henry VIII was the first English king to enjoy turkey, although Edward VII made eating turkey fashionable at Christmas. Indeed turkey was a luxury right up until the 1950's when refrigerators became commonplace. However, traditions for countries around the globe vary enormously, the centrepiece can range from pork chops to curried goat.
Austria: By international standards, an Austrian Christmas is a modest affair, dinner might consist of braised carp served with gingerbread and beer sauce. Like many continentals, Austrians are
saving themselves for the New Year celebrations.
Brazil: Christmas meal could be
chicken, turkey, ham, rice, salad, pork, fresh and dried fruits, often with beer. Poorer people will just have chicken and rice.
China: Many new year dishes are served "whole"; such as
whole fish, or whole chicken or duck, this is because the action of slicing
and cutting carries bad connotations, like severing family ties.
See more on Chinese New Year food.
Czech Republic: Tradition dictates that the tree is not lit before Christmas
Eve when they have a big dinner of fish soup, salads, eggs and carp. Scarily, the number of people at the table must be even or it is believed the person without a partner will die next year.
France:
Traditional
Christmas food is a family meal with good meat and the best wine.

Finland: In the evening, a traditional Christmas dinner is probably eaten. The meal will include 'casseroles' containing
liver, rutabaga [swede], carrot and potato, with cooked ham or turkey. Some families eat liver pate. Raw pickled slightly salted salmon, herrings and salad called 'rosolli'. Mushroom salad is also common.
Germany: The Germans tend to have a game feast on Christmas day, usually wild boar or venison.
Hungary: The meal could be fresh fish usually with rice or potatoes and homemade pastries as dessert.
Italy::
Italy probably has the longest Christmas lunch, it's not uncommon for the feast to last 5 hours. Most families will have about 8 courses including antipasti, a small portion of pasta, a roast meal, followed by 2 salads and 2 sweet puddings -
then cheese fruit, brandy and chocolates.
Jamaica: Christmas dinner usually consists of rice, gungo peas, [pigeon peas] chicken, ox tail and curried goat.
Latvia: The special Latvian Christmas Day meal is
cooked brown peas with bacon [pork)] sauce, small pies, cabbage and sausage.
Norway: The big festive feast takes place on Christmas Eve. Most people around the coastal regions eat fish; concoctions of cod
and haddock and a variety called lutefisk. Inland they go for pork chops, specially prepared sausages and occasionally lamb.
Poland: The traditional Christmas Eve supper consists of 12 non-meat dishes,
representing the months of the year and featuring fish such as pike, herring and carp. Other typical Polish dishes are fish soup, sauerkraut with wild mushrooms or peas and Polish dumplings with various
fillings.
Sweden: Traditional Christmas Food is usually a smorgasbord of caviar, shellfish, cooked and raw fish and cheeses.
Ukraine: The people here prepare huge broths brimming with meat for Christmas Eve
rather than Christmas Day.
Armenia: the traditional Christmas Eve meal consists of fried fish, lettuce, and spinach. The meal is traditionally eaten after the Christmas Eve service.
Portugal: the
traditional Christmas meal [consoada] is eaten in the early hours of Christmas Day.
See More Christmas Traditions Around
the World
Christmas Drinks
*Mulled wine, [Glühwein]
Mulled wine is a
popular Christmas drink in Europe [Austria, Switzerland and Germany in
particular]. It contains red wine, fruit, cloves and cinnamon and is
served hot by street vendors at Christmas Fairs, [Christkindlmarkt].
It is also sold during the ski season on the slopes of many European
resorts.
A variety of soft drinks are essential at party time not
only for the children but also for those who may be driving or who are
teetotal.
*There is no one definitive recipe for mulled wine say Will and
Guy.
Christmas Drink Humour
I went into the supermarket on Christmas Eve and noticed a man staring
rigidly, as if transfixed, at the soft drinks, presumably comparing the
prices and contents. He was still there 20 minutes later so I enquired if he
was alright. He replied that he was fine, just looking at the label that
said 'Orange juice concentrate'.
Will and Guy's
Recommended Recipe for Mulled Wine at Christmas
Ingredients
1 bottle of red wine
[We suggest a cabernet sauvignon, but
you can also go for a merlot or syrah]
½ pint of water
4
oz of sugar [brown sugar is best]
1 orange
1 lemon
4 cloves
2 cardamom pods
2 bay leaves
2 cinnamon sticks
Preparation:
Thinly slice the orange and the
lemon
Pour the water into a heavy bottomed pan and add the sugar
and the spices
Heat until the mixture is boiling and then remove
the pan from the cooker
Add the lemon slices
Allow the mixture
to cool down for a short while [about ten minutes]
Add the wine,
and heat gently
It is important that it is not allowed to boil as the alcohol will
evaporate When your mulled wine is hot enough, take it off the heat
and strain it into a warm bowl Serve into mugs or special mulled wine
glasses [wine glasses are likely to crack] and add a slice of orange
Some people choose to not add the spices directly into the
wine/water/sugar mix, but prefer to wrap the cinnamon, cloves, nutmeg
and lemon and orange in a muslin cloth, and immerse it in the slow
cooking brew like a tea bag.
Non alcoholic version
Try to be inventive and
create a non-alcoholic cocktail or punch. We would suggest that you
create something festive using cranberry juice, spices, apple juice,
tangerine juice and sliced fruits.
Champagne for Christmas
Champagne is a traditional Christmas
tipple and millions of bottles of bubbly are enjoyed every year.
Alternatives, however, are available in the shape of sparkling wines
like Cava, in Spain and Asti in Italy. Many excellent fizzy wines are
made in the USA [California in particular] and in the UK as well as in
many countries in Europe.
Scientists calculate that there are 49 million bubbles in a bottle
of Champagne. How on earth they have reached that conclusion is a
mystery to Will [a non scientist] but readily understood by Guy [a
scientist]. Some people prefer to add orange juice to the champagne
[Bucks Fizz] or brandy [Champagne cocktail].
Around the world special 'Christmas beers are made by brewers.'
These are usually dark, sweet brews of exceptional strength and
flavour and especially suitable for drinking in cold weather. Will and
Guy have discovered that there are more than 2,500 different varieties
of real ale brewed by more than 600 breweries, and around 800 are
available as real ale in a bottle.
Christmas Humour - Disaster at the Restaurant
Passing the Mayfair Chinese Restaurant on the corner of Castle Road (the premises where Peter Sellers was born) today 3rd January, on my way back from seeing Sheridan, I saw that there was
a handwritten notice on the glass in the door. It read and looked like this:
CLOSED
KITCHEN ON FIRE
UNTIL FURTHER NOTICE
Don't know how long the notice had been there, but I did not see any smoke, fire engines or road closures!
It must have ruined their Christmas and New Year trade!
Cooking the Books?
Lyn belongs to our Diet Club and she was lamenting that she had
gained weight.
She told us that she had made her family's favourite Christmas cake, and added that they'd eaten half of it
over the festive season.
The on New Year's Eve, Lyn continued, she kept staring at the other half,
until finally she cut a thin slice for herself. One slice led to another,
and soon the whole cake had vanished.
She went on to tell us how upset she was with her lack of willpower, and
how she knew her husband would be so disappointed. Everyone commiserated,
until someone asked what her husband said when he found out.
Lyn smiled broadly and quipped, 'He never found out. I made another
cake and ate half of that too.'

Will and Guy's Interesting Trivia and Facts at Christmastide
If you received all of the gifts in the song 'The Twelve Days of
Christmas', you would receive 364 presents.
Robins on cards were a joke 150 years ago when British postmen wore
red tunics and were named after this lovely bird.
December heralds the busiest time of the year for the Post Office,
as Christmas cards swell the amount of mail in the UK to twice the usual
amount.
It is also the peak time for the National Return Letter Service,
which handles 50 million wrongly addressed items of mail every year.
The first Christmas stamp was released in Canada in 1898 and not
Austria in 1937 as some claim.
The approximate amount generated by photographs with Santa in
shopping malls in the USA in dollars:$2,255,750,000.
Christmas trees are grown in every American state.
The world's tallest Christmas tree was 221 feet high and appeared in
a Washington, USA shopping mall in 1950.
Electric lights for on Christmas trees were first used in 1895.
Alabama was the first state in the USA to declare Christmas a legal
holiday in 1836.
In 1999, residents of the state of Maine in America built the
world's biggest ever snowman. He stood at 113ft tall.
The Queen's speech was first televised in 1957.
There were only seven 'white Christmases' in Britain during the
twentieth century.
There are 13 Santa's in Iceland, each leaving a gift for children.
They come down from the mountain one by one, starting on December 12 and
have names like Spoon Licker, Door Sniffer and Meat Hook. 'Lovely names',
say Will and Guy.
Until AD 440, Christmas day was not celebrated on 25th December.
There is no reference to angels singing anywhere in the Holy Bible.
More diamonds are bought around Christmas than any other time of the
year.
Apparently Christmas trees remove dust and pollen from the air.
The Russian Santa Claus carries a pink piglet under his arm.
Christmas pudding should be stirred from east to west. Will's Mum
always did this.
Christmas Statistics for the United Kingdom
Christmas 2008 saw the 60 million UK residents consuming 12 million turkeys washed down with 350 million pints of beer and 45 million bottles of wine.
Will and Guy have calculated that if all those turkeys
linked wings, then they could form a flock stretching from Fratton Park in Portsmouth, England to Giant's Stadium in New York. According to our preliminary calculations, all that beer could fill every
Olympic sized swimming pool in England. As for the wine, if it was used to water the Wembley Stadium, London, then there would be no need to mow the outfield because the grass would come up half-cut.