Think of this page as a sitemap for our free, clean, yet funny Halloween jokes and pictures. Eat, drink and be scary.
Halloween Jokes
Funny Halloween Pictures
Funny Halloween Cartoons
Funny Halloween Stories
Scary Halloween Stories
Short Halloween Stories for
Kids
Pumpkin Jokes
Pumpkin Carvings
Pumpkin Carving Design
Ideas
Pumpkin Babies
Jack-o-Lantern Legend
Halloween History and Origins
Halloween Games for Kids
Halloween Postage Stamps
Trick or Treat
Coven of Witches
Halloween Graveyard
Stories
Halloween Cats - Witch's
Familiar
Animations for Halloween
Fun Halloween Fashion
Halloween Poems
(November 5th Bonfire Night)
More Funny Clean Jokes
Ghosts and Graveyards
Ghost Story
Ghost Illusion Video
Graveyard Humour
Kids Halloween Jokes
What's
a monster's
favourite play?
Romeo and ghouliet
Why do witches fly on brooms?
Vacuum cleaner cords aren't
long enough
What do ghosts serve for dessert?
Ice scream
Why do witches fly on brooms?
Vacuum cleaner cords aren't
long enough
What do you call serious rocks?
Grave stones.
What do you call pretend rocks?
Shamrocks.
See more funny Halloween jokes
Funny Halloween Pictures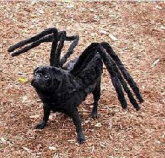 When witches go riding,
and black cats are seen,
the
moon laughs and whispers,
'tis near Halloween.
Popular Mermaid
Halloween Costume
There is trend for greater sophistication in Halloween costumes. In
our youth all we used were old sheets to frighten our enemies and friends,
these day's you can buy or hire all manner of

fancy dress ensembles especially for Halloween.
Giant Pumpkin in Hong-Kong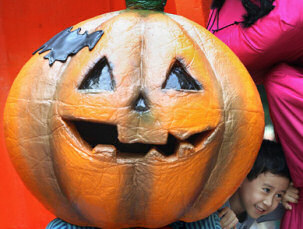 A boy meets a giant pumpkin in Hong Kong.
Although Halloween
has little meaning to most people on the island the event is
seized upon as a marketing opportunity. See more pumpkin jokes and stories
Ghostly Story by Kate Bauer [Innkeeper]
Because of a guest, we have a confirmed ghost story. My
husband and I both experienced the same "feeling" and vision while outside working the orchard and blueberries -- the funny part is I didn't tell him about it when it happened (mine happened first and I didn't
tell him, then his occurred some months later and he came in and told me).


My husband came in one day (about a month or so after I had my experience) and told me of his experience. Same man, same "watchful"
feeling. We both "saw" this figure in our side vision -- a man watching us as we worked.
It also was a "feeling" of this voice telling us where to prune, how to do the job we were doing.
A "guiding
spirit," we call him.
We found out later that it was Old Man Simon. How did we find out? We described this man to a guest (a relative of the Brewsters, who owned the property before us) that brought
pictures of Simon. She showed us the picture only after we described him. It was one of the original owners of this 260-year-old home!
Hell Freezes over at Halloween
Couple from Hell, Michigan, USA, win $115,001 [£55,000] lottery prize in Halloween draw:
John and Sue Wilson are in heaven despite the fact that they live in Hell, a town 45 miles west of Detroit. In the Michigan Lottery they won the big prize in the Fantasy 5 drawing held on Halloween 2007.
'How cool is that?' said Sue Wilson, 43, a teacher's aide. Her husband is an electrician. The couple said they plan to use their winnings to pay off bills, make some home improvements, buy a video game system
for their 13-year-old son and possibly visit relatives in Georgia.
The Origin of Halloween
Halloween is also known as Samhain, Pinkie Night, Soul Cakers, Love Divination, or most aptly - Mischief Night. Halloween and its associated customs, have evolved from
ancient Celtic celebrations, which honour the dead. The Halloween festival is also intertwined with end of harvest celebrations, and in some cultures, All Saints religious elements.
See more about the history of Halloween.
Three Musings on Autumn
Autumn is a season for big decisions - like whether or not it's too
late to start spring cleaning.
This autumn we have seen falling leaves and rising gas prices. We're
raking it up while the oil companies are raking it in.
I got tired of looking at all those leaves in my yard, so I got up
off the couch and went into action. I closed the curtains.
More Funny, but Clean Halloween Jokes
What do you call a witch's garage?
A broom closet.
What music do ghosts like the best?
Haunting melodies.
Is a drunken ghost a methylated spirit?
See more clean Halloween jokes.
Ten
Funny Halloween Shorts
A grandmother pretends she doesn't know who you are on Halloween. -
Erma Bombeck
'Tis now the very witching time of night,
When churchyards yawn
and hell itself breathes out
Contagion to this world.' - William
Shakespeare
Hold on, man. We don't go anywhere with "scary," "spooky,"
"haunted," or "forbidden" in the title. - Scooby-Doo
They that are born on Halloween shall see more than other folk. -
Anon. [Will and his wife both were born on Halloween]
As I was going up the stair,
I met a man who wasn't there
He
wasn't there again today...
Oh, how I wish he'd go away.
Anonymous
Double, double toil and trouble , Fire burn, and cauldron bubble.-
William Shakespeare
There are three things I have learned never to discuss with people:
religion, politics and the "Great Pumpkin." - Linus [Charlie Brown]
Eye of newt, and toe of frog, Wool of bat, and tongue of dog,
Adder's fork, and blind-worm's sting, Lizard's leg, and owlet's wing,
For a charm of powerful trouble, Like a hell-broth boil and bubble. -
William Shakespeare
On Halloween, the parents sent their kids out looking like me. -
Rodney Dangerfield
For 2012 Halloween the the most popular mask is the Arnold
Schwarzenegger mask. And the best part? With a mouth full of candy you
will sound just like him. - Conan O'Brien
Footnote:
Please send us your clean Halloween jokes.