Here we have a story in pictures, each featuring a classic fishing tale.
1) Fish For Ticket!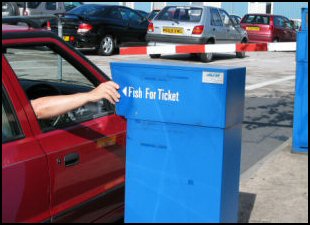 A novel way for paying for your parking?
Or an instruction to put your
hand in your pocket?
Fish for a Ticket picture kindly sent in by
Jeff Malyon.
2) Best Funny Fishing Tale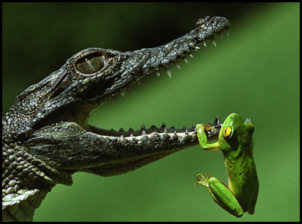 I went fishing this morning but after a short time I ran out of worms.
Then I saw a little crocodile with a frog in his mouth. Frogs are good bass bait.
Knowing the crocodile couldn't bite me with the frog in his mouth I grabbed
him right behind the head, took the frog, and put it in my bait bucket.
Now the dilemma was how to release the crocodile without getting bit. So, I
grabbed my bottle of Jack Daniels and poured a little whiskey in its mouth.
His eyes rolled back, he went limp. I released him into the lake
without incident and carried on fishing using the frog.
A little later, I felt a nudge on my foot. There was that same
crocodile with
two frogs in his mouth.
Life is good in the South.
2a) And Moses Parted The Red Sea - Again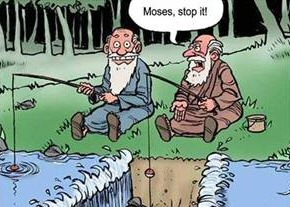 Fishy Tale
Question. What is the difference between a hunter
and a fisherman?
Answer. A hunter lies in wait, and a fisherman waits and lies.
3) Two Days Earlier he Had More Success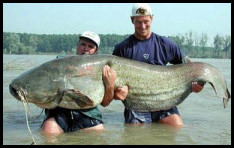 And you should have seen the fish that got away!
That was another fishy tale!
3a) How Fishermen Measure their Catch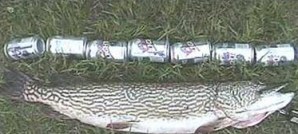 A new meaning to canned fish.
More Funny Fishing Pictures
4) (No) Fishing Bridge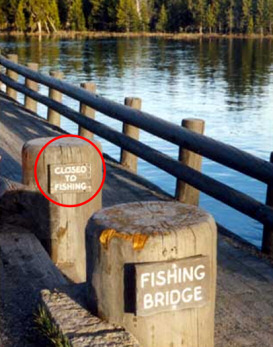 When you go fishing,
it would be useful to have clear signs. 'Fishing Bridge - Closed
to Fishing'.
5) No Fishing - New Pointers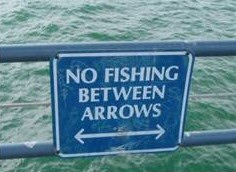 Amusing Fishy Pictures and Cartoons
6) A New Meaning to 'Private Fishing'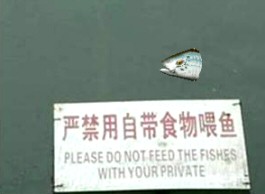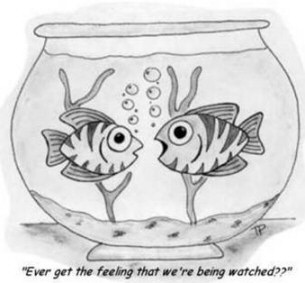 In Mexico we have a word for sushi: Bait. Jose Simon
7) Raining Fish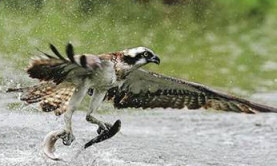 These beautiful pictures remind Will and Guy of a true and funny anecdote
which happened recently. Although the fish in the pictures and the birds are
different, the following tale may amuse you and may even raise a smile.
It's Raining Fish: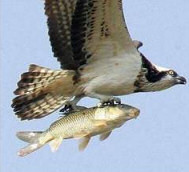 One morning, Will was enjoying a pint in his local hostelry when Robbie the
Plant [a well respected nurseryman and gardener] came in and reported that he
had just seen a heron flying over the houses with an enormous koi carp in its
beak. The carp was so large that at any moment Robbie the Plant expected the
bird to drop it. The two friends continued to enjoy their beers and time passed.


Colin the Roof [a roofer] arrived at the pub a little while late; he was
looking extremely flustered, and told us all that he had been working on a house
roof a mile or so away when out of the sky and falling on his head came an
enormous koi carp. Almost sent flying from the roof, Colin the Roof, was not
only in shock but also flabbergasted. The fish then landed on the ground: Colin
the Roof climbed down his ladder and put the carp in one of his large builder's
buckets which he filled with water.
Miraculously the carp survived its horrendous ordeal although the original
owner was never found. It is still alive and well in Kevin the Fish's pond. This
funny fishy tale was source of merriment for several days following.
8) Funny Fishy Tale

A fisherman is selling his pet dog because it kept catching more fish than
him, Will and Guy have learned. Slobodan Paparella from the Adriatic island of
Lastovo, Croatia, said he was fed up with being embarrassed in front of his
fishing mates. He complained that most days when he went fishing he would catch
only the odd fish, but that his Irish setter Lipi would jump into the water and
use her jaws to catch dozens of fish. Paparalla added that the last straw was
when he tried to reel in a 15lb fish but lost it at the last second only to see
Lipi jump in and catch the fish with one bite and bring it back to shore.
He complained, 'The other fishermen were all laughing at me. I have no choice
but to sell the dog because it keeps humiliating me.'
9) Baby Thornback Ray has a smiley face

Visitors to the Blue Reef Aquarium in Southsea, Portsmouth, Hampshire, UK,
are able to view this ray with a smiling face The semi-transparent thornback
ray, only a month old and just 12cms in length, is part of a captive breeding
programme at the Blue Reef Aquarium in Southsea. It is one of a dozen, hatched
from egg-cases known as 'mermaid's purses', currently being looked after in a
special nursery tank. When they are large enough, they will join the adult
thornbacks and several sharks in a large pool. A Blue Reef spokesman said the
babies are proving very popular with visitors.
10) Boys Love Fishing
Will first went fishing when he was 9 years old and living in Trincomalee,
Sri Lanka. He fished from a jetty with only a length of cat gut, with an
attached hook, wound around a wooden handle; his expectations, using bread as
bait, were minimal and he was delighted to catch several tiny fish to feed to
his cat - Tumbles.
Catch of a lifetime
If it's one thing boys like better than fishing, it's a good fishing tale.
Holger Vukovich, aged 14, also had minimal expectations when he went fishing
for carp, with his grandfather, for the first time in Baumgarten, Austria.
However, he was in for a major shock and plenty of excitement.
After a short while he had a bite and to his amazement was almost pulled into
the water by the strength of the cat fish he had hooked. It was so heavy [eight
stone] that a winch was needed to land it; it weighed half a stone more than
Holger, and it was also a foot and a half taller. [see photo] It took the couple
some 30 minutes to fully land the fish.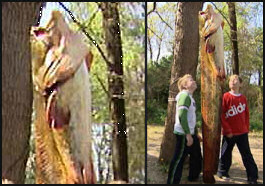 Will and Guy think that young Holger will find it difficult to have so much
fun in any future fishing expeditions.
Footnote:
Please send us any funny fishing pictures and tales that you may have.