Here is a bumper page of our free, funny dog pictures. Our
speciality is variety, we are confident that you will find a funny picture for any occasion or any mood. Updated with dog stories and dog signs.
Did you ever walk into a room and forget why you
walked in? I think that's
how dogs spend their lives. Sue Murphy
A Dozen Funny Dog Pictures and Dog Stories
Little and Large
Good to see that cats and dogs can get on together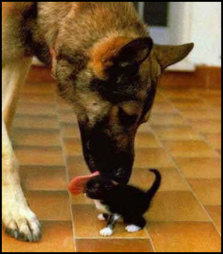 See also our funny cat pictures.
Attention!
Especially those dogs with a
reading age greater than 10.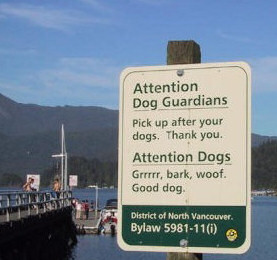 Lost Dog Story
'I've lost my dog.'
'Why don't you put an advertisement in the paper?'
'Don't be silly, he can't read.'
Missing Dog Saga
My brother and his wife named their dog after a character in the book "The
Hobbit". He got lost one day but was wearing his collar with name and phone
number that rang to their live answering service. Later their phone rang and when my sister-in-law
answered the caller asked "Mrs Boffin?" "No" was the reply, "but I think you've
got my dog, Mr Boffin!"
Kindly sent in by Pauline Taylor
There is no joke when your favorite dog suffers from flea attack, but

60mg Revolution for Dogs tube can handle it easy.
Barking Mad - Another Dog Sign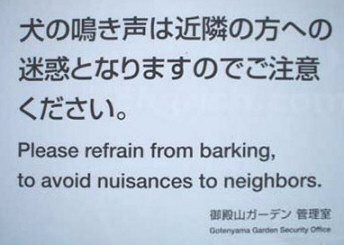 See more examples of Engrish Humour
A Dog's
Diary
7 am - Oh boy! A walk! My favorite!
8 am - Oh boy! Dog food! My favorite!
9 am - Oh boy! The kids! My favorite!
Noon - Oh boy! The yard! My favorite!
2 pm - Oh boy! A car ride! My favorite!
3
pm - Oh boy! The kids! My favorite!
4 pm - Oh boy! Playing ball! My favorite!
6 pm - Oh boy! Welcome home Mom! My favorite!
7 pm - Oh boy! Welcome home Dad! My favorite!
8 pm - Oh boy! Dog food! My
favorite!
9 pm - Oh boy! Tummy rubs on the couch! My favorite!
11 pm - Oh boy! Sleeping in my people's
bed! My favorite!
N.B. A boy can learn a lot from a dog: obedience, loyalty, and the importance of turning around three times before lying down. Robert Benchley
Fancy Dress - More Funny Dog Pictures
Pure Dog Theatre
The dog looks like a pug or is it a bull dog, we are not sure. Good picture.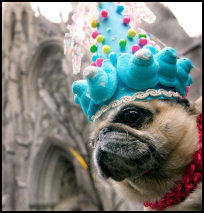 Pollsters say that 40% of dog owners carry pictures of the pets in their wallets.
Dog Wedding Story
Timmy walked his bride Muffin down
the aisle for their marriage ceremony in front of guests at Harrods store in, London. The couple shared a kiss and their own wedding cake before being whisked off by horse-drawn carriage. The unique dog wedding
was part of Harrods 'Anything is Possible' season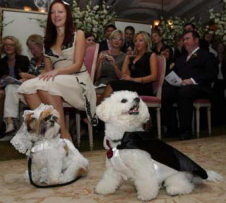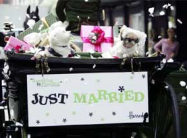 Pictures of
Timmy and Muffin leaving Harrods in a horse-drawn carriage after yesterday's
'wedding'.
What do you call a poodle with extra short legs?
A sponge.
Calendar Dogs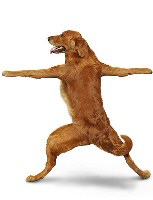 After Calendar Girls, we now have funny pictures of calendar dogs. Dan
and Alejandra Boris have used computer graphics to create a Yoga Dogs
Calendar.
At first Guy thought that Yoga Dogs were a new breed, while Will thought
this was a wacky new piece of merchandise designed for kennels. The
truth is this a Christmas present for dog owners.
Alejandra, who is a yoga teacher, reassures readers that no dogs were hurt
in making the calendars, the the funny but unnatural positions were down to
computer manipulation of genuine pictures.
It's a dog's life.
Dog Weddings in Delhi
Abhijit Das, a manager for Ansal Plaza Delhi has organized mass wedding for
dogs. On 30th of September 2008 over 100 dogs will be united in
wedlock. Surprisingly, is animal rights activists who have organised
the event.
Prior to the marriage ceremony it won't be the dogs and bitches who seek out
their prospective partner, the match-making will be left to their owners.
The event, which is scheduled to take place at the Amphitheatre in Ansal
Plaza, will also feature speed-dating for pooches.
Shailee Seth, a housewife with a Great Dane, is searching for the perfect
veil. 'I have never attended such an event before and I don't know what to
expect,' she said. 'But I definitely want my pooch to look the best.'
Dog
Knows Best? Listen
to Your Nose!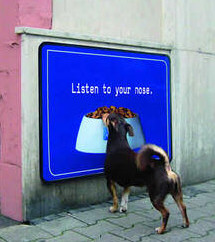 Bakery for Dogs Opens in Paris
(True Story)
An
award-winning pastry chef has opened a bakery that caters only for dogs in Paris. Mon Bon Chien sells bacon biscuits in the shape of a cat and bone-shaped cookies made of foie gras, reports the BBC.
The
owner is Harriet Sternstein who moved to Paris from the US with her dog Sophie-Marie. Sophie-Marie provided the inspiration for the new business for her owner, who decided the best way to make a
living was to combine her biggest enthusiasms - pastries and pets.
'Everything is made in the back of the boutique,
'said Ms Sternstein, 'Every day, I make 200 to 300 biscuits and special orders are taken on
a daily basis.

'The Parisians come to the bakery and the first time they think it's
very funny and they look at it, and buy the ones that they think are the cutest. Then the dogs come back and choose which flavours they
like the best.
'I change flavours, based on what's
going on, I will be creating a special biscuit for Valentine's
Day.'


Dog's breakfast?
Dog Bakery in Germany
A canine-only bakery selling a range of handmade dog biscuits and meaty cakes has opened in Germany. The Dog's Goodies bakery in the city of Wiesbaden, near Frankfurt, is a barking success, according to local
dog owners. Former florist turned canine chef Janine Saraniti-Lagerin offers her doggy customers treats such as minty biscuits, muesli bars, tuna cakes and garlic cookies. She said,
'Vets tell me what is healthy and my Labrador Ronja tells me what is tasty.'
Beware Guard Dog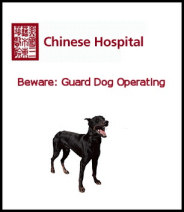 Guy wanted to add a scalpel to the above picture
Beware: Guard Dog Operating. If you click on the picture you will
see what I mean.
Beware Guard Dog - Sequel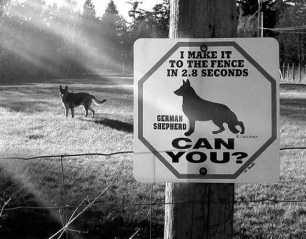 You
see so many banal signs, it makes a change to see a sign that engages the brain. Moreover, this sign makes the point, I would not go over that fence, even if I could not see the dog in the picture's
background.
Call for backup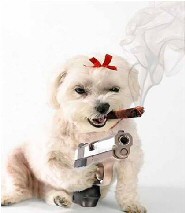 If all else fails - send for
'Super dog'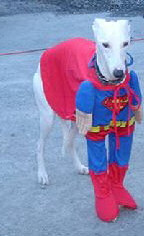 See more funny dog pictures
Amazing Dog Tricks in 重慶 [Chongqing City]
An amazingly talented Tibetan mastiff called Tiger [Hu Hu] dog has performed
a breathtaking high wire stunt in front of thousands of spectators in his home
city in China.
Will and Guy have found this dog photo and we can report that this acrobatic
creature performed the trick in Chongqing city, China.
Tiger was some 4 metres above the ground and walked across a 10 metre gap on
two thin steel wires: a remarkable feat by any standards. We suggest that you do
not try this stunt with your dog at home.
Dog and Horse - Partnership
A Jack Russell dog is stunning visitors to a farm by showing off his horse riding skills.
Freddie leaps on the back of his neighbour's
Shetland pony Daisy for a trot around the paddock of Peglars Farm,
in Flaxley, Gloucestershire. Owner Patricia Swinley said the dog was a '
natural'
jockey whose equestrian skills have blossomed.
'When he first saw Daisy he rushed across the yard and just jumped straight on
her back, 'she said.
Freddie, who has been nicknamed the Flaxley Flier, is often to be seen riding round the 25-acre farm and Daisy, who stands at just 37 inches tall provides the perfect taxi, for her pal.
'The children love to come and see him, 'Mrs Swinley said. 'I guess it
is a rather peculiar sight.'
Someone Loves Me
I would not like to meet the dog in the photo below, but I bet it's
someone beloved pet.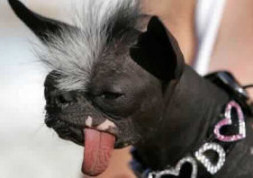 Couldn't Spit It Out
Damien walks into a bar one day and stammers,
'Does anyone here own that South African ridgeback outside?'
'Yeah, I do,' a tattooed biker says, standing up.
'What about it?'
"Well, I think my shiatsu just killed him.'
'What are you talkin' about?' the biker says, disbelievingly.
'How could your little runt kill my ridgeback?'
'Well,' mumbled Damien,
'it appears that he got stuck in your dog's throat.'
Blessed Dogs
Liz took her litter of cocker spaniel puppies to the veterinary clinic for their inoculations and deworming.
As the look alike pups squirmed over and under one another in their box, the vet realised it
would be difficult to tell the treated ones from the rest. The veterinarian turned on the tap over the sink, wet her fingers, and moistened each dog's head when she had finished.
After the fourth puppy, the
vet noticed the usually talkative Liz had grown silent. As the vet sprinkled the last pup's head, Liz leaned forward and whispered,
'I hadn't realised that they had to be baptised.'
Dog's Bedtime Prayer
Now I lay me down to sleep,
The king-sized bed is soft and deep.
I
sleep right in the center groove,
My human beings can hardly move.
I've trapped their legs, they're
tucked in tight,
And here is where I
pass the night.
No one disturbs me or dares intrude,
Til morning comes and "I want
food!"
I sneak up slowly to begin,
And nibble on my human's chin.
For morning's here, it's time to play,
I always seem to get my way.
So thank you Lord, for giving me,
This human person that I see.
The
one who hugs me and holds me tight,
And shares their bed with me at
night.
Amen!
You Either Love or Hate this Dog Picture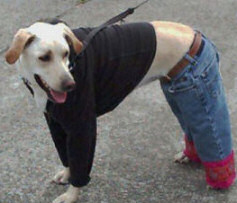 Funy dog pictures
Picture of Dogs Exercising - Two Friends?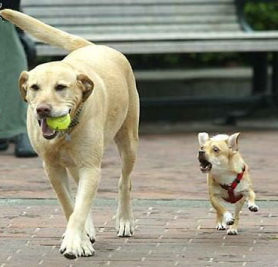 Video: http://www.youtube.com/watch?v=rxJSK7Nm1Dw
cartoon by Mick Stevens

Will and Guy's Top Ten Funny Reasons Why It's Good to be a Dog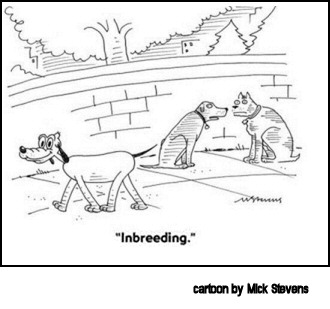 If it itches, you can reach it; and no matter where it itches, no
one will be offended if you scratch it in public.
No one notices if you have hair growing in weird places as you get
older.
Personal hygiene is a blast: no one expects you to take a bath every
day, and you don't even have to comb your own hair.
Having a wet nose is considered a sign of good health.
No one thinks less of you for passing gas. Some people might
actually think you're cute.
Who needs a big home entertainment system? A bone or an old shoe can
entertain you for hours.
You can spend hours just smelling stuff.
No one ever expects you to pay for lunch or dinner. You never have
to worry about table manners, and if you gain weight, it's someone
else's fault.
It doesn't take much to make you happy. You're always excited to see
the same old people. All they have to do is leave the room for five
minutes and come back.
Every rubbish bin looks like a cold buffet to you.
P.S. Please write to Will and Guy if you have any funny dog pictures.
Joke of the Day Email
Get a clean joke delivered to your inbox every
day, no strings attached, just part of our service. Free
subscription to
our Funny Joke of the Day email.
We have over 1,500 pages of funny pictures, clean jokes, stories and amusing videos. Please use the Search below to find a topic of particular interest:
Thought of the Day Subscription
Our offer is to email you an inspirational
'Thought of the day'. Your subscription is completely free of cost and there
are no adverts. Sign up for our 'Thought of
the Day'.