Will and Guy have
a diverse collection of 'No dogs allowed' signs. We also have
funny notices relating to various other animals.
Funny 'No Dogs Allowed' Sign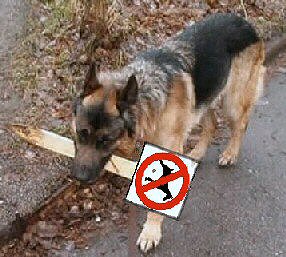 Our
Most Amusing No Dogs Allowed Sign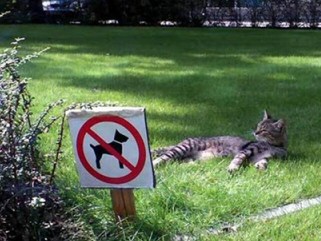 No Dogs Allowed - BOW WOW, WOOF, RUFF RUFF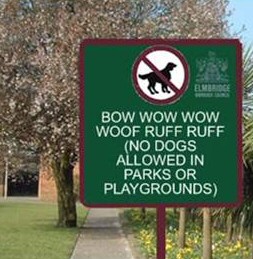 The sign, above right, was spotted in the Church Fields Recreation Ground, Chessington, Surrey,
England
Dogs Allowed?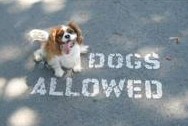 Guy thinks that this means that dogs are permitted. Will thinks that
really, this sign says 'No Dogs Allowed', but the spaniel is sitting on the
'No'. What do you think?
No Dogs And Chinese Allowed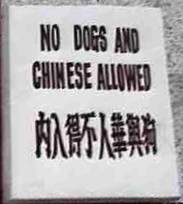 In fact this matter is no joke because these 'No Dogs and
Chinese Allowed' signs date back to the pre-World War II period when
various European (particularly British) and American districts were
established in Shanghai, and these foreigners did not want their parks
fouled by dogs and Chinese (not that the latter left any deposits, just
that their presence was not desired in these exclusive parks).
Kindly sent in by T S A Quan.
No Dogs & No Bicycles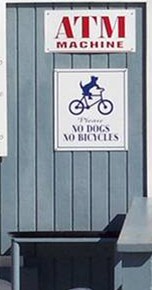 This 'No Dogs Allowed Sign' set Will and Guy wondering - Does the above sign mean: No
dogs; no bicycles; or no dogs on bicycles? Once you have worked that
out, what part does the ATM machine play? What IS permitted
here?
No Dogs Allowed - All pets must be on a
leash?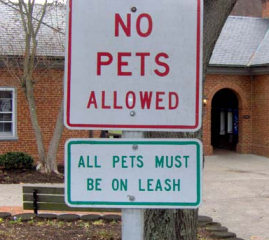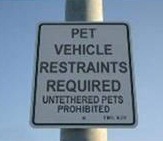 Another one
for the dogs
Dogs - Please Shut The Gate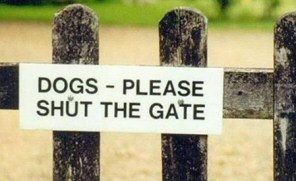 Guide Dogs
The above funny dog signs remind me of a malapropism I heard when teaching. The head-of-year had a brand new charity project. In assembly he proudly announced:
'We are going to have a collection for blind dogs for the
guides'.
Footnote:
Please send us your funny "No Dogs
Allowed" signs
No Dogs Allowed in Parks Throughout Newark, England
A council in Newark and Sherwood District Council in Nottinghamshire,
England has banned dogs from almost all of its park areas. It has put
dog control orders (DCOs) in 72 park areas to make sure people look after
their pets in public places.
The orders issued in April 2010 ban dogs completely from play areas, fields and open spaces.
Furthermore, council jobsworths, park rangers and police community support officers can
issue on-the-spot fines of £75 for breaches of the orders.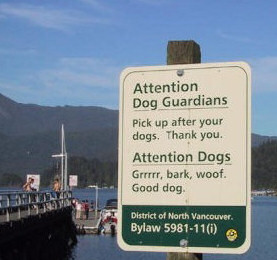 Naturally, dog owners are up-in-arms, Clarissa Baldwin, the Dogs Trust
chief executive said: 'A total ban on all dogs is a complete overreaction to
the problem of a small minority of owners failing to clean up after their
pets.'
She said they were concerned the elderly, disabled or those on low
incomes would struggle to travel to other areas to exercise their pets.
Clarissa also pointed out that it is a requirement of the Animal Welfare Act
that dogs are allowed to express their natural behaviour, which includes
free exercise.
The Kennel Club also added its weight to the criticism. Communications
director Caroline Kisko said: 'Dog control orders are becoming more common
as councils attempt to find ways to control dog fouling and reign in
irresponsible dog owners. 'While the Kennel Club does not object to the council's less severe
orders of imposing fines for dog walkers who do not pick up after their
dogs, and introducing "dogs on lead by direction" orders, we feel that the
exclusion zones are far too restrictive.
'No' Signs Featuring Other Animals
Will and Guy hope that amongst these 'No xyz permitted' there is something
for everyone.
Funny Animal No Feeding Signs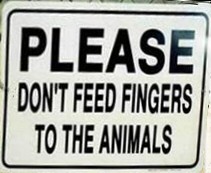 Don't Feed Fingers To The Animals (How about toes?)
Another Funny 'No Feeding Sign'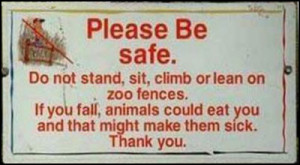 Warning! Alligators Can be Dangerous!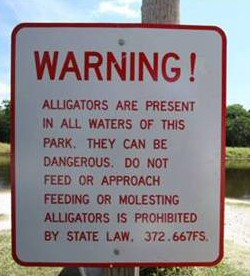 Feeding or Molesting Alligators is Prohibited .... as if you needed telling!
Poor Starving Animals - No Diving and No Food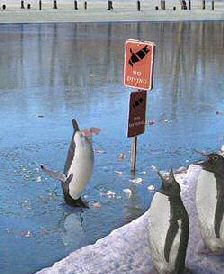 If All Else Fails the
Animals Eat the Sign!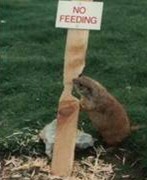 What breed of animal is this little beast who is eating the 'No Feeding'
sign. A hedgehog? Some type of rodent?
No Gorillas?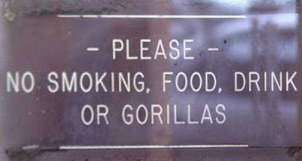 Please no smoking, food, drink, or gorillas? What is permitted here?
No Smoking Dogs!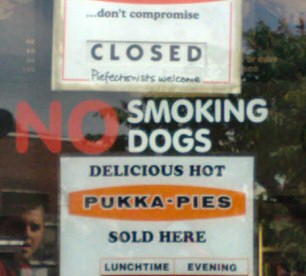 Which ever way I punctuate the notice, it cracks me up.
No smoking dogs (allowed)
No smoking (of) dogs
No smoking dogs (extinguish them!)
We thank Dean Peck for this picture, please send us your funny 'No Dogs
Allowed' sign.
See more pictures of funny "No"signs, and silly
notices
• Pictures of stupid signs •
Silly signs •
Funny gaffes •
Pictures of funny signs •
Funny "No" signs
• Pointless signs •
Funny 'No' swimming signs
• Funny caution signs
• Funny Chinese signs
•
'No' signs allowed •
Strange signs PPT •
Funny warning signs •
No dogs allowed •
Clean jokes