Interesting and funny telegrams; most of these cables are true!
The Sad End of Telegrams
On July 15th 2013 the last telegram was sent in India. It was employing an almost identical technology to the first telegram, which was
successfully transmitted between Calcutta and Diamond Harbour in 1850.
In the UK in 2003, British Telecom sold the international telegram service to an independent company, Telegrams Online, which promotes the use of telegrams as a retro greeting card or invitation.
In the US in 2006, the main service provided by Western Union was shut down.
Does this mean the end of telegrams everywhere? No .... Customers can still place a telegram order to India, or from India to other countries, through the iTelegram web site. The service is available to over 200 countries. Naturally, that includes India!
Classic Funny Telegram
My mother always enjoyed anecdotes and used to recount this one to amuse me when I was a child.
It was in the 1920s when Henry, the son of a wealthy banker, went off to college. It was the first time he had lived away from home so was
unused to dealing with his own finances. He soon found that, with his now hectic social life, his allowance was running short. In desperation, and knowing that a telegram was charged based on the length, he sent the following short message to his father:
NO MON. NO FUN. YOUR SON.
To which his long-suffering father replied: TOO BAD.
It's interesting that however short, the classic telegram always makes liberal use of the 'stop.'
Another Tranche of Amusing Telegrams
George Bernard Shaw, cable to Winston Churchill:
PLEASE ATTEND FIRST NIGHT MY NEW PLAY. WILL HOLD TWO TICKETS FOR YOU. BRING FRIEND IF YOU HAVE ONE.
Churchill's reply to Shaw:
IMPOSSIBLE ATTEND FIRST NIGHT. WILL ATTEND SECOND NIGHT IF YOU HAVE ONE.
Sammy Davis Jr
Sammy Davis, Jr, who had written an autobiography entitled Yes, I Can, had a disastrously bad TV show and after the first episode, one of the Rat Pack sent him a telegram reading: NO YOU CAN'T.
John F Kennedy
John F Kennedy joked during his 1960 presidential campaign that he had just received a telegram from his father:
DEAR JACK: DON'T BUY ONE MORE VOTE THAN NECESSARY. I'LL BE DAMNED IF I PAY FOR A LANDSLIDE.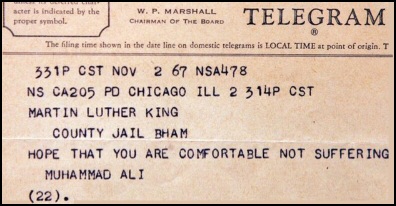 From a Journalist,
To "SOMEONE WORKING ON NEW CARY GRANT FILM":
WRITING A STORY. IMPERATIVE FOR ME TO KNOW: HOW OLD CARY GRANT?--JOHN SMITH
The reply: OLD CARY GRANT FINE. HOW YOU, JOHN SMITH?--CARY GRANT
Another Journalist
On his arrival in Venice for the first time, American journalist Robert Benchley, sent this telegram to his editor at the New Yorker, Harold Ross.
STREETS FULL OF WATER. PLEASE ADVISE.
Footnote:
Information provided by Steve Baker.
Capture of Infamous Poisoner Dr Crippen
This is the telegram was sent on the 19th of October 1907, it was the first time telegraphy was used to apprehend a criminal.
Dr Crippen killed his wife, and then fled on the 'Montrose' to Canada. However, the ship was fitted with wireless telegraphy, and Scotland Yard were able to send a telegram to check his whereabouts. Inspector Dew then boarded a faster ship and apprehended Crippen off Newfoundland, Canada.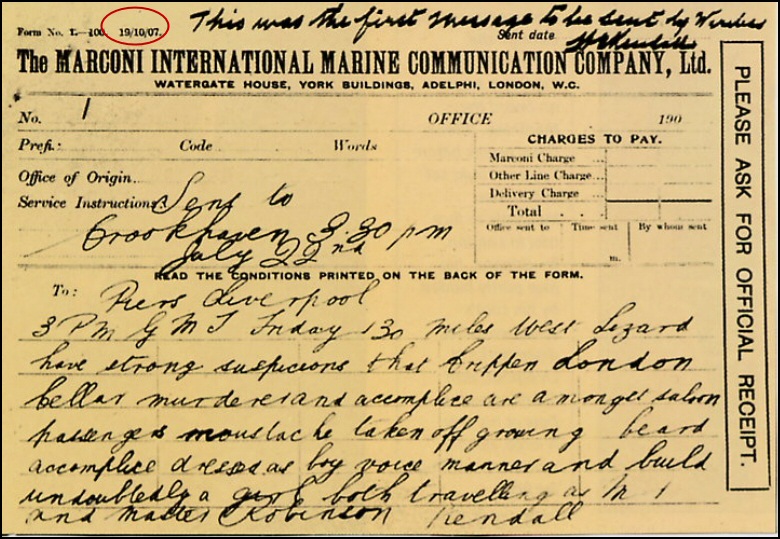 Footnote:
Please send us your amusing telegrams.
See more of funny stories, pictures, amusing videos and jokes about people