Here is Will and Guy's collection of short stories with a humorous and
festive theme.
Christmas Loser
How They Forecast a
Cold Winter
Two Idiotic reactions to freezing weather
Try Before You Buy
Christmas Tree Stories
Traditional Christmas Pudding
Short Funny Xmas Story
Christmas Queue Folly
Mistletoe at the
Airport
The Saga of the Christmas Loser
Late home after a night out, a youngster attempted to climb into his home down the chimney. He did not to want to wake other residents in the Judson Center social services agency; also he had broken his curfew and wanted no trouble.
In best Santa Claus mode he climbed onto the roof and let himself
down the chimney; unfortunately he was too large, and he became stuck. The 17 year old began moaning and was heard and rescued. Fire fighters and police officers from the City of Royal Oak, Michigan,
USA, had to pull him out. The youth suffered from minor scrapes and bruises.
How They Forecast a Cold
Winter
One day in early September the chief of a Native American tribe was
asked by his tribal elders if the winter of 2011/12 was going to be cold
or mild. The chief asked his medicine man, but he too had lost
touch with the reading signs from the natural world around the Great
Lakes.
In truth, neither of them had idea about how to predict the coming
winter. However, the chief decided to take a modern approach, and
the chief rang the National Weather Service in Gaylord Michigan.

'Yes, it is going to be a cold winter,' the meteorological officer
told the chief. Consequently, he went back to his tribe and told
the men to collect plenty of firewood.
A fortnight later the chief called the Weather Service and asked for
an update. 'Are you still forecasting a cold winter?' he asked.
'Yes, very cold', the weather officer told him.
As a result of this brief conversation the chief went back to the
tribe and told his people to collect every bit of wood they could find.
A month later the chief called the National Weather Service once more
and asked about the coming winter. 'Yes,' he was told, 'it is going to
be one of the coldest winters ever.'
'How can you be so sure?' the chief asked.
The weatherman replied: 'Because the Native Americans of the Great
Lakes are collecting wood like crazy.'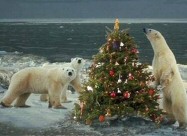 Two Idiotic
Reactions to Freezing Weather:
[Don't
try these at home]
1) This is a true story about John Porter, from New York State,
USA, whose pipes in his home froze one winter. Anxious to unfreeze them, Mr Porter backed his car up to an open window so that the exhaust would warm up the house.

A little while later and Porter, his wife and their three children had to be
rushed to hospital suffering from carbon monoxide poisoning.
2) George Gibbs, from Columbus, Ohio, suffered second-degree burns on his head.
This is what happened one freezing cold winter morning. Unable to start his car,
George diagnosed the problem as a frozen fuel line which he
thought he could correct by running warm petrol through it. He then tried to heat a two-gallon can of petrol on his gas stove in the kitchen.
Ah.....
See more of our Loser
stories.
Did You Know?
The latest cold spell which has brought chaos to parts of the UK has
its funny side also. Heard on BBC Radio was an announcement which said,
'The Open Air Winter Wonderland Show in Cardiff, Wales, has been closed
because of the snow.'
[You couldn't make it up!]
Yarn of the Seat in Stand
Freddie and John were fortunate enough to have a season ticket to watch
Chelsea. They could not help noticing that there was always a spare seat
next (B14) to them and they had a friend who would love to buy a season
ticket, especially if all three could have seats together.
One half-time Freddie went to the ticket office and asked if they could
by buy the season ticket for B14. The official said that unfortunately the
ticket had been sold. Nevertheless, week after week the seat was still
empty.
Then on Boxing day, much to Freddie and Eddie's amazement the seat was
taken for the first time that season. John could not resist asking the
newcomer, 'Where have you been all season'. Don't ask he said, the
wife bought the season ticket back last summer, and kept it for a surprise
Christmas present.
Try Before You Buy!
Myra was going to the Christmas office party but needed a new party dress.
In the clothing store she asked, 'May I try on that
dress in the window, please?'
'Certainly not, madam,' responded the salesgirl, 'You'll have to use the fitting room like everyone else.'
Mirror Image
- Christmas Fable
On Christmas Eve, Nathan thought it would be nice to buy his wife a little gift for the next day. Always short of
money, he thought long and hard about what that present might be'
Unable to decide, Nathan entered Debenhams and in the cosmetics section he asked the girl, 'How about some perfume?' She showed
him a bottle costing £75. [$150USD]
'Too expensive,' muttered Nathan.
The young lady returned with a smaller bottle for £50. 'Oh dear,' Nathan groused, 'still far too much.'
Growing
rather annoyed at Nathan's meanness, the sales girl brought out a tiny £10 bottle and offered it to him.
Nathan became really agitated, 'What I mean', he whined, 'is I'd like to see something really cheap.'
So the sales girl handed him a mirror.
An Amusing and True
Funny Story At Christmas
A seven-year-old boy was stopped by police in northern Germany while
trying to plough snow with a front loader he borrowed from his parents'
business, authorities have told Will and Guy. Officers on patrol found the
boy atop the 3.5-meter-tall [11.5-foot-tall] excavator after he had cleared
the street in the town of Reinfeld and was driving back to the parking lot.
The child noticed the police car behind him and stopped immediately.
'He opened the door, got out and admitted immediately that he did not
have a driving licence,' the police report said. When asked why he had begun
ploughing, he said his father had complained about the state of the roads.
He saw the key in the ignition of the vehicle and set off.
Police retrieved the key to the loader from the child and returned it,
and the boy, to his mother.
The Tale of the Traditional Christmas Pudding
Martha decided to move with the times and try the delights of microwave cooking.
Whereupon, her devoted husband Archie went out and bought her a brand new
top-of-the range Sharp Microwave oven.
Christmas approached and Martha got out her Christmas pudding recipe and assembled the ingredients. She proceeded along traditional lines and even got the each member of
the family to stir the mixture 'for luck'. When Martha consulted the microwave's manual for the cooking time, she could not believe that ten minutes would be enough for a traditional Christmas pudding.
Consequently she decided to substitute her normal
cooking time of 50 minutes.

As Martha was in the lounge watching her favourite T.V. programme she did not see the pudding spitting
in the microwave oven, nor did she hear the mini-explosions. When she finally extracted the pudding
from the microwave after nearly an hour of cooking on 'High', it smelt of burnt sugar and looked like a ball of tar. Naturally, the Christmas pudding was a disaster, so much so, that Martha could not even prod it with a fork.
In fact the black ball
stuck to the bottom of the bowl and Archie had to get a screwdriver to prize it from its base.
In a fit of pique, Martha threw the shrivelled Christmas pudding to Togo her St Bernard puppy.
After a few days she could see the funny side, and Togo loved his new indestructible toy, which amused him until the next Christmas.
Amusing Christmas Turkey Story
Sarah new young bride calls her mother in tears. She sobs, 'Richard
doesn't appreciate what I do for him.'
'Now, now,' her mother comforted,
'I am sure it was all just a misunderstanding.'
'No, mother, you don't
understand. I bought a frozen turkey roll and he yelled and screamed at me
about the price.'
'Well, the nerve of that lousy cheapskate,' says her mum. 'Those
turkey rolls are only a few dollars.'
'No, mother it wasn't the price of the turkey. It was the aeroplane
ticket.' "Aeroplane ticket...." What did you need an airplane ticket for?'
'Well mother, when I went to fix it, I looked at the directions on the
package and it said: "Prepare from a frozen state," so I flew to Alaska.'
More Funny Christmas Stories
Christmas Queue Folly
Just before Christmas I was shopping at a toy fayre
in Worcester
I glanced to my left and caught sight of a queue at the doll counter; they were waiting for the shelves to be restocked with Mattel dolls. As I looked I realised that in the queue was
a good friend of mine. Knowing Lennie well I was sure that he had no daughters nor did he have any nieces so I wondered why he should want to buy a doll at Christmas time'
'Hey, Lennie,' I cried, 'I
hadn't realised you collected dolls.'
'I don't,' he replied laughing'
'Really,' I queried, 'then you must be buying a Christmas present then?'
'No, not at all, my friend,' responded
Lennie,
his eyes twinkling merrily'
'If you don't mind my asking then Lennie,' I said, 'Why exactly are you standing in this particular queue?'
'Oh that,' he giggled. 'It's like this, my mate,' he mused, 'I've never been able to resist a Barbie queue.'
Short Funny Xmas Story
Just before Xmas, an honest politician, a generous lawyer and
Santa Claus all got into the lift (elevator) at the Ritz Hotel in London.
As the lift travelled from the 5th floor down to the ground level,
one-by-one they noticed a £50 note lying on the lift's floor.
Which one picked up the £50 note, and handed it in at reception?
Santa of course, the other two don't actually exist!
Footnote:
This yarn was sent in by John Bains:
Please send us your short funny Christmas
stories
The Christmas Hold-up Tale
It was Christmas Eve; the department store manager was in his office
just paying off Father Christmas. All of a sudden a teenager
and ordered the manager to hand-over the not inconsiderable takings.
The manager was wondering what to do, so the teenager attempted to
fire his gun in order to make the manager's mind, and open the till and
hand over the money. Although the robber pulled the trigger,
nothing happened, so unbelievably, he peered down the barrel and then
fired again.
This time it worked.
A Nice Drink - Funny Story at Christmas
Two days before Christmas Jimmy set-off in his minibus to collect a
batch of open prison inmates. His mission, as usual, was to take
them for their radiation treatment at a nearby hospital. Since it
was Christmas, one of the 12 offered to buy Jimmy a drink. So they
stopped off at the Rose and Crown pub, and all had a nice drink. On the
way out Jimmy detoured to the gents, when he came out of the loo, all the
prisoners had disappeared. He looked in all the pub's bars, drove
around for half an hour, no sign of the inmates. They had all made their escape.
What could Jimmy do? Thinking quickly, he braked at a
particularly long bus queue, and told the waiting people that he was a
relief bus. Where-upon he picked up the first 12 and drove them to
the
open prison. He then radioed ahead to the warders giving a 'Code
Yellow' message. This was a pre-arranged signal that some of the
prisoners were playing up. Jimmy unloaded his passengers, he then beat a hasty retreat.
Amazingly, his
trickery wasn't discovered until the New Year.
Grandpa's Christmas Story
Grandpa decided that shopping for Christmas presents had become too
difficult. All his grandchildren had everything they needed, so he
decided to send them each a cheque (check).
On each card he wrote:
'Happy Christmas Grandpa'
P.S. 'Buy your own present!'
Conclusion:
Now, while Grandpa enjoyed the family festivities, he thought that his
grandchildren were just slightly distant. It preyed on his mind into the
New Year. Then one day he was sorting out his study and under a
pile of magazines, he found a little pile of cheques (checks) for his
grandchildren. He had completely forgotten to put them in with the
Christmas cards.
See more Christmas stories for
children
The Funniest and Shortest Christmas Story
Place: The Newtown School nativity play
Scene: The inn at
Bethlehem on Christmas Eve
Joseph: Do you have any room at the inn?
Inn Keeper: (Over-playing his role) Yes, plenty,
come on in.
Joseph: [Jaw drops, speechless]
Addendum:
In the nativity play, the inn keeper is
supposed to say 'There is no room in the inn', and this is how the baby
Jesus came to be born in a stable.
Another Christmas Tale from the Inn
Did you hear about the St Jude's Primary School Nativity Play?
Two
children are dressed as Mary and Joseph, and they are on their way to the inn
in Bethlehem.
Meanwhile on the other side of the stage, a lad in a shepherd's
outfit is on a mobile phone, calling to make a reservation.
See more funny short
stories
Footnote:
Please send us your short funny Christmas story.
See more funny Short Christmas stories:
∗
Short Christmas stories ∗
Funny Xmas stories ∗
Snowman stories ∗
Christmas kids stories
∗
Religious Christmas story ∗
Christmas children's
stories ∗
Christmas tree stories ∗
Mistletoe
∗
Funny nativity play ∗
Funny Santa letters ∗
Christmas angel stories ∗
Christmas news stories