A collection of jokes, one-liners, short stories and funny pictures. Each page has a bumper selection of funny but clean humour.
Funny Pictures
Bike Funny Pictures
Cars Funny Pictures
Cat Jokes and Funny Cat Pictures
Dog Jokes and Funny Dog Pictures
Selection of Funny Pictures
Funny Pictures of Signs
Jokes, One-liners and Funny Stories
Christmas Bumper Jokes
Good Jokes
Heroic Failures and 'Losers of the Week'
Interesting Facts About Animals
Jackson Jokes
Man Jokes
Pilot Jokes
Plane Jokes
Pub Jokes
Religious Jokes (clean)
Religious Short Stories
Selection of Short Jokes and One-Liners
Short Jokes and One-liners
Wedding Jokes and ideas for Wedding Speeches
Woman Jokes and Funny Pictures
Cat at peace - Aren't they always!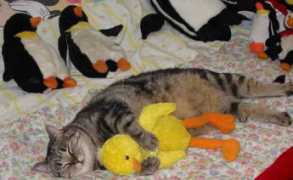 Selection from our joke pages
a) A policeman spotted a jay walker and decided to challenge him, 'Why are you trying to cross here when there's a zebra crossing only 20 metres away?' 'Well', replied the jay walker, 'I hope it's having better luck than me.'
b) The first rule of holes: If you are in one, stop digging.
c) Ford had a problem naming a car in Brazil when the Pinto flopped. The company found out that Pinto was Brazilian slang for 'tiny male genitals'. Ford pried all the nameplates off and substituted Corcel, which means horse.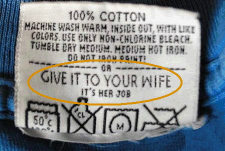 Gender Differences
An English teacher wrote the words, 'Woman without her man is nothing' on the blackboard and asked the students to punctuate so that it made sense.
The boys wrote: 'Woman, without her man, is nothing.'
The girls wrote: 'Woman! Without her, man is nothing.'
Short Story - Mine's A Pint
A man walks into a pub and asks the barman for a pint of bitter. The barman says, 'Bitter's
off just now, we're waiting for the dray and a delivery.'
The man says, 'OK then, I'll have a rum and coke.' After drinking his rum and coke, he goes back to the bar and asks again for a pint of bitter. Once again the barman says that they don't have any, so the man orders a screwdriver.
He drinks his screwdriver. He then goes back and asks yet again for a pint of bitter.
The barman says 'Look, if you take the rum out of a rum and coke, what do you have?' The man replies, 'Coke.'
'If you take the vodka out of a screwdriver, what do you have?' The man replies, 'Orange juice.'
'Now, if you take the flame out of a pint of bitter, what do you have?' The man looks puzzled, 'There is no flame in a pint of bitter.' The barman replies, 'That's what I've been trying to tell you!'
Those Wanting to be Married
Father Henry was planning a wedding at the close of the morning service. After the benediction Father Henry had planned to call the couple down to be married for a brief ceremony before the congregation. For the life of him, he couldn't think of the names of
those who were to be married.
'Will those wanting to get married please come to the front?' Father Henry requested.
Immediately; nine single ladies, three widows, four widowers, and six single men stepped to the front.
Donation - Funny Irish Joke
Father O' Malley answers the phone.
'Hello, is this Father O'Malley?'
'It is'
'This is the IRS. Can you help us?'
'I can.'
'Do you know a Ted Houlihan?'
'I do'
'Is he a member of your congregation?' He is'
'Did he donate €10,000 to the church?'
'He will.'
Retirement Speech Jokes, Also Suitable for Appraisals
He would be out of his depth in a parking lot puddle.
She got into the gene pool while the lifeguard wasn't watching.
His men would follow him anywhere, but only out of morbid curiosity.
This man is depriving a village somewhere of an idiot.
This man has delusions of adequacy.
Some drink from the fountain of knowledge; buy she only gargles.
When he opens his mouth, it seems that this is only to change whichever foot was previously in there.
Finally: Thinking Man - A little Reading is Dangerous
The husband had just finished reading the book 'Man of the House.'
He stormed into the kitchen and walked directly up to his wife, pointing a finger in her face, he said,
'From now on I want you to know that I am the man of the house and my word is law. I want you to prepare me a gourmet meal tonight, and when I'm finished eating my meal, I expect a scrumptious dessert. Then, after dinner, you are going to draw me my bath so I can relax. And when I'm finished with my bath, guess who's going to dress me and comb my hair?
His wife replies, 'the funeral director would be my guess'
Joke of the Day Email
Get a clean joke delivered to your inbox every day, no strings attached, just part of our service. Free subscription to
our Funny Joke of the Day email.
We have over 1,500 pages of funny pictures, clean jokes, stories and amusing videos. Please use the Search below to find a topic of particular interest:
Thought of the Day Subscription
Our offer is to email you an inspirational 'Thought of the day'. Your subscription is completely free of cost and there are no adverts. Sign up for our 'Thought of the Day'.