Eau de Stilton
Stilton has launched a blue cheese perfume. Will it catch on? The makers of the famously smelly Stilton blue cheese have produced their own perfume.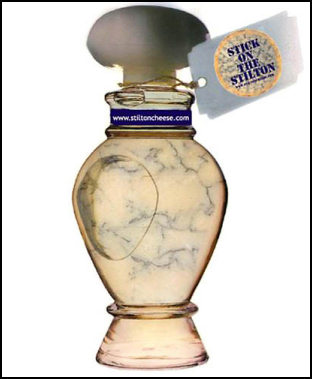 The face of Eau de Stilton - Cat Deeley
Apparently they manufacturers have asked Cat Deeley to be the face for their Eau de Stilton. The makers say that: 'Eau de Stilton recreates the earthy and fruity aroma of the cheese, in an eminently wearable
perfume'.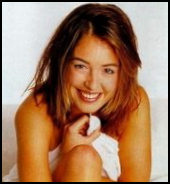 The perfume is blended by a Manchester-based aromatics company
and includes a '
symphony of natural base notes including yarrow, angelica seed, clary sage and valerian'
. It was commissioned by the Stilton
Cheese makers'
Association (SCA) as part of a campaign to persuade more people to eat their product.
Nigel White, of the SCA, dismissed the suggestions that it might not be the most alluring of scents.'
Blue Stilton
cheese has a very distinctive, mellow aroma and our perfumier was able to capture the key essence of that scent and recreate it in what is an unusual but highly wearable perfume, 'he said.'
While we don't
have
quite as generous a budget as some of her other endorsements, we would love Miss Deeley to be the face of Eau de Stilton and look forward to hearing what she thinks of the scent.'
Fragrance of
Play-Doh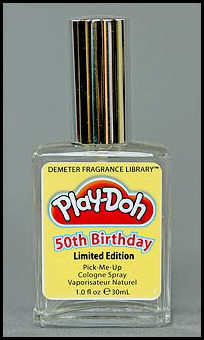 Original Product


Strange, Funny, Odd, Yet
Popular Perfumes in the USA

In Brooklyn, New York, USA, Will and Guy have discovered a small shop
which specialises in strange, funny and odd perfumes. It is owned and run by
a perfumer named, Mr Christopher Brosius. Mr Brosius can titillate
your olfactory organ with the following amazing smells:
a) The smell of rubber - the intoxicating odour of an inner tube.
b) A
wet pavement.
c) Burning leaves may tickle your fancy.
d) A clear
liquid reminding one of schooldays - blue ink smell.
e) Roast beef, we
are told is "startlingly revolting".
If these don't take your fancy then he can further excite your hooter
with:
i. Crème brulée
ii. Sugar cookie
iii. Or smells from the
library which include: 1st Edition, Russian and Moroccan Leather
Will and Guy would be amazed if by now you haven't found a favourite, but
Mr Brosius takes us further with:
a) Wet garden
b) A funeral parlour
c) The smell of dirt
d) A must like smell
e) A hint of wood polish.
Further Revolting, Unusual Purchasable Smells
In researching this strange rather topic we have found that some people
buy fragrances that are quite unusual and in some cases positively
repulsive:
How would you like Burger-King perfume?
There is a smell named Republican perfume and we are assured
that a Democrat and Independent smell is also available....you couldn't
make these up.
Whale vomit fragrance has proved popular in some homes -
though why we cannot explain.
Untested by us ; the Kiss fragrance can be bought online, so
we believe.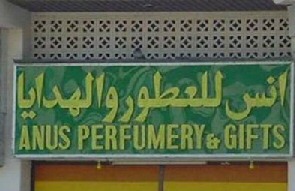 The Price of Smells

Science suggests that we, as humans, are able to distinguish some 10,000
different odours - incredible. The most expensive perfume on the market is
something that you may well wish to know about.
We have found that the most expensive smelly that is commercially
available is Clive Christian No1 and can be bought at Harrods, London and
other select retailers. Some 100 bottles are made each year and a 1oz bottle
will set you back £1,260 [$ 1800 USD]. You might prefer to purchase it in a
limited edition Baccarat crystal bottle with an 18 carat gold, diamond
adorned collar. This can be in your hand for £115,000 [ $172,00 USD approx]
- you better be quick because only 10 bottles have been made.
Footnote:
Please send us your 'Pictures that Stink!'