Here are Will and Guy's collection of Irish blessings, poems and toasts.
They
are particularly suitable for St Patrick's day - 17th March.
Irish 'Road' Blessing:
May the road rise up to meet you
May the wind be always at your back
May the sun shine down upon your face
And the rain fall soft upon your fields
Until we meet again
May God hold you in the
hollow of his hand.
Irish Drinking Toast
May your glass be ever full.
May the roof over your head be always strong.
And may you be in heaven
Half an hour before the devil knows you're dead.
Alternative Irish Toast:
Here's
to our wives and girlfriends:
May they never meet!
More Irish Toasts
May the dust of your carriage wheels blind the eyes of your foes.
May you live as long as you want, and never want as long as you live.
May your fire never go out.
May your well never run dry.
Sláinte: Irish Gaelic and pronounced 'slawn-cha' means health, much
the same as 'cheers'.
May we be alive at this time next year.
May the roof above you never fall in and those gathered beneath it
never fall out.
A bird with one wing can't fly - said to encourage someone to take a
second drink.

May the hinges of our friendship never grow rusty

.
Irish Blessings - For the Country:
May the Irish hills caress you.
May her lakes and rivers bless you.
May the luck of the Irish enfold you.
May the blessings of Saint Patrick behold you.
Irish Blessings - For the Home:
Walls for the wind,
And a roof for the rain,
And drinks beside the fire -
Laughter to cheer you
And those you love near you,
And all that your heart may desire!
An Irish Curse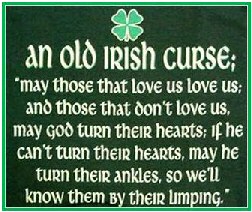 Parrot - Specially Coloured for St Patrick's Day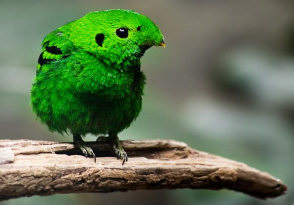 The Shamrock of Ireland

There's a dear little plant
that grows in our isle,
'Twas St.
Patrick himself
sure that set it;
And the sun on his labour
with
pleasure did smile,
And with dew from his eye
often wet it.
It
thrives through the bog,
through the brake,
through the mireland;
And he called it the dear
little shamrock of Ireland-
The sweet little
shamrock,
the dear little shamrock,
The sweet little, green little,
shamrock of Ireland!
Andrew Cherry, Irish Playwright (1762-1812)
Some Amusing and
Delightful Irish Quotes

I always pass on good advice. It is the only thing I ever do with
it. It is never of any use to oneself - Oscar Wilde
He who can does. He who cannot, teaches - George Bernard Shaw
Alcohol is a very necessary article. It enables Parliament to do
things at eleven at night that no sane person would do at eleven in the
morning - George Bernard Shaw
Work is the curse of the drinking classes - Oscar Wilde
[Dancing is] a perpendicular expression of a horizontal desire -
George Bernard Shaw
A man travels the world in search of what he needs and returns home
to find it - George Moore
There is only one thing in the world worse than being talked about,
and that is not being talked about - Oscar Wilde
In Ireland the inevitable never happens and the unexpected
constantly occurs - John Pentland Mahaffy

Why Worry?
Blessing for St Patrick's Day
In the end, there are only two things to worry about:
either you are well or you are sick.
When you're well, there is nothing to worry about.
But if you're sick, then there are two things to worry
about:
either you get well or you will die.
When you get well, there is nothing to worry about.
But when you die, then there are two things to worry about:
either you'll go to heaven or you'll go to
hell.
When you go to heaven, there is nothing to worry about.
But when you go to hell, you'll be so damn busy shaking hands with friends,
you won't have time to worry!
SO WHY WORRY!?
Kindly sent in by Friedrich Steinkuhl
How To
Identify A Real Irishman
A true Irishman considers a bore to be someone who keeps constantly
interrupting.
A true Irishman considers anyone who won't come around to his point
of view to be hopelessly stubborn.
A true Irishman has so much respect for the truth that he uses it
only in emergencies.
See more Saint Patrick Day jokes.
An Irish Friendship Wish
May your purse always hold a coin or two.
May the sun always shine on your windowpane.
May a rainbow be certain to follow each rain.
May the hand of a friend always be near you.
May God fill your heart with gladness to cheer you.
Footnote:
Please
send us your Irish Blessings and Toasts
See more funny Irish jokes and clean Irish stories :
•
Funny Irish jokes •
Clean Irish jokes •
Good Irish jokes •
Best Irish jokes •
Classic Irish jokes
•
Funny Irish stories •
Irish drinking stories •
Short Irish stories
• Irish driving •
Irish sausages
•
Funny notices Dublin bus •
Funny Irish phrases •
Leprechaun pictures •
Funniest Irish jokes