The secret is to start with a healthy pumpkin. My Litmus test for a
good pumpkin is a
healthy stem, and a firm bottom.
Scary Pumpkin Carvings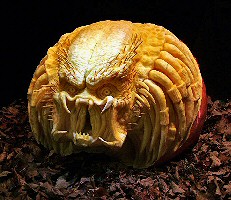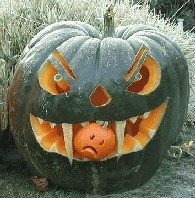 What a lot of work went into creating these frightening pumpkin lights.
Frankenstein Pumpkin Monster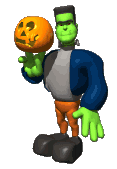 May Jack-o-lanterns burning bright
Of soft and golden hue
Pierce through the future's veil and show
What fate now holds for you.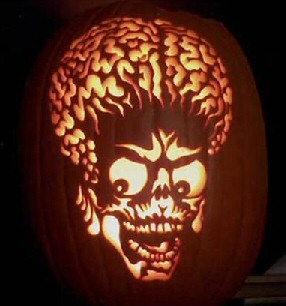 See how to make your Jack-o-Lantern
Scary Pumpkin Face Design
Famous Pumpkin Carvings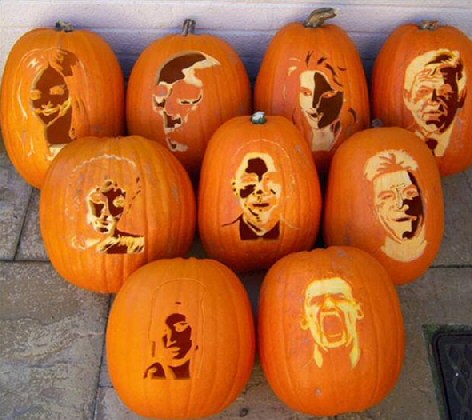 Are you able to determine the celebrity character shown by Will and Guy?
[above] These pumpkins have been carved by gardener David Finkle
Rather than carving out the traditional sinister smiles on his prized
fruit for Halloween, gardener David Finkle is busy carving out the faces of
his favourite stars for decorative "jack-o'-lanterns." David, 30, has carved
out the faces of X Factor judge Simon Cowell, glamour model Jordan and Prime
Minister, Gordon Brown on the fruits of his labours which grow on his small
holding in Chelmsford, Essex, England.
Other celebrity pumpkins he has completed include singer Amy Winehouse,
Manchester United and England soccer player, Wayne Rooney, Girls Aloud
singer Cheryl Cole, Michael Jackson and US president Barak Obama.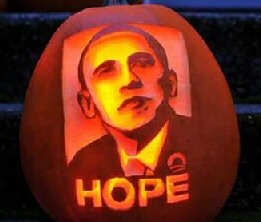 Pumpkin Ghost Rider
based on 'The Legend of Sleepy Hollow'
'The Legend of Sleepy Hollow' (1820) has spawned generations of headless
horseman with pumpkins at Halloween. As you can imagine from the above
picture, the story tells of a suitor being killed by a headless horseman.
See more Halloween ghost stories.
Funny Pumpkin Pictures -
Lovely Pumpkin Wall Lanterns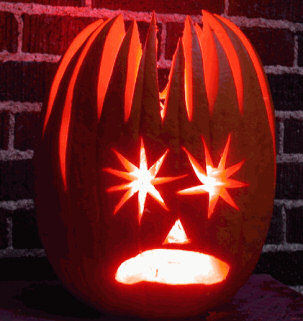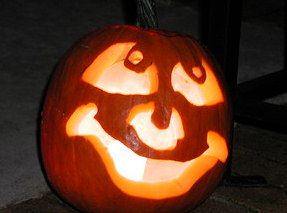 Pumpkin Carving Tip
Before you cut the lid of the pumpkin visualise how to stop the lid
falling in later. This means angling the edge of blade to get a cone
shape which bevels away from the middle.
Actually, a saw works better than a knife for removing the lid, cut
slowly and gently.
See how to make a Jack-o-Lantern
From One Pumpkin to Another!
A co-worker asked Abegale,
'What is it like to be a Christian?'
Abegale replied, 'It is like being a pumpkin.' God picks you from the
patch, brings you in, and washes all the dirt off of you. Then He cuts off
the top and scoops out all the yucky stuff.
He removes the seeds of doubt, hate, and greed. Then He carves you
a new smiling face and puts His light inside of you to shine for all the
world to see.'
This was passed on to us by another pumpkin called Joe Muise. We liked
this enough to send it to all the pumpkins in our patch. Now it's your turn
to pass it to other pumpkins.
Pumpkin and Halloween Stencils
Here two
pumpkin stencils which you can print out, the pictures enlarge if you click on them.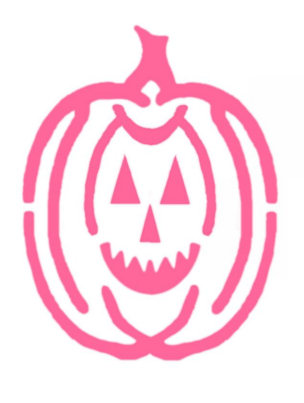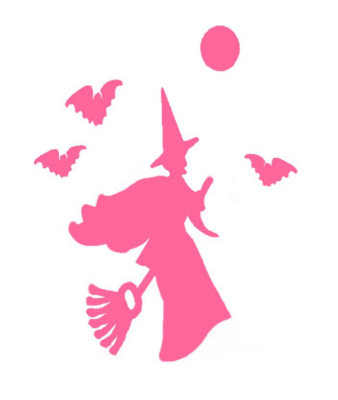 Pumpkin Carving Tips
Draw your pumpkin design with a water-based
marker, it makes it easier to correct mistakes.
Cut the top off with a serrated metal saws.
Naturally, carve away from your body. Slow steady saw strokes
produce the best effect.
To prevent the lid from falling into the pumpkin make
sure that the outer diameter is bigger than the inner.
Carve the design features closest to the equator first
and work outwards.
Check the height of the candle, you don't want the
flame near the top of the pumpkin.

A neat trick is p

reserve the coat by
smearing with petroleum jelly or vegetable oil and cover your pumpkin
with a damp cloth when it's not on display.
Ideas For Fashion Pumpkin Designs
Crochet Mask
Here is a 'Sweet Satisfaction' crochet
pattern which is a skein-and-notion-holder, inspired by the sugar skulls
traditionally served for El Dìa de los Muertos.
Pumpkin Fashion Bag
45 free Halloween patterns that
you can knit or crochet such as this crochet pumpkin candy bag and the knit
skull candy bag. See more on
Pumpkin fashion
Witch Doll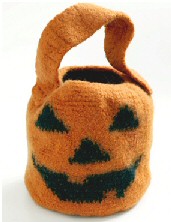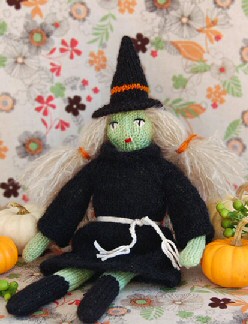 See how to make a Jack-o-Lantern »
Footnote:
Please send us your pumpkin carving design
ideas.
See more funny Halloween pumpkin carvings and
Jack-o-lantern pictures
•
Halloween jokes
•
Halloween pictures • Pumpkin
jokes •
Jack-o-Lantern •
Home - Clean jokes
•
Pumpkin carvings •
Pumpkin carving designs •
Pumpkin babies •
Stamps • Coven of witches
• Optical
illusion •
Halloween fashion
• Halloween 2012 Date
•
Halloween stories • Bonfire Night