Will and Guy's collection of funny rabbit and hare pics.
The White Rabbit Marries Alice
A Love Story from Cornwall, England
Jane and Mark Sharp-Hall's wedding was so very different since they and
their guests all dressed up as characters from the novel 'Alice's Adventures
in Wonderland' (commonly shortened to 'Alice in Wonderland').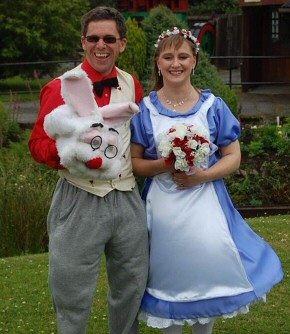 Alice and the White Rabbit
They were married dressed as Alice and the White Rabbit from * Carroll's
1865 novel, while the best man came as the Mad Hatter and other guests
played the Queen of Hearts, Cheshire Cat, Caterpillar and 28 playing cards.
'This is the second time round for both of us and we did it traditionally
the last time so we thought we'd do everything a bit differently this time,'
said Mrs Sharp-Hall, who spent more than a year creating the costumes.
* Alias of English author Charles Lutwidge Dodgson
The couple married underground at Poldark Mine in Cornwall, where they
also enjoyed a Mad Hatter-inspired tea party - including little 'Eat
Me'cakes.
Alice's Humpty Dumpty
HOWEVER, the egg only got larger and larger, and more and more human:
when Alice had come within a few yards of it, she saw that it had eyes and a
nose and mouth; and, when she had come close to it, she saw clearly that it
was HUMPTY DUMPTY himself. 'It can't be anybody else!' Alice said to herself.
'I'm as certain of it, as if his name were written all over his face!'
'Humpty Dumpty sat on a wall:
Humpty Dumpty had a great fall.
All
the King's horses and all the King's men
Couldn't put Humpty Dumpty in
his place again.'
From Alice Through the Looking Glass by Lewis Carroll.
A Mad March Hare on the Loose
Here, at Marwell Zoo, near Winchester, Hampshire, England we see a lemur
who has his own 'paper-mâché' egg for Easter.
You will be delighted to learn that it contains tasty treats of banana,
grapes, crickets and grubs.
Rabbit Problem
The French will eat almost anything. A young cook, Jean Luc, decided that
the French would enjoy feasting on rabbits and decided to raise rabbits in
Paris and sell them to the finer restaurants in the city.
Jean Luc searched all over Paris seeking a suitable place to raise his
rabbits. None could be found.
Finally, an old priest, Father Pierre, at the cathedral said he could
have a small area behind the rectory for his rabbits. Jean Luc successfully
raised a number of them, and when he went about Paris selling them.
One restaurant owner asked him where he got such fresh rabbits.
Jean Luc replied with a smile, 'I raise them myself, near the cathedral.
In fact, I have ... a hutch back of Notre Dame.'
Footnote:
Please send us your funny rabbot pictures.