When researching various aspects about Halloween Will and Guy were very
surprised when we came across the fact that in Europe, both Belgium and
France have Halloween postage stamps. While the USA has not been left
behind when it comes to funny Halloween postage stamps.
French Halloween Postage Stamp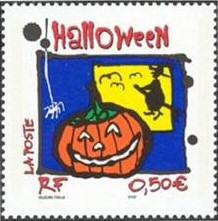 We wonder if this pumpkin has been drinking too much of the new season's
Beaujolais Nouveau. He really should have waited until the third
Thursday of November rather than quaffing this season's wine at Halloween.
American Halloween Postage
Stamps
In the USA, a private company has created both 'Gothic' style and 'Halloween style' stamps that can be used officially when sent through the
US Mail system. Here are four examples of 'Gothic' Halloween postage stamps: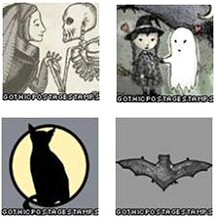 Examples of
American Halloween Postage Stamps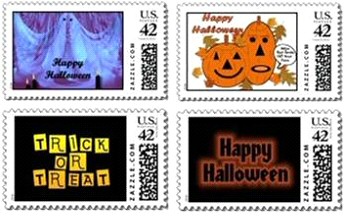 As we research these funny Halloween postage stamps, we cannot help
reflecting on stamp collecting from our childhood. Our conclusion is
that the secret of successful stamp collection is 'swapsies' and the
internet provides a rich source of people willing to exchange stamps.
Belgian Halloween Postage Stamps
This example shows three things associated with the celebration of
Halloween: a particularly splendid looking witch, a black cat and flying
bats. These stamps were first put on sale in Belgium in 2004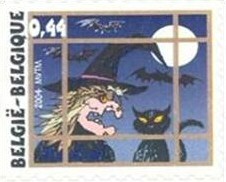 This second Belgian stamp has flying bats at the top and the famous Jack O'Lantern in the middle
Halloween Postage Stamps
Of all the special events in the year, you could think of Halloween as the
naughty boy, or rather, the naughty girl of days. The fact that so
many countries now have commemorative stamps for Halloween, further
legitimates this day as having, or regaining, its special place in the
calendar. We like these stamps because they are funny and frivolous,
when we see them on an envelope it reminds us of the season ahead.
Stamp Collections
The English royal family have one of the oldest stamp collections in the
world. Queen Victoria's second son 'Affie', began the collection back
in the 19th century. Later King George V added to the royal stamp
collection, and today Queen Elizabeth is a keen philatelist. One of
the strength of the royal collection lies in its completeness, another
feature is the accompanying drawings and proofs of commonwealth stamps.
Bradley Wiggins Gold Medal Stamp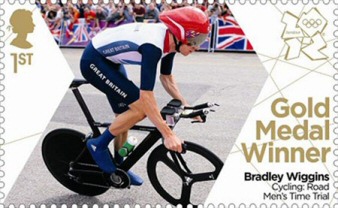 Bradley Wiggins, and other 2012 British gold medallist, will have
their own commemorative stamp.
See more on the British
Olympic stamp collection.
Footnote:
Please send us your country's Halloween postage
stamps
See more funny Halloween stories
•
Halloween stories •
Funny Halloween drinks
• Halloween 'Trick or
Treat' •
Halloween stamps
•
Halloween clean jokes •
Short Halloween stories •
Halloween ghost stories •
Halloween fashion
•
Halloween pictures
•
Funny Halloween sayings •
Halloween history •
Halloween poems