Here we have a selection of funny football stories. Most are from the UK, but we are keen to add funny foreign football stories.
Soccer Origin
The word soccer is derived from an abbreviation of association, as in Association Football. In 1890 it was spelt variously as socca and socker. It is said that upper class sportsman had a fad of
adding 'er'
to everything. Rugby became rugger and socca became soccer. Incidentally, my favourite example of this
type of patois is Pragger Wagger, a slang word for the Prince of Wales (Later Edward VII).
Medical School

A medical professor had just finished a lecture on the subject of mental health and started to give an oral quiz to the first years. Speaking specifically about manic depression, the senior doctor asked, 'How would you diagnose a patient who walks back and forth screaming at the top of his lungs one minute, then sits in a chair weeping uncontrollably the next?'
A young man in the rear of the room raised his
hand and answered, 'A Premiership football coach?'
Portsmouth -v- Southampton Rivalry
A primary teacher starts a new job at a school in West Hampshire and, trying to make a good impression on her first day, explains to her class that she is a Southampton fan. She asks her
students to raise their hands if they, too, are Saints fans. Everyone in the class raises their hand expect one little girl.
The teacher looks at the girl with surprise and says: 'Mary, why didn't
you raise
your hand?'
'Because I'm not a Southampton fan', she replied.
The teacher, still shocked, asked: 'Well if you're not a Saints fan, then who are you a fan of?'
'I'm a Portsmouth fan, and proud of it', Mary replied.
The teacher could not believe her ears.
'Mary, why, pray tell, are you a Pompey fan?'
'Because my mum and dad are from Portsmouth, and my mum is a Pompey fan and my dad is a Pompey fan,
so I'm a Pompey fan too!'
'Well, 'said the teacher, in a obviously annoyed tone, 'that's
no reason for you to be a Portsmouth fan. You don't
have to be just like your parents all the time. What if your mum
was a prostitute and you dad was a drug dealer and car thief, what what you be then?'
'Then', Mary smiled, 'I'd be a Southampton fan.'
(Incidentally, Will is a life long Portsmouth Supporter. Naturally you could amend the story to suit other rival clubs.)
Norwich -v- Ipswich Rivalry (Can be modified for story telling
purposes!)
An Ipswich van driver used to amuse himself by running over every Norwich City fan he would see strutting down the side of the road in their ubiquitous green and yellow colours. He would
swerve to hit them, there would be a loud 'thud'
and then he would swerve back on the road.
One day, as the driver was driving along, he saw a priest hitchhiking. He thought he would do a good turn and
pulled the van over. He asked the Priest, 'Where are you going, Father?'
I'm going to say mass at St. Joseph's
church, about 2 miles down the road'
replied the priest. 'No problem Father! I'll give
you a lift! climb in!'
The happy priest climbed into the passenger seat and the van continued down the road.
Suddenly the driver saw a Norwich fan walking down the road and instinctively swerved to hit
him. But, just in time, he remembered the priest, so at the last minute he swerved back to the road, narrowly missing the Norwich fan. However even though he was certain he missed the Norwich fan, he still
heard a loud 'thud'. Not understanding where the noise came from, he glanced in his mirrors and when he didn't
see anything he turned to the priest and said, 'I'm sorry Father, I almost hit that Norwich fan, '
That's
okay'
replied the priest. 'I got him with the door!'
The World's Smallest Football League
Will and Guy have established that the Isles of Scilly, UK, is home to
the smallest football league in the world, with just two teams who play each
other every week.
The way they pick the teams reminds me of playing games in school.
Captain of Woolpack Wanderers, Anthony Gibbons, explains to us (below) why 'it
never gets boring,' in this video.

http://www.bbc.co.uk/sport/0/football/17235961
We particularly enjoyed the comment about playing in the cup. The mention
of playing for a barrel of beer reminds us that once, Guy and Will played a
game of "coarse cricket" in a Welsh village for a barrel donated by the
local landlord of the pub in St Hilary, South Glamorgan.
Another Unusual Football Story
Bungay -v - Bungay
All 22 football players share the same name in match.
We are delighted to share with you this rather eccentric football tale.
A football match where all 22 players, referee, linesmen and reserves
shared the same name of Bungay has taken place in the town of Bungay in
Suffolk. Bungay is one of Britain's rarest names with only 455 people called
Bungay in the country - just 12 people per million.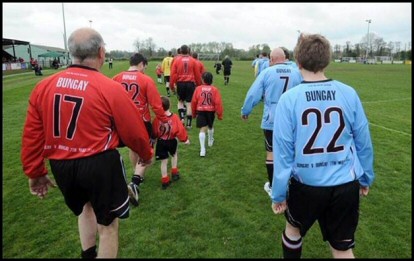 The Bungays came from Britain, Australia and America and they turned up
for the match which is believed to be the first in the world using all
players of the same name.
The mixed sex teams were able to tell each
other apart as they had different red and blue shirts - but all had Bungay
printed on the back. The mascot for the match was an eight-year-old Carla
Bungay and the doctor on hand to treat any injuries was Dr Elizabeth Bungay.
The idea for the match came about after Shaun Cole who is on the Bungay
Town FC management committee decided to investigate ways of promoting the
Anglian Combination League club. He saw a mention of the London advertising
and public relations company Beattie McGuinness Bungay on Twitter and
contacted the firm to see if anyone called Bungay worked there.
Mr Cole, 51, ended up speaking to the firm's director Bil Bungay who
suggested they find as many Bungays as possible to play in a football match.
He then searched the BT directory inquiries website to find addresses for 68
families with the name. Mr Cole wrote to all the Bungays he could find and
contacted others internationally on Facebook and Twitter. Retired
lorry driver Chris Tiiffer Bungay, 57, of Queensland, Australia, agreed to
play in the match while combining it with a holiday to visit his relatives
in Britain.
Mr Cole found qualified referee John Bungay, 61, from Eastleigh,
Hampshire, England, who agreed to officiate. His two sons Andrew, 37, and
Graeme, 34, also attended. All profits from the match; which was drawn
6-6, went to The Jack and Ada Beattie Foundation, which supports vulnerable
people.
Footballer
Transferred for 15 kg of Sausage Meat
A Romanian football team is apparently demanding a refund after having bought a player for a transfer fee of 15 kilos of pork sausages. Defender Marius Cioara retired a day later saying he could not face any
more sausage related taunts at his expense. Cioara, who played for second division team UT Arad, was sold to fourth division Regal Hornia for the sausage meat.
After the deal a spokesman for Regal Hornia
confirmed, 'We gave up the team's
sausage allowance for a week to secure him, but we are confident it will be worth it. 'However, a day after the deal was leaked to the media, Cioara announced he was giving up
football and had decided to flee the country.
Ananova the News agency reports that he said, 'The sausage taunts all got too much. They were joking but I would have got more from the Germans and making
sausage jokes was a huge insult. I have decided to go to Spain where I have got a job on a farm.'
Ridiculous?
A Record That Will Never Be Beaten?
Hired and fired in ten minutes
Ex-soccer star Leroy Rosenior was appointed boss of a struggling club - then sacked after ten minutes. The former West Ham and Fulham striker broke the record for English football's shortest managerial reign
after being introduced with a fanfare by Torquay United, reports The Sun.
Sports journalists were summoned to a press conference which finished at 3.30pm. Then - at 3.40pm - Leroy was told by the chairman that the Devon club had been sold to a business consortium. And that meant he
was out. Leroy, 43 said, 'For it to happen ten minutes after I finished the press conference was a bit of a shock. But we had a good laugh about it afterwards.' Leroy smashed the previous record for the
shortest time as manager - Dave [Harry] Bassett's 72 hours at Crystal Palace in 1984.
He joked, 'Obviously they thought I had done a fantastic job after ten minutes and let me go.' The post was Leroy's second stint at Torquay, who will face next season in the Conference after finishing
bottom of the Football League. He was boss between 2002 and 2006 when he left by mutual consent. Since then the club has been in a managerial crisis, with four different bosses in the hot seat. Leroy added,
'I wish them the very best of luck. They are going to sort me out a bit of
compensation.'
More Funny Soccer Stories
Take His Name Referee

An Italian football team has been founded by former *Serie A player,
Maurizio De Feo. Their claim to fame so far has not been on the football
pitch.
The club's founder, coach, secretary, doctor and all 12 sponsors of the
"Team De Feo" club, in Serino, southern Italy, have the same name: De Feo.
Everyone in the playing squad also has the same name: De Feo. Their home
ground can be found on.................wait for it: Raffaele De Feo street in the
town.
Will and Guy think that you couldn't make it up. We also wonder if a team
named "Jones" might be established in Guy's home country of Wales.
*Italian Football Association Premier Division.
Lovely
Generous Gesture from Birmingham City's Star Soccer Player
French international footballer, Olivier Kapo,[full name: Narcisse-Olivier
Kapo-Obou ] gave an apprentice player his car to thank him for polishing his
boots throughout the season Will and Guy have discovered.

The Birmingham City player gave the lad, James McPike, his Mercedes worth
£30,000 [almost $60,000 USD] as an end-of-season present. He also agreed to pay
for a year's insurance when James, 20, said he was unable to afford it
The French midfielder, who is originally from the Ivory Coast in Africa,
earns almost £1.5million [$3million USD] a year.
We heard that all James had asked for was Olivier's boots as a souvenir but
he ended up with his car. What a magnificent present.
Football History -
First Football Story
Dr Maria Hayward, an expert at Southampton University, has discovered that Henry VIII - the Tudor King who had six wives, owned a pair of football boots.
These shoes, costing four shillings
[approximately £100 in today's
money] were made by his personal shoemaker, Cornelius Johnson, in 1525.
Dr Hayward found them in a list of the king's
clothes made when he died in 1547.
Sadly we don't
know what the football boots looked like so we cannot compare them with those worn by David Beckham or Ronaldo. However, it is not likely they were anything like the boots worn today. Historians think they were
probably heavier than the normal shoes of the time and made of especially strong leather.
They needed to be strong because football during the 16th century, when Henry VIII was king, was a very tough
game. 'Football in Tudor times was a very vicious game, with no teams and no rules, so it was not a game for gentlemen, 'comments Dr Hayward. According to a Tudor writer called Sir Thomas Elyot, it was a game
of 'beastly fury and extreme violence'.
It is known that it was especially popular on Shrove Tuesday (Pancake Day) and Henry VIII even tried to ban the game because it so often led to riots and violence.
Behaviour generally, it appears, has improved over the ages!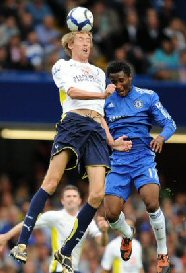 Peter Crouch Causes
Slump of Wide-screen T.V.

Sales of Wide Screen T.V. plummet. The reason England fans realize that they cannot see all of Peter Crouch on the
1333 x 768 pixel models.
The answer is the revolutionary 1333 x 3413 pixel model that Will and Guy are seeking to franchise.
Peter Crouch first came to Will's
attention playing for his local team Portsmouth. As you may know Crouch at
6' 7'' is the tallest footballer playing in the top
flight. We predict that his aerial domination will play a crucial part in England winning World Cup
2010 in South Africa.
Goran Granic - Looses His
Bite
A Croatian football star says
his team are losing matches because he can no longer commit fouls since finding God.
Hajduk Split defender Goran Granic has come in for a storm of criticism for abandoning his trademark hard tackles on
opponents.
But Granic has now revealed his Catholicism is behind his softer style of play.
He told daily newspaper Slobodna Dalmacija, 'I'm so devoted to God now that I have started to avoid committing
fouls during matches. God has created football for fun and relaxation. He would not like players to commit harsh fouls.'
He added, 'I could probably have saved some key goals during the season, including in
the Champions League qualifying games, if I had committed fouls to stop players scoring.'
Hajduk Split are reigning Croatian champions but this season they failed to qualify for the Champions League and are
currently fifth in the Croatian league.
Footnote:
Please write to Will and Guy if you have any funny football stories.
A variety of good, clean and free football (soccer) jokes. Funny sportsman's
nicknames. Amusing short stories. Anecdotes and tales about football. Will and Guy hope
that you share our joy of sporting funnies.
See more clean football jokes and funny stories:
• Football Home •
2014 World Cup jokes •
Stupid footballers •
Football Jokes •
Football bloopers
• Crazy football
bets •
Funny football stories •
Funny footballer quotes •
Footballer nicknames
•
Funny Referee •
Funny football pictures
• Funny football photos •
Funny Super Bowl jokes