Each Christmas it's always difficult to choose just the right
gift for your girl friend. Wives are even more difficult to buy Christmas presents
for, because you have already bought them the best gift last year, or the year before
that.
1) Never Try Buying The Girlfriend Shoes
Definitely not the right Christmas present.
Note the blood dripping down the poor
boyfriend's face.
2) Never Buy the Wife a Household Gift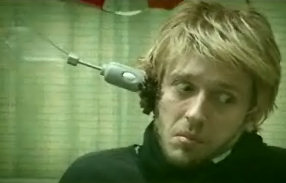 Well at least there is no blood spilt with
this wrong present.
The video is even funnier than the still pictures.
3) This is
What Happens if Your Wife's Christmas Present is a Hoover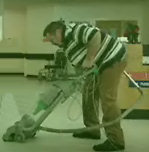 Let's hope that the operation to
remove the vacuum pipe is less painful than when the wife's inserted said pipe.
Conclusion
Well fellas, now you know what happens if you don't get the girlfriend or wife the right Christmas
present. See our funny Christmas video clip
Wrong Present? Funny Christmas Video Clip
N.B. With some browsers you need to click twice on the Play arrow

to start the video.
N.B. Help for Mozilla browsers
Funny Christmas Presents
Will and Guy are building a collection of 'Right Presents' and 'Wrong
Presents'. Here are examples.
A Thoughtful Christmas Gift
Jim asked his friend, Tony, whether he had bought his wife anything for
Christmas.
'Yes,' came the answer from Tony who was a bit of a chauvinist, 'I've
bought her a belt and a bag.'
'That was very kind of you,' Jim added, 'I hope she appreciated the
thought.'
Tony smiled as he replied, 'So do I, and hopefully the vacuum cleaner
will work better now.'
Get The Right Vacuum Cleaner
My mate just hired an Eastern European cleaner. It took her 5 hours to
Hoover the house. Turns out she was a Slovak.
Crazy 8 Ball - Right Present
This looks like like a normal Pool ball but it has one difference, namely
a bias which makes it wobble and go in all directions, except the one
intended. Just watch the amazement on your opponents face, as after
you have discretely substituted the 8 Ball, he tries his pot!
Beer Alarm - Wrong Present
You can protect you pint with this Beer Burglar Alarm System.
Attach the 'sucker' to the side of your beer glass or bottle, set the
proximity alert and walk away. Whenever someone comes within 30cm (12
inches) of your beer the mafia style voice alert sounds: 'Keepa Da Hands off
ma BEER!'
Funny Christmas Present
Pete bought his wife, Thelma, a beautiful diamond ring as her Christmas
present.
After hearing about this extravagant gift, a John, his friend, commented,
'I thought she wanted one of those sporty four-wheel-drive vehicles.'
'Oh, Thelma did, Pete replied, 'But where on earth was I going to find a
fake Jeep?'

Will and Guy Investigate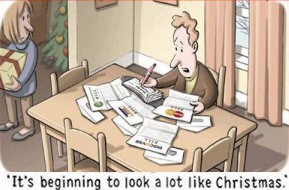 What is the Cost of Christmas?
Santa Claus is the patron saint of supply and demand is a quotation
to be found on a BBC [British Broadcasting Corporation] online business
page. The following article is based on that quote. Will and Guy have
considerable sympathy with that point of view.
Christmas has become vital to the global economy, and that has begun
to outweigh its religious significance, especially for children. The
luxury goods market at Christmas is worth £35bn, [approx. $65bn USD]
while the music business sees 40% of its annual sales at Christmas. More
than 70% of children associate Christmas with Santa Claus, and only 8%
with Jesus Christ, we have learned.
The Business that is Christmas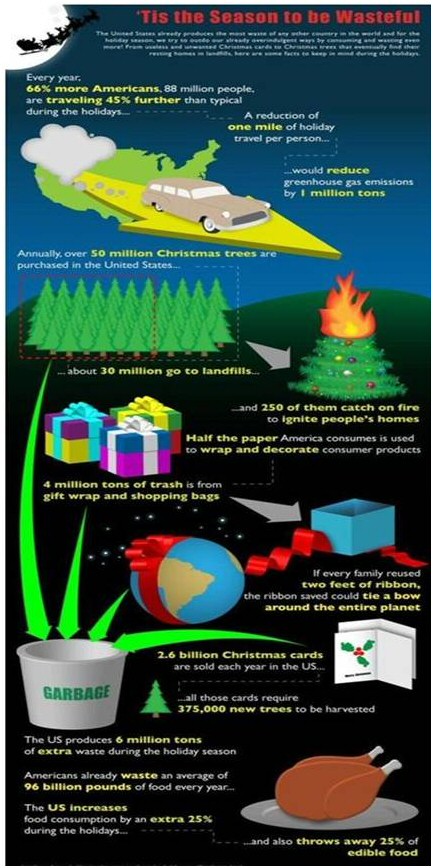 In 1647 Oliver Cromwell and the Puritans ordered the Mayor of London
to tear down and burn decorations to stamp out all signs of Christmas
frivolity. It was in the 19th century that the USA re-invented the
holiday. A Philadelphia department store introduced Santa Claus;
originally a 4th century monk, the patron saint of gifts, as a selling
technique.
The Place of Christmas Trees
The Christmas tree tradition came from Germany, through Prince
Albert, Queen Victoria's husband, who introduced it in 1847 to the UK.
Now over 7m Christmas trees are sold the UK, worth £150m and they are
decorated with £200m worth of tinsel and baubles. We also consume 60,000
tons of chocolate worth £600m, 200 million litres of soft drinks, and
10m turkeys. Britain makes 2000 million crackers each year. To earn £60
a week, home workers make 1500 crackers at 4p each, the components,
however, are imported from China.

Christmas Tree Customs.
Christmas certainly has become the beating heart of a huge
global industry
Around the world, production lines have been rolling all year: from
the toy factories of China which makes 80% of the toys sold at
Christmas, to the perfumeries and luxury goods manufacturers of France,
the video game designers of Lara Croft in Derby, England to the
manufacturers of must-have video games in Japan, to the Christmas tree
plantations of Britain. All of them are hoping that despite financial
uncertainties that we spend extravagantly at Christmas.
The UK toy market is worth almost £2bn. With half that expenditure
coming in the few weeks before Christmas, manufacturers and retailers
can't start early enough to begin marketing their products. Even in the
heat of summer, world-famous toy shop Hamleys opens its doors to the
media to watch manufacturers jostling to be the must-have Christmas toy.
Over 20,000 new toys are developed each year, but only a few hundred
will make it onto the toy shop shelves, and maybe a few dozen will be
hits. To persuade them, UK children are exposed to 18,000 TV ads each
year and successful companies can make massive sales. The following
figures support this proposition:
The Pokemon craze saw 1000 product licences up for grabs from
Nintendo. Totally sales reached $18bn.
More than 22 billion Barbie dolls have been sold since its
launch by Mattel.
Barbie's rival, Sindy, developed by Hasbro, faces an uphill
struggle in penetrating the crucial US market.
Will and Guy's
Conclusions
Ironically, the production of toys is a global business with the
main production centres in Asia, whose people do not even celebrate the
Christmas holiday.
In China, a skilled workforce on a monthly wage equivalent to the
price of a single toy manufactures almost 80% of the toys sold at
Christmas.
Toys are now designed in one continent [America], manufactured in
another [Asia], and marketed in a third continent [Europe].