We imagine that the people who live in this house are real characters. At least when it comes to Christmas lights they have a zany sense of humour. View the Christmas Lights video below.
Christmas Searchlights sweeping the lawn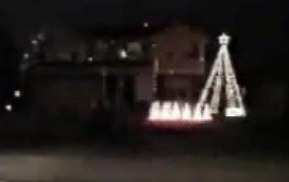 We are not sure if the little white cones are angels. See the video and make up your mind.
House lit up like a Christmas tree!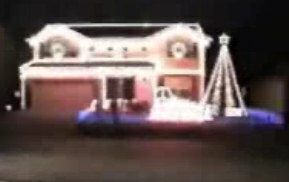 To get the full sensation you need to see the video and listen to the sound track. These pictures don't really show the Christmas
Lights in action.
Christmas display - Dig that CND ban the bomb sign!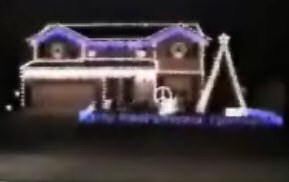 Have you noticed how every outdoor Christmas light display has a snowman?
Christmas lights with Chinese signs?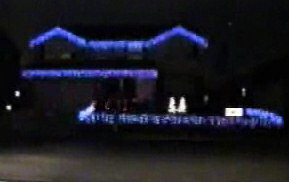 Christmas Lights Video
Will and Guy wonder if the mauve lights are Chinese signs. As you watch the video, turn on your speakers for the full multi-sense effect:
N.B. With some browsers you need to click twice on the Play arrow

to start the video.
Red Tape Curtails Christmas Lights
Shops in Clevedon, Bristol, UK, have abandoned their plans for illuminations because North Somerset Council told them that lights can no longer be attached to lampposts or buildings. Bob Hughes, of local traders' association, said: 'We have also been told that we cannot attach lights or motifs to the lampposts along the street as we have done in previous years.'
See more on Christmas Lights Red Tape
Lego Christmas Tree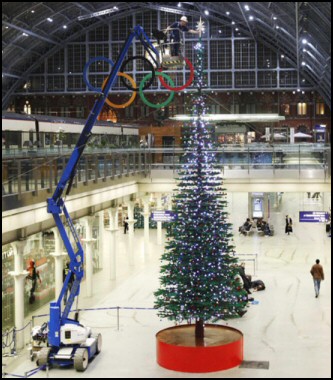 This tree was built by Duncan Titmarsh, the UK's only LEGO Certified Professional. This amazing Christmas tree is built out of Lego bricks,
you can see it at St Pancras International, London. The tree measures 12 metres high, it took 600,500 LEGO Bricks to make.