Wife Carrying World Championships
Will and Guy have discovered that in July the Wife Carrying World
Championships takes place in Sonkajarvi in Finland. Teams from all over the world
travel to take part in this annual event. The race was inspired by the
legend of a local thug, Herkko Rosvo-Ronkainen, who lived in a forest in the
late 1800s and is said to have snatched food and sometimes ladies from villages
in the region.
Apparently the wife doesn't have to be your own because the contest is based on
an ancient tradition when it was not uncommon for men to steal women from
neighbouring villages.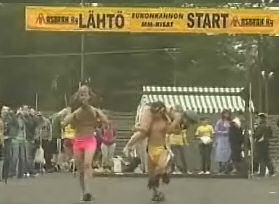 The Wife-Carrying event is charged with competitive spirit and is renowned
for its warm and humorous atmosphere. The championships have traditionally been
dominated by Estonian teams and that doesn't please the local Finns who have
been wife-carrying for centuries.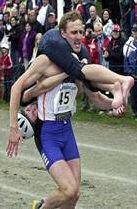 Wife-carrying
Champion Wins Again - 2012 Update
Winning duo Taisto Miettinen and Kristiina Haapanen are shown here in
action during the annual competition. The Finnish couple have won the
country's annual wife-carrying competition for the forth year in a row.
Taisto Miettinen and Kristiina Haapanen defended their title in front of
6,500 spectators who turned out to watch the celebrated event in Sonkajarvi,
Finland.
The 46-year-old lawyer, with his partner's legs wrapped around his head,
sprinted 253 metres, leaping hurdles and negotiating a water pool along the
way, all in a time of one minute. Less than a second behind them were
Estonian rivals Alar Voogla and Kristi Viltrop, while a Lithuanian couple
came third.
Will and Guy were keen to learn the secret of his success?
Mr Miettinen, who has taken part in the competition 13 times, tells us
likes to practice the course wearing ski boots to build up his leg muscles.
This year 47 couples from 10 different countries took part, with Israel,
Russia and the United States among the countries represented.
2010 Update: Finland has taken first place at the
annual Wife-Carrying World Championships held in the central Finnish town of
Sonkajaervi for the second year in a row.
Taisto Miettinen, who was defending his champion title, raced through a
250-metre course with two hurdles and a pool in just over one minute four
seconds, carrying Kristiina Haapanen on his back.
The winners beat Estonia's Alar Voogla and Kristi Viltrop, who also took
silver last year, by 0.4 seconds.
Wife Carrying World Championship 2008
In 2008, Estonia's Madis Uusorg carries his wife Inga Klausen to win the Wife Carrying
World Championships in 61.7seconds
Margo Uusorg [5 times winner and brother of this year's champ]and Egle Soll
from Estonia hold the Wife-Carrying World Record with a time of only 1 minute
0.7 seconds. The Wife Carrying World Championship is competed over a 253.5
metre-long official track. The surface of the track is partially sand, partially
grass and partially asphalt. The track has two dry obstacles and a water
obstacle, about one metre deep.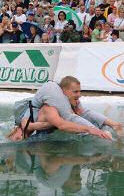 There are a few basic rules to observe in the Championship, the two most
important being that all the participants must have fun and that the winner is
the couple who completes the course in the shortest time.
The wife to be carried may be your own, the neighbour's or you may have found
her further afield. The minimum weight of the wife to be carried is 49 kilos. If
it is less than 49 kilos, the wife will be burdened with such a heavy rucksack
that the total weight to be carried is 49 kilos. If a contestant drops his wife,
that couple will be fined 15 seconds per drop. The contestants run the race two
at a time, so each heat is a contest in itself. Will and Guy have decided to
give the championship a miss this year.
Stop Press
This year's champion won a plasma television and his wife's weight in beer.
Wife Carrying Competitions Around the World
It seems that wife carrying competitions have spread from their origins in
Finland to become a global phenomenon. It seems that the wife has to be
carried a distance of precisely 253.5 meters or 278 yards in American events.
Hong Kong
The best feature of the Hong Kong wife-carrying championships was that it was
held on Valentine's day in 2008. The winners dressed as Superman and
Wonder Woman, were Michael and Cora Fung.
In the Hong Kong event, the course is shorter than the world championship
distances. However, in a novel twist the wife has to bend down and pick up
roses.
Husband-Dragging Contest
You can't keep a good woman down, say Will and Guy.
We are delighted to inform you that as well as the traditional Wife
Carrying Championships in Singleton, NSW, Australia now the Countryfest
includes the first joint Wife Carrying and Husband Dragging Contest.
We have been told by our Aussie mate, Shane, that the men must act as a
dead weight and be pulled by their partner from a makeshift bar "depicting a
traditional Aussie weekend where the female drags her man out of the pub."
What fun!
Other Unusual Championships in Finland
Mobile phone hurling:


Finland, being the home of Nokia, and thus the promised land of cell-phones, is the obvious place to organise the Mobile Phone Throwing World Championships. This year, a record 3,000 spectators watched the
competition in Savonlinna, eastern Finland.
The mobile phones used in the competition are provided by the organisers. All phones are original and fitted with batteries. As not everyone wants to be
reachable all the time, some competitors have wanted to throw their own phones as far as possible, but that's against the rules.
And the prize for the longest throw? A new mobile phone.
Air
Guitar Championships:


Finland does host one peculiar sporting event in which
success doesn't depend on brute force or resilience, but on creativity and sociability. For already a decade, the northern Finnish town of Oulu has gathered imaginary guitar heroes to the annual Air Guitar
World Championships. In recent years, more than fifteen nationalities have been represented in this light-hearted yet competitive global showcase enjoyed by thousands.
For the unschooled, air guitar is
the art of pretending to play along to a rock solo or a chord sequence with nothing but an imaginary guitar and the fitting facial expressions. Most contestants are national champions sent to Oulu by their
local air guitar associations.
In the final, they must perform a compulsory one-minute song as well as a song of their own choice. Judges are looking for originality, technique, stage charisma, artistic impression and - obviously - "airness".
Footnote:
Please send us your snippets from 'Wife
Carrying World Championships,