Out of the mouths of babes
A number of primary schools were doing a project on 'The Sea.'
Children were asked to draw pictures or write about their experiences. Teachers got together to compare the results and put together some of the 'better'
ones: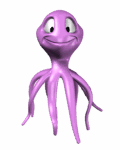 1. Some fish are dangerous. Jellyfish can sting. Electric eels can give you a shock. They have to live in caves
under the sea because I think they have to plug themselves in to chargers.
(Christopher age 7)
2. This is a picture of an octopus. It has eight testicles.
(Kelly age 6)
3. Oysters'
balls are called pearls. (James age 6)
4. If you are surrounded by sea you are an Island. If you
don't
have sea all around you, you are incontinent. (Wayne age 7)
5. I think sharks are ugly and mean, and have big teeth, just like Emily Richardson. She's
not my friend no more. (Kyle age 6)
6. A
dolphin breathes through an asshole on the top of its head. (Billy age 8 )
7. When ships had sails, they used to use the trade winds to cross the ocean. Sometimes, when the wind didn't
blow the sailors would
whistle to make the wind come. My brother said they would be better off eating beans. (William age 7)
8. I like mermaids. They are beautiful, and I like their shiny tails. How do mermaids get pregnant?
(Helen age 6)
Children's Comments on Love
When my
grandmother got arthritis, she couldn't bend over and paint her toe nails anymore. So my grandfather does it for her all the time, even when his hands got arthritis too. That's love. Rebecca age 8
When
someone loves you, the way they say your name is different. You just know that your name is safe in their mouth. Billy age 4
Love is when a girl puts on perfume and a boy puts on shaving cologne and they go
out and smell each other. Karl age 5
Love is when you go out to eat and give somebody most of your French fries without making them give you any of theirs. Chrissie age 6
Love is what makes you smile when
you're tired. Terri age 4
Love is when my mummy makes coffee for my daddy and she takes a sip before giving it to him, to make sure the taste is OK. Danny age 7
Love is what's in the room with you at
Christmas if you stop opening presents and listen. Bobby age 7
If you want to learn to love better, you should start with a friend who you hate. Nikka age 6
Love is when you tell a guy you like his
shirt, then he wears it every day. Noelle age 7
Love is like a little old woman and a little old man who are still friends even after they know each other so well. Tommy age 6
Love is when Mummy gives
Daddy the best piece of chicken. Elaine age 5
Love is when your puppy licks your face even after you left him alone all day. Mary Ann age 4
I know my older sister loves me because she gives me all her old
clothes and has to go out and buy new ones. Lauren age 4
See more love quotes for Valentine's
What do you know?
It appears that there is at least one common English word that is nine letters long and that each time you remove a letter from it, it still remains an English word - from nine letters right down to a single
letter. Will and Guy think that there may be others but the word 'startling' comes to mind.

Startling
1) remove the l, and the word becomes: starting
2) remove one t, and the word becomes:
staring
3) remove the a, and the word becomes: string
4) remove the r, and the word becomes: sting
5) remove the other t, and the word becomes: sing
6) remove the g, and the word becomes: sin
7) remove the s, and the word becomes: in
8) remove the n, and the word becomes: I
What Don't You Know?
Teacher: Ricky, what is the past participle of the verb to ring?
Ricky: What do you think it is, sir?
Teacher: I don't think, Ricky, I KNOW!
Ricky: I don't think I know either, sir.
See more clean funny kids jokes, also funny pictures for teens
• Funny children's jokes •
Amuse Kids •
Funny school jokes •
Windscreen •
Mother knows best
•
Child's letter to God
•
Naughty kids video •
Children's mischief •
Out of the mouth of babes
•
Out of the mouths of children
•
Funny proverbs 6yo •
Repel Teens •
Home - Clean jokes