Russian 'Pullman' Train
Indian 'Pullmen' Train
Indian Express Train -
Only half full
Indian Commuter
Train - Three-quarter full
Funny Train Picture of Fantasy
Railway
Pictures of Australian
Road Trains
Funny Train Jokes, Stories, Videos and PPT (Links to other pages)
Funny Train Announcements
Beautiful Train
Pictures
How to Gauge a Railway
Indian Train Video
Russian 'Pullman' Train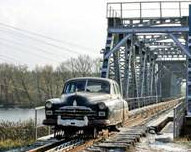 Russian version of George Pullman's Palace Car train carriage.
Indian 'Pullmen' Train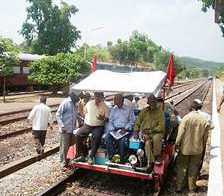 Actually, that looks like a genuine 1909 Rio Grande Pullman in the
background.
More Funny Train Pictures
Indian Express Train - Only half full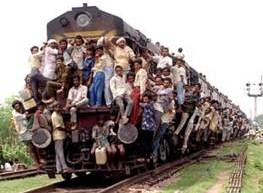 Indian Commuter Train - Three-quarter full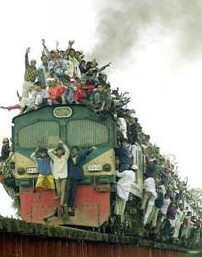 Train Going the Wrong Way
More Track Trouble
Patrick and Fergus were rather drunk one Sunday evening after a
session in the pub and were stumbling home along the railway tracks which
led to their homes.
Patrick turns to Fergus and slurs, 'There's a hell of a lot of steps
here.'
Fergus looks up and replies, 'I'll tell you what's worse, Patrick, this
hand rail is very low down.'
Funny Train Picture - Graffiti

Here above is a picture showing the train's electric pickup and the
fancy train graffiti underneath.
Something Different -
Funny Train Picture of Fantasy Railway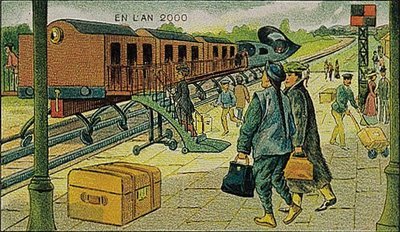 Fantasy Electric Train - Paris to Beijing
Railway Parking
Vera was in court charged with parking her car in a restricted area on
the railway station forecourt.
The judge asked if she had anything to say in her defence.
Vera answered frostily, 'They shouldn't put up such misleading notices.
It said "FINE FOR PARKING HERE".'
Missing Link - Funny Train Station Pictures

Meanwhile, these people are the ultimate optimists if they think their
train will stop here.
On closer inspection, it would be a major surprise if the train travels
on this track at all.
Train in The Garage?
Amaze and Surprise Your Friends and
Neighbours
Will and Guy would like show you how to get your neighbours to
sit up and take notice.
We have discovered that a German firm called "Style Your Garage", creates
posters for garage doors that make it look as if it's actually showing the
interior of your garage, and what's in it - a train!
We think that the prices are reasonable [no we're not linked to the
company] and they range from £199 to £399 [$301 - $ 604 USD] - for the
double-door. All but guaranteed to make passersby and your neighbours take a
second look.
Made for the up-and-over garage doors predominantly common in Europe,
they can be fixed with Velcro and can be adapted to fit sectional garage
doors.
Pictures of Australian Road Trains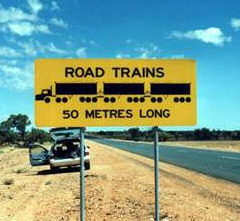 We wondered, why the motorist above has pulled over. This could be the
reason, here come the road trains three abreast.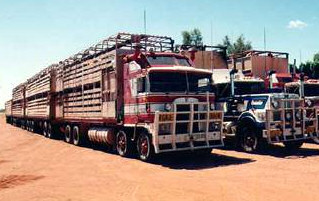 Beautiful Train Pictures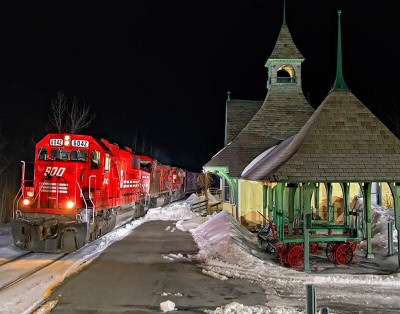 Footnote:
Please send us your funny train
pictures