A woman worries about her future until she finds a husband, but a man
never worries about the future until he takes a wife.
Jokes for Father of the Bride Speeches
Clean, Funny Jokes Taken from Father of the Bride Speeches
Advice to person about to marry - Don't. First appeared in Punch
magazine, in 1845.
My wife says I never listen, or something like
that.......................
Eighty percent of married men cheat in America. The rest cheat in
Europe.
A woman worries about her future until she finds a husband, but a
man never worries about the future until he takes a wife.
Marriage is an institution in which a man loses his bachelor's
degree and the woman gets her master's.
It doesn't matter how often a married man changes his job, he still
ends up with the same boss.
Don't marry for money, you can borrow it cheaper.
See more wedding toasts.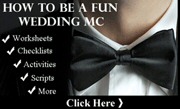 Life After Marriage
Daniel and Jessica, young couple, got married and went happily on their
honeymoon. When they got back, Jessica immediately 'phoned her mother and
her mother obviously asked, 'How was the honeymoon, dearest?'
'Oh, Ma,' she replied, 'the honeymoon was wonderful. So romantic...'
Then Jessica
burst out crying. 'But, Ma, as soon as we returned home Daniel started using
the most ghastly language... saying things I've never heard before! I mean,
all these awful 4-letter words! You've got to come get me and take me
home.... Please Ma.'
'Calm down, Jessica!,' said her mother, 'Tell me, what could be so
awful? What 4-letter words?'

Still sobbing, Jessica whispered, 'Oh,
Ma...words like dust, wash, cook, and iron.'
More Tales for a Father of the Bride Speech
Wedding
Present -
Kindly sent in by JC.
I would like to thank you all for coming here today to celebrate my daughter's wedding. Just for your information the seating arrangement has been
specially organised with all of the people that bought large presents being
placed towards the front and those that bought cheaper smaller presents at the
back. (Pause)
There is a special thanks for uncle Fred who is at the back for the oven
glove. (Pause)
The bride would like to ask uncle Fred if she could have the other glove for
their Silver Wedding Anniversary.
Try Something Different
One father of the bride speech started with this poem by Cosmo Monkhouse
There was an old party of Lyme
Who married three wives at a time
When asked, 'Why the third?'
He replied, 'One's absurd
And bigamy,
sir, is a crime!
Seven Tips To Work Into Your Father of the Bride Speeches
Basically, my wife was immature. I'd be at home in the bath and
she'd come in and sink my boats. - Woody Allen
Marriage is based on the theory that when a man discovers a
particular brand of beer exactly to his taste, he should at once throw
in his job and go to work in the brewery - George Nathan
Confucius say, 'Man who sinks into woman's arms; soon has his arms
in woman's sink.'
Married couples, who love each other, tell each other a thousand
things without talking. - Chinese Proverb
Marriage is like wine - It gets better with age. - Dudley Moore
Successful marriage requires falling in love many times, always with
the same person. Germaine Greer
It was an emotional wedding. The mother of the bride cried. Even the
cake was in tiers.
See more funny wedding toasts.
Three Tips from the Voice of Experience
Early in your marriage you will find it difficult to get the
last word in any discussion. With time, though, you will learn
how to always get the last two words in every discussion; just
make sure the words are: 'Yes dear.'
When my daughter announced she planned to marry the groom I
thought I had better carry out some background checks. So I went
to his local police station and asked if he was well behaved. The sergeant behind the desk was very reassuring. Apparently
they never had any bother with him whenever he spent the night
there.
Marriage is an institution, and that's where a couple finish
up. See our
British Royal Wedding jokes.
The Secret of a Successful Marriage
'The thrill, the excitement is gone from my marriage,' George
complains to his mate, Tony.
'Why not add some intrigue to your life and
have an affair?' suggests Tony naughtily.
'But what if my wife finds
out?' frowns George.
'Lummee, George,' explains Tony, 'this is the 21st century we live
in, mate. Go ahead and tell her about it.'
So George returns home and says, 'Poppet, I think an affair will
bring us closer together.'
'Forget it,' replies his wife. 'I've tried that - it didn't work.'
Clue to Happiness in Marriage
To be happy with a man, you must understand him a lot and love him a
little.
To be happy with a woman, you must love her a lot and not try to
understand her at all.
Five Wedding Shorts
'What do you like most in me, my pretty face or my sexy body?'
Carla asked her husband. Christopher looked at her from head to toe and
replied, 'I like your sense of humour.'
The five essential words for a good marriage: 'I apologize'
and 'You are right.'
A wedding ring may not be as tight as a tourniquet, but it
does an equally good job of stopping circulation.
If your wife wants to learn how to drive, don't stand in her
way.
My opinions are my wife's, and she says I'm lucky to have
them.
Advice To The Couple
[In the form of a cake recipe]
Ingredients:
4lbs of
love
½ lb of sweet temper
1lb of butter of youth
1lb of
blindness of faults
1lb of pounded wit
1lb of good humour
2lbs of sweet argument
1 pint of rippling laughter
1 wine glass
of common sense
A dash of modesty
Method:
Put the love, good looks
and a sweet temper into a well-furnished house. Beat the butter of youth
into a cream and mix well together with the blindness of faults. Stir
the pounded wit and good humour into the sweet argument, then add the
rippling laughter and common sense. Work the whole together until
everything is well mixed and bake gently forever.

An Alternative Ending For Your Father of the Bride Speech
A stylish way to finish a father of the bride speech is with a
poem. If you have a good longish speech, then maybe one verse
will do to round off your speech before the toast.
Another tactic is to complete the formalities of welcoming the
guests, thanking them for coming to help celebrate the wedding of
your daughter. Then read a poem to steady your nerves before
launching into the main part of your speech. As ever,
preparation builds confidence, then reading your audience is the key
to success. A good poem means that you literally have
something up your sleeve.
A Funny Marriage Poem: Yes, I'll Marry You by Pam Ayres
Yes, I'll marry you, my dear,
And here's the reason why;
So I can
push you out of bed
When the baby starts to cry,
And if we hear a
knocking
And it's creepy and it's late,
I hand you the torch you see,
And you investigate.
Yes I'll marry you, my dear,
You may not apprehend it,
But when the
tumble-drier goes
It's you that has to mend it,
You have to face the
neighbour
Should our Labrador attack him,
And if a drunkard fondles me
It's you that has to whack him.
Yes, I'll marry you,
You're virile and you're lean,
My house is
like a pigsty
You can help to keep it clean.
That sexy little dinner
Which you served by candlelight,
As I do chipolatas,
You can cook it
every night!
It's you who has to work the drill
and put up curtain track,
And when I've got PMT it's you who gets the flak,
I do see great
advantages,
But none of them for you,
And so before you see the
light,
I do, I do, I do!
An Amusing and Funny Nuptials Poem
Marriage is about giving and
taking
And forging and forsaking
Kissing and loving and pushing and
shoving
Caring and Sharing and screaming and swearing
About being together
whatever the weather
About being driven to the end of your tether
About Sweetness and kindness
And wisdom and blindness
It's about being strong when you're feeling quite weak
It's about
saying nothing when you're dying to speak
It's about being wrong when
you know you are right
It's about giving in, before there's a fight
It's about you two living as cheaply as one[you can give us a call if you
know how that's done]
Never heeding advice that was always well meant
Never counting the
cost until it's all spent
And for you two today it's about to begin
And for all that the two of you had to put in
Some days filled with joy,
and some days with sadness
Too late you'll discover that marriage is
madness.
Fathers Are Prepared
As an aside, it's interesting that twice as many people trawl Google
for 'Father of the bride speeches' than search for 'best man speeches'.
What also amuses Guy is that in my family normally it's the women who
have the most to say, yet at the reception there is no convention that
allows the women to make a speech.
Please send us your father of the bride speeches, and thus help
others prepare for this occasion, which drains not only the bank
balance, but also the emotions!
The Origin of Honeymoon
If we go back 4,500 years to Babylon, the custom was for the bride's
father to supply his son-in-law with all the mead he could drink for a
month.
Now mead is known as honey beer and because their calendar was calculated
from the moon, this period was called the honey month, which translates to
honeymoon.

Advice for The Father of The Bride Speech from Will and Guy
The father of the bride speech is traditionally the first speech at the
reception and therefore there is some pressure for the deliverer to set a
high standard. Will, who has taught for some 30 years, would still find this
a daunting experience despite having talked in front of people a thousand
times or more. We hope this template may help a nervous and anxious speaker
to formulate a cracking speech.
The basic idea is to convey the significance of the marriage with a
humour and an eloquence that suits the occasion. Make a conscious
decision whether to make the tone sweet and sentimental or wickedly funny.
Begin your speech by welcoming everyone to the function; especially the family
of the groom. Tell the assembled company something about yourself which will
introduce you to the guests who do not know you particularly well.
Compliment the ceremony and perhaps comment on how beautiful the newly
married couple look together. Inject some humour by relating events in the
planning that you found funny.
Talk about your daughter fondly, amusingly and especially, anecdotally. Have a
couple of stories that are perhaps touching or amusing. Do not embarrass
anyone. Talk about her achievements and your special relationship. Silly
stories about your daughter can be a welcome addition to the speech. This is
needed to lighten up the situation and have everyone laugh a little. Talk
about some of the standout moments before her wedding, events that make the
bride as an unforgettable individual. What makes you proud of having her as
your daughter?
Tell the guests about your dreams for your daughter and how she has
accomplished some of it and enough to make you proud. Mention amongst
your father-of-the-bride jokes the ups and
downs of her life, but please, do not mention stories about her former
boyfriends. Give some advice; impart some wisdom from your years of
experience that the couple can take away with them. If you are still married
then try and think of a reason it has lasted and if not then think of a
reason that marriages break down and how it can be avoided. Say something
special and warm about your daughter and the groom's relationship. Mention
how happy and proud you are on this auspicious occasion.
Thank the family of the groom and the rest of the guests; wish the
newlyweds the best things to come. Offer a toast to the bride and groom
wishing them all the happiness in the world.
Be sincere, relax, smile and be confident; that way you honour your
daughter with a great father of the bride speech.
See more of our funny
wedding speech jokes »