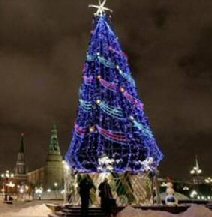 Here is Will and Guy's collection of short stories about Christmas
trees.
The Christmas Tree: A Happy Tale for Christmastide for Young Children
One Christmas Eve the trees in a wood were very unhappy. They wished very
much to keep Christmas, but they did not know how to do so.
'We look so brown,' complained one.
'And so bare,' added another.
'If we only had our pretty green summer dresses,' contributed a third,
'then we should be decorated and could keep Christmas.'
'Hush, children, hush,' whispered North Wind in quite a gentle voice for
such a rough fellow. 'Make haste and go to sleep.'
'Hush, children, hush,' softly murmured a sleepy little bird. He was
roosting on one of the branches of the unhappy trees.
So the trees dropped off to sleep, one by one, while a little star
twinkled peacefully overhead.
While they slept something happened. When the trees awoke they found that
someone, perhaps North Wind, had, during the night, cast over each of them a
lovely soft cloak of spotless feathery white.
'How beautiful we are,' said the trees. 'Now we can keep our Christmas.'
Will and Guy's Funny Christmas Tree Stories
The above story has been researched on the internet. It does
not appear to be restricted by copyright so we are delighted to be able to
share them with you. Will has adapted and rewritten the tales.
We hope you enjoyed reading it.
If you happen to be the writer of the story then please let us know so
that we can
give you credit for your story, or remove it if you would prefer.
Artificial Christmas Tree Recall
November 2010, Liverpool,
England: The Merseyside Food Inspection Agency (MFIA) has issued a warning about artificial Christmas tree made in Korea. The problem concerns the Ringo beatle which infests tree bark and may
escape and attack people's skin and lay eggs in their hair.
A MFIA spokesperson said, 'The trees should have been treated with Rollingus stone which makes the Ringo beatle listless and curl up.
However, this batch of artificial trees are untreated, consequently, this beetle can cause hysteria in teenagers and flashbacks in older people. Strangely, the illness affects females more
seriously than males'.
The affected model is the 'Sergeant Pepper' and the batch number is FAB4. In December MFIA issued a recall notice for these artificial Christmas trees. Anyone who bought
a 'Sergeant Pepper' tree in November should return it to the shop
from where they purchased it and ask for a refund. To help with
Beatle identification, the MFIA has released the following funny
Christmas tree picture: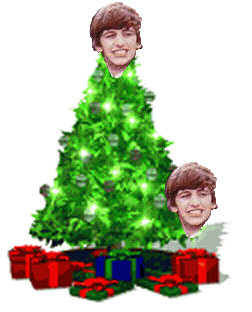 Above is an identification
guide to help with the recall of artificial Christmas trees.
Funny
Christmas Tree Story - Branches Go
Through the Roof
A father has filled his house with a giant 35ft Christmas tree cut
from the New Forest in Southern England after his son was disappointed
with last year's decorations.
At first glance it looks as if the massive tree has burst straight
through the roof of the six-bedroom house in Carbery Avenue. Greg Howe
has painstakingly cut the £250 [$375 USD] tree into three sections with
the huge trunk in the living room, the middle section in a spare bedroom
and the top perched on a flat part of the roof. Greg Howe enlisted the
help of several friends and the fire brigade to get the star on top of
the huge tree at his Bournemouth home. It is thought that in the
interests of safety the star is, in fact, a smoke detector.
Will and Guy have learned that this funny looking Yule tree is decorated with some
160 baubles and approximately 2000 led lights and is already proving a
winner in the area and with Mr Howe's children.
See more funny Christmas trees.
More Short Christmas Tree Stories
The Worry Tree
The Carpenter I hired to help me restore and old farmhouse had just
finished a rough first day on the job. A flat tire made him lose an hour of
work, his electric saw quit, and now his ancient pickup truck refused to
start. While I drove him home, he sat in stony silence.
On arriving, he invited me in to meet his family. As we walked toward the
front door, he paused briefly at a small tree, touching the tips of the
branches with both hands. When opening the door, he underwent an amazing
transformation. His tanned face wreathed in smiles and he hugged his two
small children and gave his wife a kiss.
Afterward he walked me to the car. We passed the tree and my curiosity
got the better of me. I asked him about what I had seen him do earlier.
'Oh, that's my trouble tree,' he replied. 'I know I can't help having
troubles on the job, but one thing for sure, troubles don't belong in the
house with my wife and the children. So I just hang them on the tree every
night when I come home. Then in the morning I pick them up again.'
'Funny thing is,' he smiled, 'when I come out in the morning to pick 'em
up, there ain't nearly as many as I remember hanging up the night before.'
Why are Christmas trees like bad knitters?
They both drop needles!
The Hugging Tree
The "Hugging Tree" is winner of the Australian Tree Stories competition
2010.
Will and Guy include it here as it is an inspirational and warm tale.
The picture shows the winning author, Marilyn Kremmer, with her 2 Sydney
grandchildren Emily and Conor
Years ago before my mother died she was confined to a wheelchair and was
unable to venture into the bush she loved so much. She would always say to
us when we went for a picnic or ventured into the bush "Hug a tree for me".
This got to be a great family tradition.
After she died we moved to Fern Tree in the foothills of Mt Wellington in
Hobart [Tasmania] where we dedicated a special tree to her. This was on the
track from our home to O'Grady's Falls.
Over the years, our children, and now our grandchildren as well as
visitors, friends and relatives have all been introduced to the "Hugging
Tree". Even friends from England and their children have hugged the tree and
taken this tradition back with them to England and even Hong Kong!
More
inspirational and fun tales can be found here.
The
Mighty Oak
The oak said to the reed that grew by the river, 'It is no wonder that
you make such a sorrowful moaning, for you are so weak that the little wren
is a burden for you, and the lightest breeze must seem like a storm-wind.
'Now look at me! No storm has ever been able to bow my head. You will be
much safer if you grow close to my side so that I may shelter you from the
wind that is now playing with my leaves.'
'Do not worry about me,' said the reed, 'I have less reason to fear the
wind than you have. I bow myself, but I never break. He who laughs last,
laughs best!'
That night there came a fearful hurricane.
The oak stood erect. The
reed bowed itself before the blast. The wind grew more furious, and,
uprooting the proud oak, flung it on the ground.
When the morning came there stood the slender reed, glittering with
dewdrops, and softly swaying in the breeze.
The Tree Swing
The famous tree swing pictures (also known as tyre swing, tire swing,
rope swing) depicting tyre (or tire) and rope swing in various states of
dysfunctionality, illustrates the pitfalls of poor product design, or poor
customer service, and the dangers of failing to properly listen to what
people want - including choosing their Christmas present!
Will and Guy hope that the picture to the right will make you smile and
stop you falling into this trap.
The Dogwood Tree
When Christ was on earth, the dogwood grew
To a towering size with a
lovely hue.
Its branches were strong and interwoven
And for Christ's
cross its timbers were chosen.
Being distressed at the use of the wood
Christ made a promise which still holds good:
'Not ever again shall the
dogwood grow
To be large enough for a tree, and so
Slender and twisted
it shall always be
With cross-shaped blossoms for all to see.
The
petals shall have bloodstains marked brown
And in the blossom's centre a
thorny crown.
All who see it will think of me,
Nailed to a cross from
a dogwood tree.
Protected and cherished this tree shall be
A
reflection to all of my agony.'
Author Unknown
An Afghan Tale
One hot day, Nasruddin was taking it easy in the shade of a walnut tree.
After a time, he started eying speculatively, the huge pumpkins growing on
vines and the small walnuts growing on a majestic tree.
'Sometimes I
just can't understand the ways of God!' he mused. 'Just fancy letting tinny
walnuts grow on so majestic a tree and huge pumpkins on the delicate vines!'
Just then a walnut snapped off and fell smack on Mullah Nasruddin's bald
head. He got up at once and lifting up his hands and face to heavens in
supplication, said, 'Oh, my God! Forgive my questioning your ways! You are
all-wise. Where would I have been now, if pumpkins grew on trees!'
Christmas Tree Poem
The Nicest Present by Joanna and Karl Fuchs
Under the tree the gifts enthrall,
But the nicest present of them all
Is filling our thoughts with those who care,
Wanting our Christmas joy to
share.
To you, whom we're often thinking of,
We send our holiday joy and
love.
See more Christmas poems for
children.
Delightful Picture
Postcard Christmas Tree in a German Wood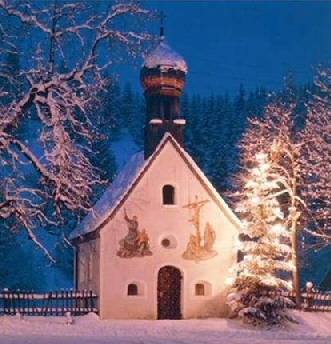 'Oh Christmas tree, oh Christmas tree'. Even in its humblest
attire, aglow beside a tiny chapel in Germany's Karwendel mountains, a
Christmas tree is a wondrous sight.
From about 1895, Christmas trees lights started replacing real wax candles
and coloured glass.
See more Christmas tree pictures.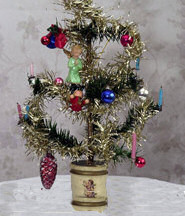 The Story of the World's Oldest Christmas Tree
Janet Parker of Chippenham, Wiltshire, England, probably has the world's oldest artificial Christmas tree, it has been in her family since 1886. The miniature tree originally cost
6d (2½p), and is 12in high. (See picture to the right)
Because Mrs Parker can establish its provenance through family letters and photos, representatives of the Guinness Book of World
Records, have agreed that it's the world's oldest artificial Christmas tree.
It was her great aunt, Lou Hicks, who gave the tree to Mrs Parker. The present owner said: 'It amazes me
to think it's been appearing every Christmas since Victorian times. It's still such a lovely decoration.'
Footnote:
Please send us your short funny Christmas
tree story.