At 8 feet 1 inch the world's tallest man could pass under this
'Watch your head!' sign - Clearance 8' 6''.
Newest World's Tallest
Man - Sultan Kosen
The world's tallest man - who also has the largest hands and feet - has
been named by Guinness World Records for the launch of its 2010 book.
At 8ft 1in (2.47m), Sultan Kosen, from Turkey, is about 4in (10cm) taller
than previous title-holder Bao Xishun.
The 27-year-old's hands measure
10.8in (27.5cm) and his feet 14.3in (36.5cm). Mr Kosen, whose height is due
to the medical condition pituitary gigantism, said he hoped his new-found
fame would bring him love for the first time.
Comparisons of The World's Tallest Men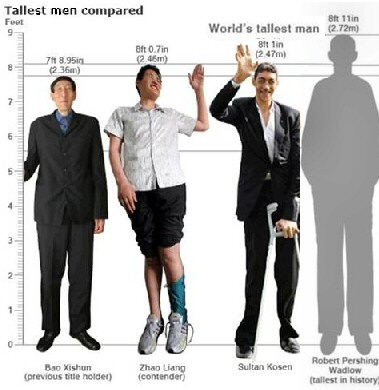 Former Tallest Man in
the World - Zhao Linag
Will and Guy have discovered that his parents are of average size.
Zhao Liang was measured at 2.46m (just under 8ft 1in) by doctors in
Tianjin, where the ex-basketball player was being treated for a foot injury.
It puts him 10cm (3.9in) above the official title-holder, Chinese citizen
Bao Xishun, who was first recognised by Guinness World Records in 2005.
Mr Zhao, 27, is now seeking official recognition of his huge stature.
Until Mr Zhao is independently measured by judges from the Guinness team, he
cannot be officially considered the world's tallest man.
At dinner time he has been known to eat eight burger-sized steamed buns
and three plates of food.
Robert Pershing Wadlow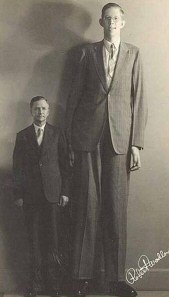 Robert Pershing Wadlow [February 22, 1918 - July 15, 1940] was a
man who, to this day, is the tallest person in medical history for whom
there is irrefutable evidence. Wadlow reached 8 feet 11.1 inches in
height and weighed 490 pounds [220 kg] at his death. Here we have a photo of
him standing next to his father.
A Former World's Tallest Man - Leonid Stadnik
A Ukrainian man called Leonid Stadnik, is the probably the tallest person in the world at 8 feet 5 inches, overshadowing a Chinese man who previously held the title, Guinness World Records said last
year.
Leonid Stadnik, a 37-year-old former veterinarian, is 8 inches taller than the former titleholder, China's Bao Xishun,
who measured 7 feet 9 inches.
Leonid's problem: The reason that Leonid Stadnik is no longer
regarded as the world's tallest man is that he refused to be measured 6
times in one day, and thus gain authentication by the Guinness Book or
Records.
A recent television program highlighted the problems of being so tall,
namely mobility. The legs of these giants just cannot support the
weight of their bodies.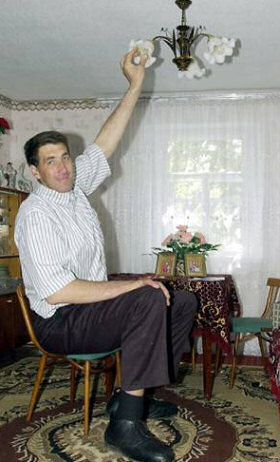 The World's Second Tallest Man Marries in China
The world's
second tallest man, Bao Xishun, has married a woman who is more than 2 feet shorter than him, the Beijing News reports.
Bao Xishun, a 7 foot 9 inch herdsman from Inner Mongolia, married 5 foot 6 inch saleswoman Xia
Shujian.
Bao's 28-year-old bride is half his age and hailed from his hometown of Chifeng.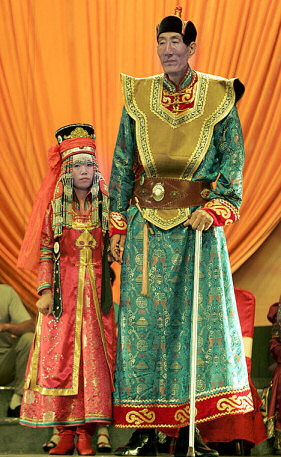 The Long and the Short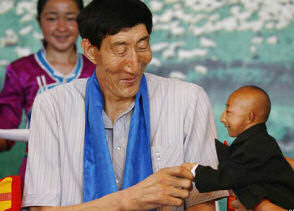 Here we have a face-to-face picture of the world's second tallest man, Bao Xishun at 7ft 9", shaking hands
with the man, He Pingping at 2ft 5" (74 cm). 19yr old Mr Pingping is hoping to be declared the shortest man in the world by the Guinness Book of Records. ('He' really is his first name).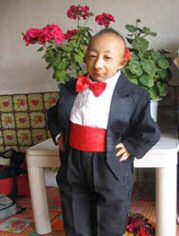 He Pingping (cool first name) with model
Svetlana Pankratova
In a neat publicity coup, the Guinness World Records chose the world's
smallest man, and the woman with the longest legs to launch the 2009
Guinness World Records book. He Pingping was born with primordial
dwarfism and is 2ft 5.37in tall. Whereas just Svetlana Pankratova's
legs alone measure 4ft 3.9in. When interviewed Svetlana (6ft 4in),
said: 'I heard he was going to be the shortest man, but I didn't realise he
was going to be that small. He seems very happy.'
When not posing for the cameras, He is a restaurateur in Mongolia and
Svetlana is an estate agent in Spain.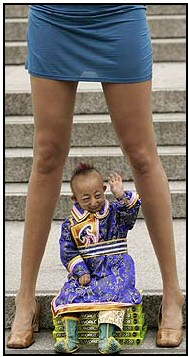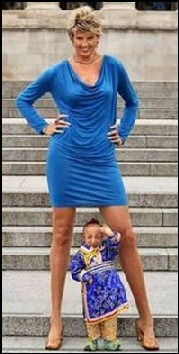 Huang
Kaiquan
Tiny Huang Kaiquan is bidding for the title of the world's smallest man.
The 40-year-old of Hejiang County, Sichuan province, China, is only 2ft
5.91in [76cm] tall.
This makes him only 1.4cm taller than fellow Chinaman He Pingping.
Pingping was recognised as the world's smallest man until his death in March
2010 at the age of just 21.
Britain's Tallest Man Neil Fingleton
Britain's tallest man, Neil Fingleton, met one of the world's shortest actors while shooting a new film. Neil, from County Durham, has a cameo in the film 'ShortFellas', which is set in Newcastle and also
stars Warwick Davies, who played Wicket the Ewok in Return of the Jedi.
Here is a charming picture of the 26-year-old Neil, who is 7ft 7in tall shaking hands with the 3ft 6in Warwick as they filmed a trailer to raise backing for the movie.
Neil the Basketball Player
Unsurprisingly, Neil is a good basketball player. He plays in America for the University of North Carolina. They use Neil in short bursts to spell their other big men. Neil's main problem along with
other huge men is to remain injury free.
This is what his coach Docherty said:
'With Neil, I'll stick him around the basket more and play a lot more zone.' He followed up by saying: 'Neil has had a taste of success. He [Neil] got cheered at the Blue-White and was interviewed
after the game.'
Sound's like Neil has plenty going for him.
The World's Shortest Couple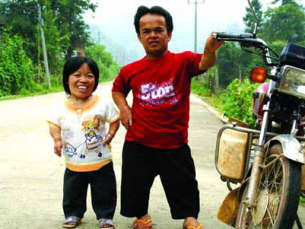 Two Chinese newly-weds are
hoping to get into the record books as the world's shortest couple Chen Guilan, 2ft 4ins, of Shunde city, China, married Li Tangyong, 3ft 7ins in October 2007.
World's
Tallest Man
Footnote: Please let us know of any changes in these tallest /
shortest records.
See more strange but true people stories:
• Strange but true stories about people •
Flash entrepreneur •
Car thieves •
Amazing coincidences
•
Eccentric English people •
10 accidents •
Unusual collections •
12 true stories •
Smoking stories
• Short Stories •
Yorkshire folk •
Sailor stories •
Cranky People •
Funny people jokes