Here are classic examples of love tokens down the ages.
18th Century Love Tokens
Here we have an interesting and curious 18th century love token. We know that author is John Abbott but all that we know about his beloved is that her initials are SW and she is his 'Sweet Turtle Dove' dating from the 18th Century.
Will and Guy made these folding cubes in our youth, but we never created anything as beautiful as John Abbott's love token.
With patience and not a little luck, it is possible to fold the love token into a
polygon in such a way as to reveal a love poem.
This is what John Abbott's love poem says to his 'Sweet Turtle Dove', incidentally doves were symbolic of fidelity as they mate for life.
On the
outside - Back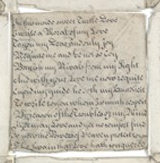 In this inside sweet Turtle Dove
I write a Moral of my love
To you my Dear and only Joy
Requite me and be
not Coy
Banish my Rivals from my sight
And with your love me now requite
Cupid my guide he doth my heart direct
To write to you whom I so much respect
By reason of the Troubles of my Mind
I
yet may Love and yet no comfort find
So now the Powers of Heaven protect enjoined
The Swain that Love hath conquered
On the outside - Front
Sweet Love this Heart when you behold
Will break in twain when
you [?] unfold
Even so my heart with lovesick pain
Soon wounded is and broke in twain
Inside - Front
The farther we fly the faster we tye
But Cupid with his fatal Dart
Hath deeply wounded
my poor heart
A heart betwixt us fixd a cross
Which makes me sore lament my loss
My dearest dear and blest Divine
I've pictured here your heart and mine
Yet I am in hopes when this is gone
That our two hearts may join in one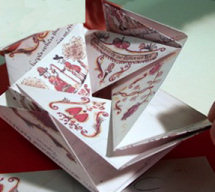 Inside - Center
If you deny my Loving Bride to be
I am bereaved of all Felicity
By Reason of the trouble of my Mind
I yet may find Love and yet no comfort find
So then pale death my Rosey bloom must end
And bring all Grief and Sorrows to an End
After a Mournful time of sad despair
Occasioned by the frowns of you my Dear
You are my Dear the Girl and only
Maid
That wholly hath my yielding heart betrayed
The thoughts of you are always in my Mind
So be not cruel nor prove to be unkind
My meaning is an Matrimonial Joy
Which to forbear my happiness
destroy
Forever will my heart have any ease
Till our two hearts are joined or linked like these
The gift of John Abbott
First Valentine Love Token
A lasting Legacy of 500-year-old Love
Love it or hate it, even the most hardened anti-Romeo will be hard
pressed to avoid Valentine's Day this year.
Here is a letter which is on show at the British Library. It is a letter,
written from a young woman to her love, and is the first mention of
the word Valentine in the English language.
The letter shows they were no different to us. They
had the same loves, desires and financial problems.
In 1477 Margery wrote a letter to her John pleading with him not to give
her up, despite her parents' refusal to increase her dowry.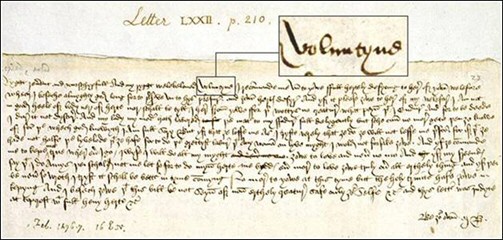 Addressing her 'ryght welebeloued Voluntyne' (right well-beloved
Valentine), she promised to be a good wife, adding, 'Yf that ye loffe me as
Itryste verely that ye do ye will not leffe me" ' (If you love me, I trust..
you will not leave me).
While romantics 534 years later might celebrate Valentine's Day with fine
dining, chocolates and flowers, Margery is left pleading with her love not
to leave her while pledging her heart over all 'earthly things'.
She promises her undying love, 'Myne herte me bydds ever more to love
yowe truly' (My heart me bids ever more to love you truly), and speaks of
her ailing body and heart over her fiance's continuing silence.
However, modern-day lovers be reassured, like any self-respecting
fairytale romance the heart did rule the head and, despite her father's
stubbornness over her dowry, Margery did marry her knight and the couple had
a son, William, in 1479. Margery died in 1495, John in 1503.
While her letter is also written on paper, there is one key difference.
She didn't write it herself we have learned. It would have been dictated to
a man who would have written it for her. However, says Julian Harrison,
curator, 'The fact that she isn't writing the letter doesn't mean she can't
write, it means she can afford someone to write for her. People have assumed
that people in the past were illiterate, but actually levels of literacy may
have been higher than we think.'
A marvellous tale with which to celebrate Valentine's Day.
Valentine Love Heart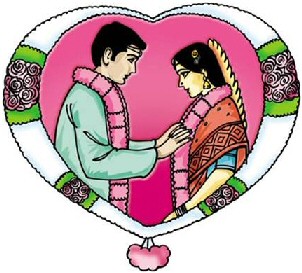 Modern Day Valentine Love
Token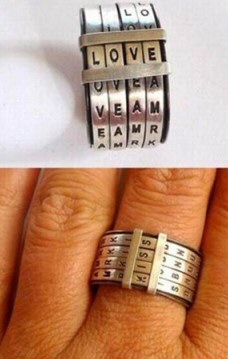 Dear, Deer Love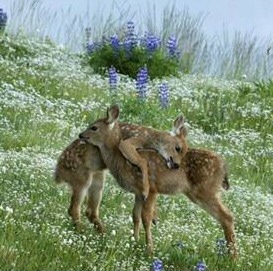 Footnote:
Please send us your Valentine Love Tokens
See more St Valentine's Day jokes, funny stories,
poems, sayings and pictures
Valentine's Day jokes
Valentine's Day trivia
History
Funny Valentine pics
Love token
Funny Valentine card
Valentine food
Chocolate
Valentine quotes
Home
Funny Valentine places
Valentine's hearts pictures
Love in animal kingdom
Ideas for a boy