Not everyone has a traditional conifer as their tree at Christmas time.
Will and Guy have searched the net to bring you some quite different and
alternative styles of decorated Christmas tree. We hope they may bring a smile to your face.
Unusual Spinning
Optic Christmas Tree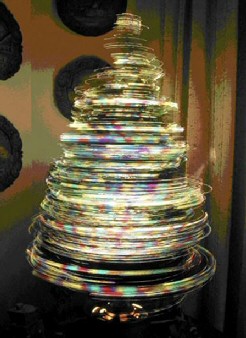 Revolving Christmas Tree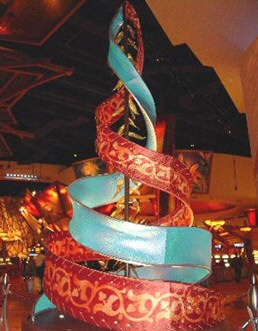 Will's Unusual
Christmas Tree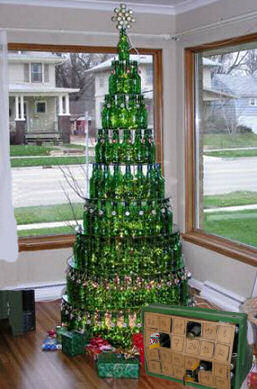 Guy's Curiously
Decorated Christmas Tree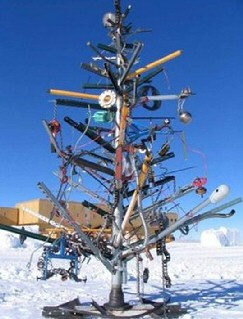 You too could build a modern Christmas tree like mine!
Will's amazing
PowerPoint Presentation:
Unusual Christmas Trees
Contents of Unusual Christmas Trees Presentation
Will's Decorated Christmas Tree
Here are more trees created from bottles
Spinning Optic Christmas Tree
Revolving Christmas Tree
This Tree is PC friendly
An Arch Around the Fire
The Tree of Tyres
This tree is created using tea lights
A Book Christmas Tree
Another Literary Tree
The Detritus Christmas Tree
The Garbage Tree
Free Download
of Unusual Christmas Trees (Right Click. Save As...)
Unusual Christmas Tree in 2009 ---> Common Place
'Doormat'
Christmas Tree in the 2010s?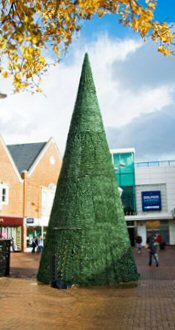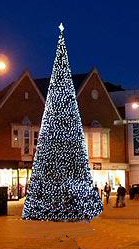 Has the above structure been abandoned by a green doormat salesman?
Sadly, it's the work of the Health (elf?) and Safety committee in Poole,
Dorset, England.
Official speak says it's wonderful because, it has no trunk therefore it
won't blow over on street traders. There are no branches to break off
and land on someone's head, no pine needles to poke a passer-by in the eye,
no decorations for drunken teenagers to steal and no angel, presumably
because it would need a dangerously long ladder to place it at the top.
For as long as people in Poole could remember they had a lovely genuine
Norwegian fir, which was tastefully decorated in coloured lights at a cost of
about £500. In contrast the green doormat tree cost not £1,400 as we
first thought but a whopping £14,000.
After dark it displays fairy lights and has built-in speakers to play
Christmas carols, but 95% of the Poole residents preferred the traditional
tree.
See our Christmas tree stories.
Angels Come in Many Disguises!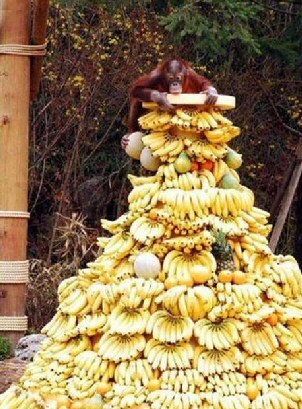 Here is one of those pictures of unusual Christmas trees where you can
devise your own caption.
I love my Christmas tree. (Will)
Is there a monkey puzzle tree under there somewhere? (Guy)
See more large
artificial Xmas trees.
Upside Down Christmas Trees Are Fun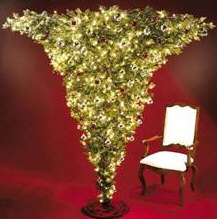 Will and Guy's idea behind an upside down Christmas trees is
so that you can get more presents under the tree! Check out the size of the chair so that you can get an idea of the scale.
However, the truth is somewhat different. The tradition of the
Christmas tree began as a communal celebration, not with a tree in
everyone's home, but with one tree in the town square. As such, the
tree was decorated, then suspended upside-down by its trunk from a cable
stretched across the square. This was symbolic and widely visible,
furthermore, the orientation maintained the tree's color longer than placing
it upright. (Extra information supplied by John Wall)
Merry Christmas from Will and Guy,
and
Have a great Christmas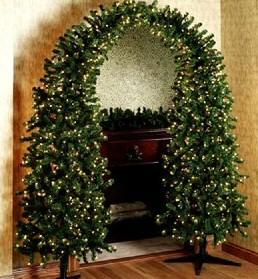 See more
on decorated Christmas trees
Footnote:
Please send us your unusual Christmas
tree pictures and stories.
See more funny Christmas pictures of trees and snow:
∗ Snow pictures
∗ Funny snowmen ∗
More snowmen pictures
∗ Snowballs
∗ Santa sculptures
∗
Cute Christmas trees
∗ Funny Christmas trees
∗ Unusual Christmas
trees ∗ Snow plough
∗ Funny Christmas pictures ∗ Animated Christmas
Cards ∗
Funny Christmas cartoons
∗ Home