We appreciate that swine flu is a serious problem and that people who
contract the virus may die. However, throughout history, catastrophes have
been resolutely faced by using humour. Will and Guy feel that these swine flu "jokes" fit that
construct. We hope you agree.
Short Funny Swine Flu Jokes
Swine flu is spread by capitalist pigs.
I had a bad day yesterday, I made a pig's ear of everything I tried.
I think I have the swine flu. I have the sudden urge to eat bacon.
I think I have swine flu: I've broken out in rashers.
Apparently my mate's got Swine Flu, I think he's just telling
porkies though.
Will there be a mass outbreak of Human/Avian Swine flu? When pigs
fly...
Swine Fever is a song by Piggy Lee. [Peggy Lee had a hit with
'You give me fever']
For a normal flu, we say "achoo", but for swine flu we say "achoink".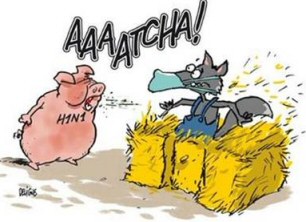 I've just been diagnosed with gammon flu.
I originally had
swine flu but I've been cured!
How They Deal
With Swine Flu in a Children's Nursery
Funny Swine Flu Pictures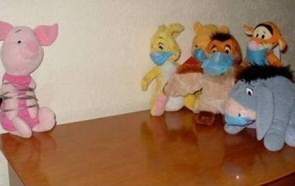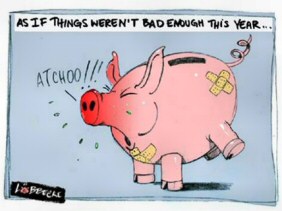 We have an escaped convict in hiding in the country side near Christchurch,
Dorset, England
(true story). He has avoided police for over three months. They say he won't
catch the swine flu because the pigs can't catch him!
Pigs Unite - More Swine Flu Jokes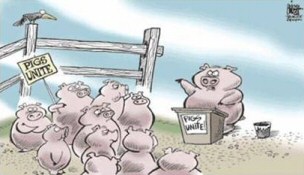 The turkeys have bird flu, the cows have mad cow disease.
I am telling
you boys... unless you want to see more pork served
on Thanksgiving, we
are going to have to get our own disease.
BEWARE:

Funny Swine Flu Picture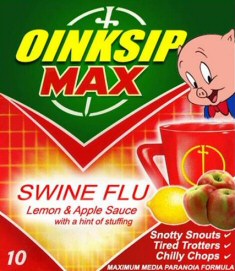 For your Oinksip, Send your $50 to:
'Hog' Trotter
Correctional
Complex
Room 187
San Quentin, CA 94964
Pigmobiles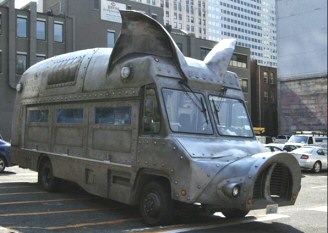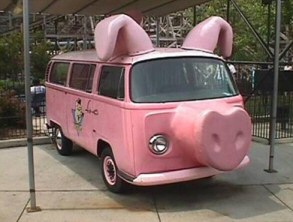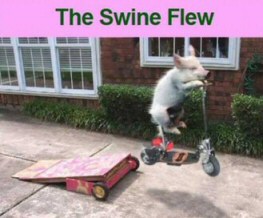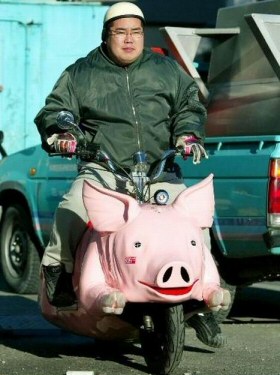 Swine Flu Survey
Will and Guy can bring you the results of a recent Swine Flu Survey:
10,000 men were asked, during June 2009, if they would still kiss a
beautiful woman if they met her in a bar, even if she had already told them
that she had swine flu. Typical male "pig headedness" resulted in some 71%
of men stating that a little thing like a potentially fatal virus would not
stop them kissing an attractive woman.
More Funny Swine Flu Pictures
Pig Flu - Mexico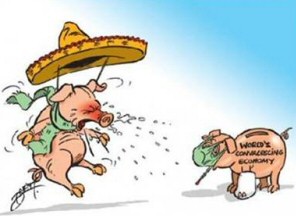 Moldovan Army
Fights Swine Flu with Onions
Moldova's army is allegedly feeding its soldiers onions and garlic to
help them ward off swine flu. Defence Ministry chief doctor Colonel Sergiu
Vasislita says about 0.9 ounces (25 grams) of onions and 0.5 ounces (15
grams) of garlic will be added to each soldier's daily diet. That roughly
corresponds to a small onion and a couple of garlic cloves.
Onion and garlic are traditional remedies in Moldova where they are
widely believed to boost the immune system. Incredible say Will and Guy.
Swine Flu - Cardiff, Wales
Welsh Whisky Disinfects
Russian soccer fans have been told to drink alcohol when they visit
Britain to prevent getting swine flu Will and Guy have learned today.
This strange and rather funny advice comes from the head of the country's
supporter association; who is worried about fans catching the illness when
they fly to Wales in September 2009 to watch the World Cup qualifying game
between the two countries, so he wants them to take extra precautions.
We have been told that Alexander Shprygin said, 'We urge our fans to
drink a lot of Welsh whisky as a form of disinfection. That should cure all
symptoms of the disease.'
Russia's Health Ministry has issued a public warning against travelling
to Britain because of the spread of swine flu but Shprygin said he expected
at least several hundred fans would travel to Wales for the September 9th
qualifier in the capital, Cardiff.
Will and Guy are fascinated both with the idea that Wales has its own
whisky and that soccer fans are being encouraged to drink alcohol.
This is the strangest, and most surprising advice about dealing with swine
flu to date - unless you know differently!
This Santa Group Demands Swine Flu Vaccine Priority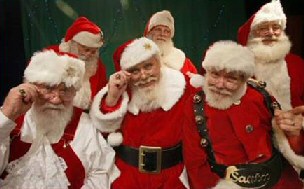 A group representing Father Christmases: the Amalgamated Order of Real
Bearded Santas, is calling for Santa Clauses in the USA to be placed on the
priority list for swine flu vaccine shots. Members of the Amalgamated Order
of Real Bearded Santas, including president Nicholas Trolli (bottom centre).
Swine flu has become such a concern for the U.S. Santa organisations that
the Amalgamated Order of Real Bearded Santas (AORBS) even featured a seminar
on the illness at a recent conference in Philadelphia.
Swine Flu Actor Gives Oscar Performance
In the spring of 2009 the UK government commissioned an advert starring
David McCusker. Well, you have guessed it, in August 2009 David has
now caught the actual swine flu virus. Naturally, David has received
unmerciful ribbing from his mates.
"I was supposed to 'Catch it, Bin it, Kill it', but instead I've been
shivering, shaking and spreading it," David said.
In the Department of Health advert David enter a lift and sneezes into
his hands. Next the actor is then shown acting more responsibly.
As he is about to sneeze a child offers him a tissue, which he uses to cover
his mouth and nose. He then disposes of the tissue and washes his hands.
The sneeze scene, which was set up by an effects team took 30 takes to
complete.
More
Funny Swine Flu Jokes
Will and Guy tried to telephone the NHS [UKs National Health
Service] helpline all day today to ask about pig flu, but all we got on
the line was crackling.
O'Driscoll runs out of petrol and phones his friend and
complains, 'Begorrah, O'Connell, I'm terrified to fill up because of
this swine flu scare.'O'Connell replies, 'You stupid fellow,
O'Driscoll, the flu's in Mexico not Texaco.'
After the first symptoms have occurred then you become
ham-fisted and develop an irrational fear of sausages. Later you develop
a penchant for skipping and pig-tails.
Bryan a patient: Tell me Doctor Mayo, is this swine flu
serious?
Doctor Mayo: Well, Bryan, I wouldn't advise you to start
watching any serials on TV.
The Latest "Pig Flu" Movie Titles
Swinedler's List
Pig Trouble In Little Mexico
Silence of the Hogs
In Ham's Way
Babe: Death In The City
Swiney Hog, Demon Butcher Of Fleet Street
Memoirs Of A Butcher
Snout Of Africa
Each will star Kevin Bacon!
The Swine Flu Virus in Perspective
Any flu virus provides a serious threat, especially to the very old and
the very young. While the swine flu is not MORE virulent than previous
strains of influenza, our problem is that of May 2009 scientists have
not had time to produce a vaccine. As a result the virus can spread
more quickly than with 'normal' strains, this is why the swine flu is
referred to as pandemic - world-wide.
It is instructive to review the Spanish flu of 1918. In countries
such as USA and UK about 25% of the population were INFECTED. Of those
infected approximately 3% died. While the percentages are much lower than I would
have guessed, nevertheless the flu caused a huge number of actual
fatalities, in the USA alone there were 500,000. Naturally these
statistics don't
take into account the misery suffered by those who survived the virus, both
for themselves and caring for sick relatives.
More Funny Swine Flu Pictures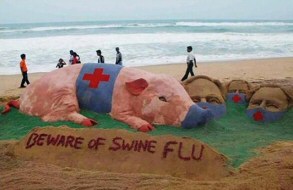 Sand Sculpture
Friends Reunited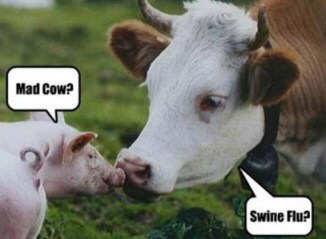 Holiday Tan from Mexico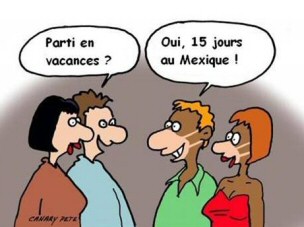 Been on holiday? Yes, a fortnight in Mexico.
Ode to Tamiflu, by Hugo Houseago
Harry Houseago, 13, a pupil at Alleyn's school in Dulwich, south London,
England, which has closed because of swine flu fears, has written a song
about Tamiflu, the anti-viral drug issued to all students as a precaution. Here we present
his swine flu ode in verse form:
Lying at home in my bed
When I should be having maths instead
But
they've closed up my school
'Cos some children were sneezing
And
they got us believing
That we'll all be ill and get the swine flu
The doctors gave us some pills
Saying 'This is so you won't get ill'
So stay at home
Study on your own
Oh Tamiflu, what did you do?
I was fine before you came along
And now I've got a pain in my head
So I think I'd better stay in bed
I get to watch the TV
And no one bothers me
I fall asleep and
wake up feeling queasy
And ev'rything's reeling,
It's not very
pretty
I'll have to go ... to the loo again
I remember they gave us pills
Saying 'This is so you won't get ill'
But now I know
This is worse than any cold
Oh Tamiflu, it's down
to you
That I'm feeling slightly nauseous
And now I've got a pain in
my head
So I think I'd better stay in bed.
You can see young
Harry sing his song here
Social History of Other
Disaster Jokes
Laughter truly is the best medicine. Incidentally, it's interesting to look back at the humour
spawned by previous disasters, for example 'Bird Flu' and Hurricane Katrina.
If you want to back further, then there is the infants playground game, 'Ring
a Ring o' Roses' which may be based on a flu outbreak of a previous
generation.
Funny Bird Flu Pictures
Scientist have discovered a cure for bird-flu - We have pictures.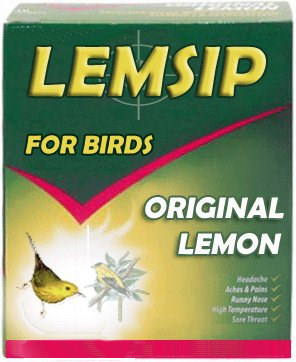 See more about bird flu
Footnote:
Please send us your funny swine flu pictures and swine flu jokes.
See more funny pigs stories
•
Funny Pigs Story •
Pig Olympics •
Pigs Football •
Pigs and Tiger Cubs
•
Animals Index •
Funny swine flu pictures
• Donkey jokes •
Farmer jokes
•
Buffalo •
RSPCA and Cows •
Funny cow pictures •
Pigmobile •
Home