Here is Will and Guy's collection of silly signs. Many are
taken from the roadside, some pictures are amusing, others are stupid;
in a nutshell there is something for everyone.
Stupid Signs
Animal Road Signs
Amusing Notices in Shops
Gaffes
Garbage and Trash
'No' Signs
No Dogs Allowed Signs
No Parking Signs
Phone Signs
Also strange, amusing and silly signs
Pointless Signs
Road
Signs in the UK
Sat-Nav
Silly Labels
Silly Signs
Stupid Signs
Traffic Signs
Warning Signs
Street Signs
Yellow Lines Parking
Beware of Road Surprises (A
Picture to Sum up this Section)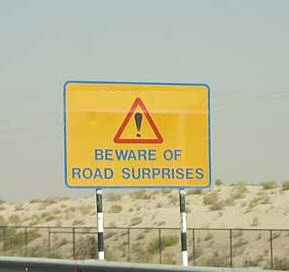 Pretty Stupid Sign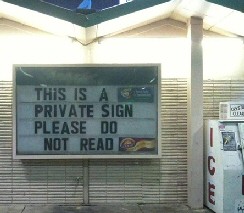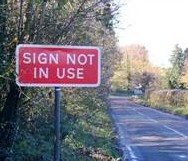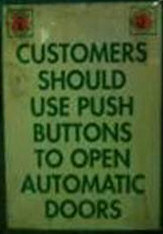 Immobile Phone?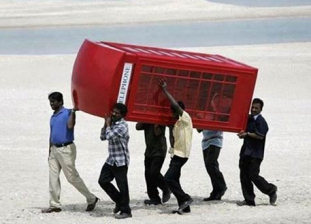 Can you make out a body with a head trapped in this phone?
A Stupid Sign - Message Lost in Translation
English
No entry for heavy goods vehicles.
Residential site only.
Welsh Translation
I am out of the office at the moment
How the Message Got Lost in Translation
The council staff in Swansea, Wales, UK needed a
translation, so they emailed a translator. Unfortunately, he was not
available, instead the email triggered an automatic response, which read in Welsh:
I am out of the office at the moment
Sadly the council staff were not Welsh speaking, and believed that the
automatic response was the actual translation of the message.
Pictures of Brainless Signs and Stupid Warnings
Be Aware of Invisibility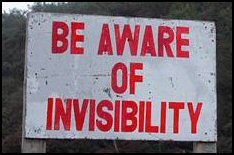 This is the sort of silly sign that scrambles your brain if you thing
about it too long.
Danger Hazardous Fumes (Fair Enough).
But Flashlight Required??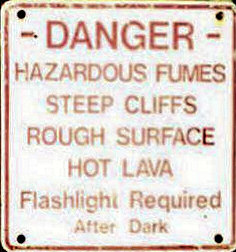 Amusing Signs on Shop Windows
1) Seen during a conference:
FOR ANYONE WHO HAS CHILDREN AND DOESN'T
KNOW IT, THERE IS A DAY CARE ON THE FIRST FLOOR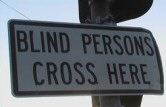 2) Notice in a field:
THE FARMER ALLOWS WALKERS TO CROSS THE FIELD FOR FREE, BUT THE BULL
CHARGES
3) Sign on a repair shop door:
WE CAN REPAIR ANYTHING. (PLEASE KNOCK HARD ON THE DOOR - THE BELL
DOESN'T
WORK)
4) SIGN IN A LAUNDROMAT:
Automatic washing machines: please remove all your clothes when the light goes out.
More Funny Signs
NO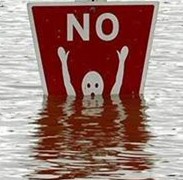 Also,
No Gorillas!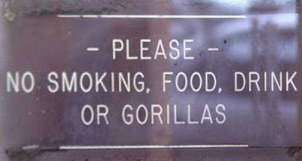 Funny Warning
Signs
On a plumber's
truck: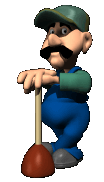 'We repair what your husband fixed.'
On another plumber's
truck:
'Don't
sleep with a drip.
Call your plumber.'
On Devendra Singh's plumber's truck
You have tried the cowboys - now try the Indians.
In a restaurant window:
'Don't
stand there and be hungry, Come on in and get fed up.'
Entrance Only - Do Not Enter?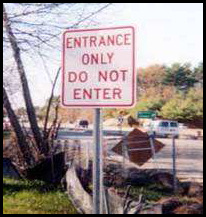 Footnote:
Please send us your pictures of stupid
signs and brainless warnings.
See more sections of funny pictures, amusing videos
and clean jokes
•
All sections •
Cars •
Bicycles •
Funny planes •
Military •
Funny train pictures •
Wisdom
•
Indian •
Men jokes •
Women jokes •
Funny buildings •
Funny people •
Unusual vehicles
• Funny clean jokes •
Short stories • Stupid signs •
Funny warning labels •
Phone jokes •
Home