Are the British really more eccentric than other nations? Will and
Guy think so. We believe the British are indeed different, principally
because they combine these two factors, they care less than most what other
people
think about them, and the British can laugh at themselves.
Protest Cartwheel from
Brighton to London
Fact is always stranger than fiction. We British produce a top class eccentric.
An artist is attempting to cartwheel from Brighton to London to protest about people taking stones from beaches. Mark McGowan, 37, from Peckham, says bylaws stopping people from taking stones to decorate
their gardens should be enforced more firmly.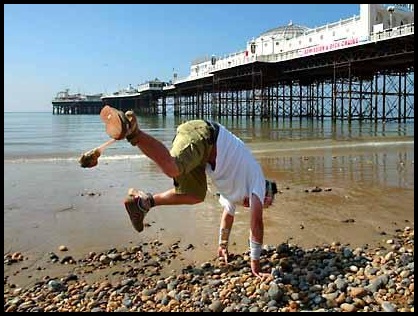 Two years ago Mr McGowan pushed a monkey nut for seven miles to Downing
Street with his nose. What next for this prime example of an English
oddball?
Road Sweeper's
Thought-of-The-Day

Will and Guy applaud a poetic road sweeper who has built up a cult fan
club by inscribing daily inspirational messages in the sand at another
seaside resort in South England.
Steve Fox, 44, carves out his thought for the day in the sand on the
pavement at Orcombe Point in the holiday resort of Exmouth, Devon, England.
He has now won a loyal following of about 150 devotees who flock to the
seafront every day to see his latest message. Mr Fox, who works for the
district council, uses some time during his lunch break to create his
motivational messages.
Stella Munn, 61, who walks her dog in the area, said, 'It's absolutely
brilliant. So many people talk about it. It's a really nice thing to do when
there's so much horrible stuff going on in the world.'
One of Mr Fox's latest messages: "The power of optimism" - was prompted
by a passer-by commenting on his sunglasses when he wore them despite a
forecast of imminent rain.
Steve Fox, of Exmouth, has previously had seafront visitors cuddling each
other with his messages, "give your loved one a hug", and "hug somebody".
When he learned a woman recuperating from an operation used the Orcombe
Point parking meters as walking milestones, he left her a personal message
"little by little" to reward her progress.
Unusual, Funny and Strange Enquiries Made to Local Councils in England
These calls by eccentric people make a change from enquiries about council tax and garbage bin
collection say Will and Guy.
One query about registering the death of a person who was still alive was
just one of the quirky calls received by council call centres last year. The
inquiry to Surrey County Council was among 50m calls to local authority
customer services each year.
Another to Northumberland County Council asked where its pest control
officers purchased their rifles.
One caller to East Dorset District
Council's Tourist Information Centre wanted an explanation of the plot of
the 18th century play "She Stoops to Conquer".
Another bizarre call in Surrey was from an oddball who asked if he was
allowed to roll up a zebra crossing.
A German man went to a council
customer services reception desk in Northumberland to claim political
asylum.
A motorist called Sutton Council to ask if a car park was haunted.
She thought her vehicle was in a different place from where she left
it. (Been there says Guy!)
Another resident in the borough asked whether he could put a dead fox in
a recycling bin.
The fact that councils are so often the first port of call for residents
who are seeking a solution to their problems shows just how central a role
councils play in the lives of their communities Will and Guy were informed.
Eccentric People:- We Have
Them In England
Busker* Charlie Cavey singer plays his guitar whilst squeezed
inside a tiny metal litter bin. The 30-year-old singer plays his guitar
whilst squeezed inside the tiny metal litter bin in Cambridge, city
centre, England - An archetypal Eccentric Englishman.
Cambridge is a city used to street performers; buskers often play
songs but have to add funny and entertaining elements to grab people's
attention and earn more money from passersby.
At 5ft 9 inches tall he finds his job cramped and smelly but his
singing style is proving a huge hit with passers-by. Every 5 songs or so
Charlie has to get out of the bin to stretch himself.
It strikes Will and Guy that another problem could be that people
passing by may well deposit their litter in his bin. Not at all
pleasant.
*A busker is a person who entertains by dancing, singing, or reciting
on the street or in a public place. [It is a word of British origin]
Buskers may also do: acrobatics, animal tricks, balloon twisting, card
tricks, clowning, comedy, contortions and escapes, dance, fire eating,
fortune-telling, juggling, magic, mime and a mime variation where the
artist performs as a living statue, musical performance, puppeteering,
snake charming, storytelling or recite poetry; street art [sketching and
painting], street theatre, sword swallowing, or even present a flea
circus.
Will particularly remembers fondly the street performers when he
visited New Orleans some years ago.
Beginner's
Mistake?
One of the nursing students from the local community college was supposed to collect a sterile urine specimen from her patient. Imagine the surprise on the staff nurse's
face when they found the student
sterilising the urine in the unit kitchen - by boiling it on the stove.
Another Funny, Mildly
Eccentric Person

Special Funny Thatchback Car Revealed
Will and Guy can reveal that a Wiltshire publican has treated his Morris
1000 Traveller car to a rustic makeover - by making a thatched roof for it.
Mr Jim Goodland now can be seen as he drives through the streets near his
pub, The King's Head, in the village of Whiteparish, near Salisbury,
Wiltshire, England.
The car is roadworthy; although Mr Goodland admits the new roof may not
have improved its fuel consumption. The Morris Minor, said to typify
Englishness, was first launched in London in 1948. The wood-framed Traveller
was introduced to the Morris Minor range later on, along with the panel van
and pick-up truck version.
Will owned a rose taupe coloured Morris 1000 Traveller in the early
1970's. Pictured here: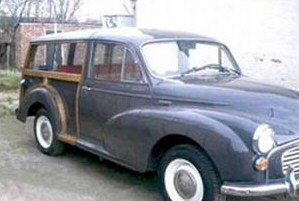 More Stories of Eccentric British People
"Mad"
But
Funny Scottish Nurse Breaks World Record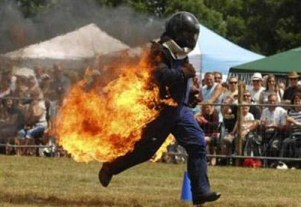 A nurse set himself on fire and ran 100 yards engulfed in a ball of
flames.
Keith Malcolm, from Aberdeen, Scotland, was doused in petrol before
sprinting 259 feet ablaze to beat the previous fire-run record of 227ft. To
claim the record the amateur stuntman wore eight layers of protective
clothing, including four layers of fireproof undergarments, a Formula One
fireproof jacket and three overalls. He also wore three fire hoods and a
helmet and coated himself in special protective "stunt gel" so he would not
be harmed by the flames, which are believed to have reached 1,000C.
Here we can show you a photograph of eccentric Mr Malcolm, who now lives in Widley,
near Portsmouth, Hants, England, who set the new record at the Alton and
North East Hampshire Agricultural Show. He had a team of experts from
Hampshire Fire and Rescue on hand for the event which was aimed at raising
money for Cancer Research. Afterwards Mr Malcolm told Will and Guy, 'It was
absolutely awesome. I managed it in 17 seconds and was running flat-out. I
really did not want to hang around. There wasn't much left of the jacket at
the end. To be honest, the heat I felt was what you would expect if you were
wearing all those clothes and a helmet in hot weather and trying to run.
Once again, we are astounded at the eccentricity and quirkiness of our
fellow man and strongly advise readers not to try this at home.
In Britain in 1993, three people needed hospital treatment as a result of
accidents with their tea-cosies.
Collection of Eccentric People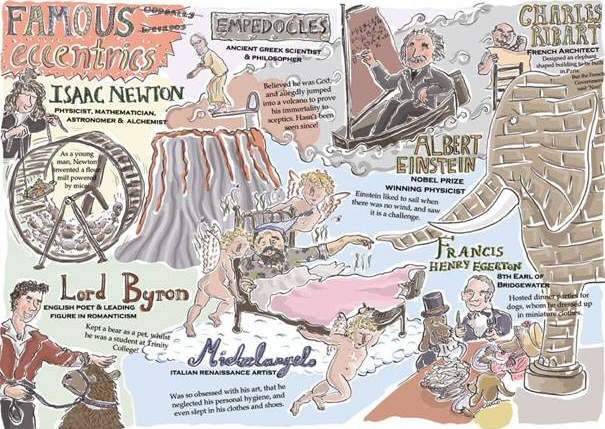 See
more great English eccentrics.
More Eccentric People
Fresh air has now been bottled by Britain's National Trust so that it can
be given to stressed city workers, Will and Guy have discovered.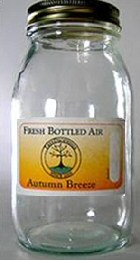 The bottled air is from some of the country's favourite spots and each
glass jar should relieve stress for up to 10 minutes we have heard.
The air comes from different locations, including Townend on the shores of
Lake Windermere in Cumbria, Stourhead in Wiltshire and Box Hill, Surrey.
The trust hit upon the fresh-air-in-bottle idea after a survey showed
that 60% of people found a breath of fresh air helped reduce stress.
Founded in 1895, the National Trust's main goal is to protect open spaces
and preserve historic buildings and ruins. It's first purchase was a 14th
century Clergy House for £10 [$15 USD]. The trust has since received
numerous donations and owns and cares for nearly 1,000 square miles of
Britain.
Not to be outdone: the people of Wales also bottle and sell their sand,
slate, water and air.
Four
Casualties Instead of One
Once again fact is stranger than fiction
An old lady dialled 999 after falling over in her house at Iffley, Oxfordshire. She didn't
wake the other members of the family. As the ambulance men were
carrying her out of the front door on a stretcher, her son roused from his slumbers by the noise staggered onto the landing, panicked at the sight of strange men in his home, and tripped all the way
downstairs, knocking himself out.
His wife came rushing out of the bedroom to see what was wrong. Observing her husband lying on the hall floor, she promptly fainted and fell downstairs herself. The
paramedics now had three casualties to take to A&E instead of one.
The tally rapidly became four when the family dog rampaged furiously into the hall, and inflicted an indignant bite on the bottom of one of
the ambulance men. A spokesman for the Oxford Ambulance Service said, 'It was quite a night, actually.'
Our Top Five Best
Quotes on Eccentrics
Do not fear to be eccentric in opinion, for
every opinion now accepted was once eccentric. - Bertrand Russell
If you're poor and you do something stupid,
you're nuts. If you're rich and do something stupid, you're eccentric. -
Bobby Heenan
Money, like vodka, turns a person into an
eccentric. - Anton Chekhov
A civilized society is one which tolerates
eccentricity to the point of doubtful sanity. - Robert Frost
The English like eccentrics. They just don't like
them living next door. - Julian Clary

Eccentric British Woman Swims Around Manhattan Island
Proving that not all English eccentrics are men Dr Julie Bradshaw, MBE,
BA, MSc, achieved a world-first as she swims around New York's Manhattan
Island using only the butterfly stroke, passing many of the city's iconic
landmarks on the way.
Dr Bradshaw, or "Madfish" as she is nicknamed, is a veteran of long
distance swimming, completed the 28.5 mile swim in a record 9 hours and
twenty eight minutes as she raised money for charity.
In doing so Dr Bradshaw, who has already received an MBE for her services
to swimming, set the fastest time for swimming around the island using only
the butterfly stroke as well as becoming the first female to ever achieve
the feat.
On her journey around the New York waterways she passed several iconic
structures synonymous with the city including the Statue of Liberty and the
Empire State Building.
The multiple swimming record holder was raising
money for the Rainbows Children's Hospice in Loughborough, England.
Not one to dwell on her success, the doctor plans to return to England in
order to swim the length of the river Humber in August.
Footnote
Guy says this is an exceptional feat because
the butterfly is an impossibly difficult stroke to swim for more than 50
yards.
Abingdon's Bun Throwing
Championships
World Champion Bun-thrower found in Oxon Town
An Oxfordshire market
town has held what it claims was the first World Bun Throwing Championships,
Will and Guy have spotted.
Since King George III's coronation in 1761, officials in Abingdon have
thrown currant buns from the roof of its County Hall to mark special
occasions.
Saturday's contest was held to find two winners to join the council at
the Jubilee bun-throwing on
3rd June.
The inaugural winners of this earth shattering competition were Selina
Wallis with a 29.7m (97.4ft) throw and Danny Parry with 57.8m (189.6ft).
The Mayor of Abingdon, Michael Badcock, said it had been a great
community event with more than 250 buns thrown and well over 500 people
attending.
He added, 'Some of the younger contestants decided to eat their buns
rather than throwing them but that didn't matter, it was a great day and a
lot of fun.'
In the 10 to 15 year-old category, Graham Beer managed a 52.8m (173.2ft)
throw and Tiego Logan, in the under-10s, threw a bun 20.8m (68.2ft).
More than 250 buns were thrown at the inaugural World Bun Throwing
Championships.
Yet another example of British eccentricity and we love
it.
Eccentric Foreigners
And if you think the English and the British are odd or eccentric just
read these:
In 2008, 53,000 Americans insured themselves against being kidnapped and
eaten by aliens.
In 2009, 3,153 Americans were taken to hospital with injuries caused by
room deodorizers and air fresheners.
In 2010, 9,174 Americans were taken to hospital with injuries caused by
buckets.
Now that's what Will and Guy call odd and eccentric.
Alfred Mehran - The Eccentric Person Who Lives in an Airport
Alfred is an Italian refugee who presently resides in the Charles De
Gaulle Airport Terminal, and has done so since 8th August,1988.
The story apparently begins when he was expelled from his home country of
Italy and decided to move to the United Kingdom. There was just one problem.
Alfred lacked identification.
So, doing what he could, he claimed that his bag was stolen and that he'd
lost all of his forms of ID and important documents. Surprisingly, he
managed to fly out but failed to seal the deal all the way through. When he
arrived, officials sent him right back to Charles De Gaulle. Since Alfred
didn't have any papers when he arrived back in Paris, he couldn't prove who
he was.
Alfred lived in the Airport Terminal at Charles De Gaulle until June 2006
when he was taken into hospital with a medical problem. Since then Will and
Guy heard no more until ....
Follow-up: Information kindly supplied by Pradeep Bhaskar

Mehran Karimi Nasseri also known as Sir, Alfred Mehran, is an
Iranian refugee who lived in the departure lounge of Terminal One in Charles
de Gaulle Airport from 8 August 1988 until July 2006, when he was
hospitalized for an unspecified ailment. Nasseri's life at the airport ended
in July 2006 when he was hospitalized and his sitting place dismantled.
Towards the end of January 2007, he left the hospital and was looked
after by the airport's branch of the French Red Cross; he was lodged for a
few weeks in a hotel close to the airport. On March 6, 2007, he transferred
to an Emmaus charity reception centre in Paris's twentieth arrondissement.
As of 2008, he continues to live in a Paris shelter.
Simeon Ellerton [1702-99]
Simeon Ellerton was an 18th century example of English eccentricity.
The first thing we know about him is that he was a
fitness fanatic.
He enjoyed walking long distances, sometimes, for example, from Durham in
the north-east of England to London. He was regularly employed to carry out
errands or act as a courier for the locals.
On his many frequent journeys he would gather up stones from the roadside
and carry them on his head. His aim was to gather sufficient stones to build
his own house. Eventually he had enough stones and he made a little cottage
for himself.
However, the downside of this extraordinary behaviour was that having
spent so many years carrying extra weight, he felt uncomfortable without it,
so for the rest of his life he walked around with a bag of stones on his
head.

Britain's Foreign Office Reveals Weird Requests Received
The British consulate offers welcome assistance to travellers who are in
trouble abroad, but the Foreign Office is warning there are some things with
which it just cannot help write Will and Guy.
Funny and Amazing Questions
We have compiled a list of questions and bizarre appeals for help made to
its network of embassies, high commissions and consulates around the world.
In the last six months staff have been asked for a telephone number
for Phil Collins.
Another request was from a man stranded at the airport by his
dominatrix.
One from a man who rang the consulate in Sydney, Australia to ask
what clothes he should pack for his holiday.
In another a Briton in Sofia, Bulgaria, wanted the consulate to sell
his house for him.
In Spain - who wanted Prince Charles' shoe size, wanted the
information so he could send him shoes as a present.
A man called the consulate in Florida to report that there were ants
in his holiday villa and asked for advice on what he should do
A lady complained to the embassy in Moscow about a loud buzzing
noise in her apartment
A man asked a consulate in Greece for information on how to go about
putting a chicken coop in his garden
A man asked consular staff in Dubai to meet his dog on arrival at
customs and help it through the customs process
A caller asked staff in Malaga, Spain in mid-September where she
could get a Christmas lunch as everywhere was already booked up
Staff in Greece were asked for tips on the best fishing spots and
where to purchase good bait
Consular Affairs Minister Jeremy Browne told us, 'Our priority is to help
people in real difficulty abroad and we cannot do this if our time is
diverted by people trying to use us as a concierge service. We need to be
able to focus primarily on helping victims of serious crimes, supporting
people who have been detained or assisting people who have lost a loved one
abroad.'
Staff from the Foreign and Commonwealth Office (FCO) handle around two
million consular inquiries a year.
We have learned that in 2010 they dealt with more than 19,000 cases where
British citizens needed help - including arrests, deaths, hospitalisations,
supporting victims of forced marriage and assisting in incidents where
children had been abducted by a parent.
Footnote:
Please send us your example of the eccentric English in action.
See more strange but true people stories:
• Strange but true stories about people •
Flash entrepreneur •
Car thieves •
Amazing coincidences
•
Eccentric English people •
10 accidents •
Unusual collections •
12 true stories •
Smoking stories
• Short Stories •
Yorkshire folk •
Sailor stories •
Cranky People •
Funny people jokes