Pub Bans Granny for Wearing a Hat
BBC Radio 5 Live news reported yesterday that Betty Willbraham, 82, was told to take off her hat if she wanted to be served at the Hereward pub in Ely, Cambridgeshire, UK. A member of staff
insisted that everyone in the pub is asked to remove their hats so their faces are visible to CCTV cameras in the event of trouble.
Betty had popped in at lunchtime for fish and chips and half a pint of
Guinness. Betty, a retired schoolteacher, commented, 'I've never heard of a hatless pub. How ridiculous. It's
the first time I've ever been asked to remove it - and I've been in that pub several times before.
I'm of a generation who would always wear a hat for lunch.'
'A woman is not properly dressed without a hat, 'said Betty's
husband. She appeared relieved that her husband had not been with her on this
occasion because '
he would have become rather cross, 'stated Betty.
Pub
Bans Grandad's
Trilby
A grandad was banned from wearing his trilby hat in a pub.

Colin Osborne was ordered to remove it so CCTV cameras could film his face, reports the Mirror. And staff threatened to bar
him if he refused.
Colin, 64 - who has worn a hat for 20 years - said yesterday: 'It's
madness. they're branding everyone who wears a hat a troublemaker.'
Journalist Colin was tackled as he sipped a glass
of coke with son Mark, 40, at The Monument in Hereford.
Brewers Greene King said the ban was policy in all 800 of their UK outlets.
A spokesman added: 'Hats obscure customers'
faces from the cameras.'
Just When We
Thought Hat Bans Were a Passing Fad
11 February 2010 By Greg Miles (Kindly sent in by Ken Green)
AN elderly man was astonished after being asked to remove his flat cap
for security reasons while in a shop.
Robert Broughton, 89, was on his
daily visit to the One Stop in St Paul's Road, Chichester, England, when he
was asked to remove his flat cap because of company policy.
Mr Broughton, who lives in nearby Little Breach, said he had been in the
shop hundreds of times before and had never been asked to take it off.
"I was very angry," he said. "I think it's quite ridiculous. "There were
other people about who had some hats on. I wasn't disguised, it's not as
though I was wearing glasses or had a beard.
"My face was fully visible. I had been in the shop more than 100 times -
I couldn't believe it."
Astonished Mr Broughton went into the shop on Thursday, February 4, as he
usually does on his way back from the city centre. "I went to the One
Stop to do some minor shopping, and I was astonished when I got to the
counter and the assistant asked me to remove my cap," he said.
"I asked him 'why?' and he said it was company policy. My face wasn't
hidden, I couldn't believe it. I go into Marks and Spencer or anywhere else
and they never ask me to remove my hat."
A spokesman for the shop said there was an incident several months ago
where somebody had been assaulted, and headgear had obscured the faces of
the assailants on CCTV.
They were now obliged to ask those wearing hats to remove them and
couldn't discriminate on age grounds.

Toddler Asked To Leave Shop For Wearing Unsuitable Headgear

Wearing a "hoodie" is deemed unsuitable by some British shopkeepers. Even
large shopping malls have been known to ban them. Associated with the
wearing of these hoodies are hooligans, troublemakers and teenagers who
might misbehave - or so the prohibitors would have us believe.
Therefore it came as a shock when a 2 year old toddler [see photo] was
banned from entering a shop in north Yorkshire, England, with his
grandfather. Two-year-old Jay Cowper was wrapped up against the cold in a
brown jacket with a furry hood when he went shopping with his grandfather in
the beautiful city of York. His grandfather refused out of principle to
remove the child's hood and the pair were forced to leave the store.Madness
or what say Will and Guy?
Send us your amazing true stories for publication on the best of all the
humour sites, we will give you the credit.
How to Wear Your Hat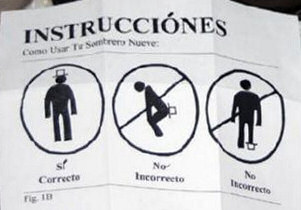 Instructions on how to wear your hat - Si Correcto!
Advice For Grandad
It is impossible to defeat an
ignorant man in argument.
William G. McAdoo
Arguments are to be avoided; they are always vulgar and
often convincing.
Oscar Wilde
A committee is a cul-de-sac down which ideas are lured and then quietly strangled
Barnett
Two hats were hanging on a hat rack in the hallway. One hat said to the
other: 'You stay here; I'll go on a head.' Unknown
Vocabulary
Grandad is an unusual word because both the American and the English dictionaries allow one's
father's
father to be spelt in two ways. Each nationality's
dictionary has both Granddad and the more common Grandad.
If you enjoy words, here are a few ideas to slip into your conversation, especially when discussing the above article.
Diktat: an authoritative decree or order. (As in banning Grandad's
Trilby)
Dubiety: the condition or quality of being doubtful; also, a matter of doubt. (Wisdom of the above Diktat)
Querulous : habitually complaining; also, expressing complaint. (Brewery's
reaction
to wearing a hat.)
Benefaction: the act of conferring a benefit; also, a benefit conferred.
Police Ban Hat!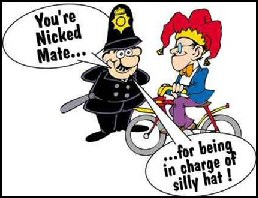 Two hats were hanging on a hat rack in the hallway. One hat said to
the other: 'You stay here; I'll go on a head.'
Another Pub Ban - Peggy Banned
From Her Local Pub
A regular drinker at the Alexandra Hotel in Jarrow, South Tyneside,
England has been banned from the pub because her hoof prints could make
marks on the new carpet, Will and Guy have discovered.
Yes, the regular is a horse - a 12-year-old carthorse named Peggy.
She loved to sup a pint of bitter and scoff a packet of crisps in the
company of her owner, Pete Dolan. Now, poor old Peggy has to forlornly
watch through the window of the pub.