1) A widow from Croatia has submitted to the Guinness Book of Records a pickled cucumber. She claims it is the oldest in the world and was pickled by her
mother-in-law on the birth of her late husband in 1930.
Sadly the cucumber survived longer than her husband.
There is an urban myth that the holder of the equivalent English record is a Yorkshire man called
Mr Wally Gherkin.
2) A friend of Will's
named Thomas Irwin, once owned
a dog and a cat and they were named Kate and Sidney Pie. When Tom visited the veterinary clinic the receptionist thought his name must be Mr Pie.
3) One of the British national daily newspapers has been asking for comments about: 'what it means to be British'. Here is a comment from a chap in Switzerland who lived in Britain for 12 years.
'Being British is about driving in a German car to an Irish pub for a Belgian beer, then travelling home, grabbing an Indian curry or a Turkish kebab on the way, to sit on Swedish furniture and watch American
shows on a Japanese TV; and the most British thing of all? Suspicion of anything foreign.'


4) The West Sussex, England, Fire Brigade were invited to a local Primary School to talk to the children about fire safety in the home. One of the firemen let off a smoke alarm, which made its customary
high-pitched noise. The 6 year olds were asked what the noise represented. A little boy's
hand went up and he answered, 'That's
mummy cooking dinner.'
5) In Budapest, early in January 2006, firemen were needed to lift a 50 stone woman from
her home so that she could attend hospital.
They need to remove a window and break down the wall so that the bed could be strapped to a forklift truck. This took 13 firemen 5 hours.
The unnamed
woman is now in hospital on a weight loss programme.
6) In Eliat, Israel, at the turn of the year 2006, an English woman married a dolphin in a ceremony where she wore a white dress and a pink tiara.
She had been visiting Cindy, the dolphin for some 15 years. The woman dived in with Cindy and she gave him a hug and told the dolphin that she loved him.
7) It is reported that among the items left
behind at Osama bin Laden's
headquarters in Afghanistan were 27 issues of Mad Magazine. Al Qaeda members have admitted that bin Laden is an avid reader.
8) In 1843, a Parisian street mime artiste got
stuck in his imaginary box and consequently died of starvation. [This sounds like an April Fool's
Day joke to me or at least a spoof says Will.]
9) Did you know? It is impossible to lick your elbow.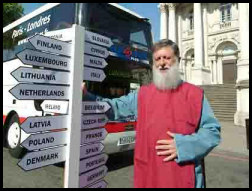 10) An Anglican monk has become the first person to travel around all 25 EU [European Union] countries by public transport. Brother Michael Bartlett, 64, covered 10,000 miles with a Eurolines
coach pass.
Brother Michael, from Sandy, in Bedfordshire, UK, began his marathon journey in Malta and finished in Dublin to establish the record.
He now holds 20 different bizarre travel records including
the most flights in 24 hours at 42.
11) A form of sanitation in New York City was maintained in the 1840's
that included the use of thousands of pigs, which roamed the street and ate all the garbage.
12) Marcel Berlins the, Lawyer and Guardian journalist, has
recently recounted how much time he has saved in his life by ignoring anything to do with the books and films of JRR Tolkien and JK Rowling.
On hearing mention of anything to do with Hobbits or Harry
Potter, Berlins claims to, '....switch off and go into a catatonic state, only to emerge when the subject was changed.'
In this way he has, by the end of 2005, saved a whole year in time: his problem,
......is: what to do with it?
N.B. Please send us your Strange But True Stories
See more strange but true people stories:
• Strange but true stories about people •
Flash entrepreneur •
Car thieves •
Amazing coincidences
•
Eccentric English people •
10 accidents •
Unusual collections •
12 true stories •
Smoking stories
• Short Stories •
Yorkshire folk •
Sailor stories •
Cranky People •
Funny people jokes