A newspaper consists of just the same number of words, whether there be any news in it or not. Henry
Fielding
Strange But True
Newspaper Stories
More True
stories as Reported in the Newspapers
Strange Newspaper Stories
Funny Newspaper Headlines
Strange But True Newspaper
Stories
From The Atlanta Daily:
SINGLE BLACK FEMALE seeks male companionship, ethnicity unimportant. I'm a very good looking girl who LOVES to play. I love long walks in the woods, riding in your
pickup truck, hunting, camping and fishing trips, cosy winter nights lying by the fire. Candlelight dinners will have me eating out of your hand. Rub me the right way and watch me respond. I'll be at the front
door when you get home from work, wearing only what nature gave me. Kiss me and I'm yours. Call (404) 875-6420 and ask for Daisy.
Over 15,000 men found themselves talking to the Atlanta Humane Society about
an 8-week old black Labrador retriever.
Men are so easy....
From
The Guardian Newspaper
Concerning a sign seen in a Police canteen in Christchurch, New Zealand:
'Will the person who took a slice of cake from the Commissioner's
Office return it immediately. It is needed as evidence
in a poisoning case.'
British News From the Churchdown Parish Magazine:
'Would the Congregation
please note that the bowl at the back of the Church labelled 'For The Sick'
, is for monetary donations only.'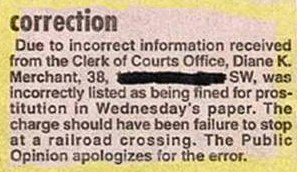 From The Daily Telegraph
A piece headed 'Brussels Pays 200,000 Pounds to Save Prostitutes':
'
... the money will not be going directly into
the prostitutes'
pocket, but will be used to encourage them to lead a better life. We will be training them for new positions in hotels.'
From The Derby Abbey Community News:
'We apologize for the error
in the last edition, in which we stated that 'Mr Fred Nicolme is a Defective in the Police Force'. This was a typographical error. We meant of course that Mr Nicolme is a Detective in the Police Farce.'
From The Gloucester Citizen:
'A caller complained to Trading Standards. After
dialling an 0891 number from an advertisement entitled, 'Hear Me Moan', the caller was played a tape of a woman nagging her husband for failing to do jobs around the house. Consumer Watchdogs in Dorset refused
to look into the complaint, saying, 'He got what he deserved.'
Newspapers and News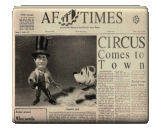 People everywhere confuse what they read in newspapers with news.
AJ Liebling
More Funny Newspaper Stories

Norfolk Virginia
Police in Norfolk, Virginia, interrogated a suspect by placing a metal
colander on his head and connecting it with wires to a photocopy machine. The message '
He's
lying'
was placed in the copier, and police pressed the copy button each time they thought the suspect wasn't
telling the truth. Believing the 'lie detector'
was working, the suspect confessed.
Safety film - Report
A company trying to continue its five-year perfect safety record showed its workers a film aimed at encouraging the
use of safety goggles on the job. According to the Health and Safety Council News, the film's
depiction of gory industrial accidents was so graphic that twenty-five workers suffered minor injuries in
their rush to leave the screening room. Thirteen others fainted, and one man required seven stitches after he cut his head falling off a chair while watching the film.
Norway
Norwegian business consultant Hendrik Pedersen worked for 13 years on a book about Norwegian economic solutions. He took the 250-page manuscript to be copied, only to have it reduced to 50,000 strips of
paper in seconds when a worker confused the copier with the shredder.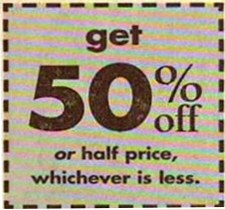 Mexico
A man in Mexico City, shot his 49 year old friend in the face, seriously wounding him, while the two practiced shooting
beer cans off each other's
head.
Devon, England
Hiding in the depths of Sunday's
Observer newspaper was this amusing snippet
Mr and Mrs K. Lyons have been renovating their old house in Exeter, Devon. Mr Lyons, an architect, and his
wife Ginny found, to their amazement, a post card stuck in an old front door after taking it off its hinges. Nothing worth commenting on here until they viewed the date on the post card. It had been posted in 1896.
HL Mencken the journalist and 'Sage of Baltimore', said of newspapers:
All successful newspapers are ceaselessly querulous and bellicose. They never defend anyone or anything if they can help it; if
the job is forced on them, they tackle it by denouncing someone or something else.
Advertisement from the Federation of Small Businesses
Wanted for a Regional Organiser - Leicestershire, Northamptonshire and Rutland a person with business acumen, self-motivation and management
skills. 'The ability to speak Welsh would be an advantage'.
Strange Newspaper Stories
Here is a collection of cuttings taken from the short columns that editors
use to pad out their newspapers.
Miscellaneous Section - Duck refuses Medical Treatment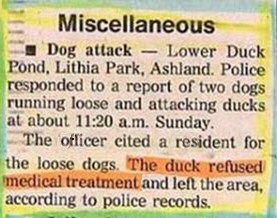 Cases of Mistaken Identity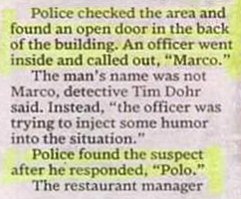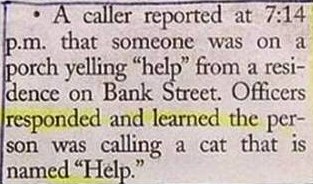 Wokingham News, Berkshire, England.
An Army Officer assigned to the Military Academy in Sandhurst narrowly
escaped serious injury recently when he attempted horseback riding with no prior
experience. After mounting his horse unassisted, the horse immediately began
moving. As it galloped along at a steady and rhythmic pace, the officer,
Lieutenant Tommy Thomas, began to slip sideways from the saddle.
Although attempting to grab for the horse's mane Thomas could not get a firm
grip. He then threw his arms around the horse's neck but continued to slide down
the side of the horse. The horse galloped along, seemingly oblivious to its
slipping rider. Finally, losing his grip, the Lieutenant attempted to leap away
from the horse and throw himself to safety. His foot, however, became entangled
in the stirrup, leaving him at the mercy of the horse's pounding hooves as his
head and upper body repeatedly struck the ground.
Moments away from unconsciousness, and probable death, to his great fortune
Commodore Steve Cleary [RN Ret'd] shopping at Waitrose, saw him and quickly
unplugged the horse.
Will and Guy are seeking to ascertain the veracity of this story.
Newspaper Story - Roget's
Thesaurus Update
A lorry loaded with thousands of copies of Roget's Thesaurus crashed as it
left a Manchester publishing house last Tuesday, according to the daily
newspapers.
When Will and Guy caught up with the witnesses, we found them stunned,
startled, aghast, taken aback, stupefied, confused, punchy, shocked, rattled,
paralyzed, dazed, bewildered, mixed up, surprised, awed, dumbfounded,
nonplussed, flabbergasted, astounded, amazed, confounded, astonished, boggled,
overwhelmed, horrified, numbed, and perplexed.
A Humorous Guide to USA Newspaper Readers
The Wall Street Journal is read by the people who run
the country.
The New York Times is read by people who think they run
the country.
The Washington Post is read by people who think they
should run the country.
USA Today is read by people who think they ought to run
the country but don't really understand the Washington Post. They do,
however like the smog statistics shown in pie charts.
The Los Angeles Times is read by people who wouldn't
mind running the country, if they could spare the time, and if they
didn't have to leave L.A. to do it.
The Boston Globe is read by people whose parents used
to run the country.
The New York Daily News is read by people who aren't
too sure who's running the country, and don't really care as long as
they can get a seat on the train.
The New York Post is read by people who don't care
who's running the country either, as long as they do something really
scandalous, preferably while intoxicated.
The San Francisco Chronicle is read by people who
aren't sure there is a country, or that anyone is running it; but
whoever it is, they oppose all that they stand for. There are occasional
exceptions if the leaders are handicapped minority, feministic atheist
dwarfs, who also happen to be illegal aliens from ANY country or galaxy
as long as they are democrats.

The Miami Herald is read by people who

are
running another country, but need the baseball scores.
Stop press:
Please write to Will and Guy if you have any funny
newspaper stories.
See more funny newspaper headlines, stories and ads :
•
Funny newspaper headlines
•
Funny adverts •
Bygone times •
Amusing letters •
Silly book titles
•
Newspaper funnies •
Dear Abby letters •
Funny application •
Funny hotel notices •
Clean jokes
•
Strange but true stories •
Messages on notice boards
•
Funny newspaper ads •
Hilarious stories