It's
funny how fact is always stranger than fiction. A good strange but true always leaves a lingering thought. Hmmm... that could have happened to someone that I know.
Strange But True Stories About Animals
Cats - Also Real Life Cases Only in America
Chickens Escape - Why Did the Chicken Block the Road?
Cormorant Recipe
Dog Suckles Kitten
Ducks - By Guy Thomas
Gassed Budgie
Halloween Stories
Miracle Dog
Parrot Exposes Husband
Penguins on the Loose
RSPCA Inspectors -
Animal Stories
Seagulls
Swim with the Dolphins
Tiger in England
Where There's Muck
Only in America - Strange But True
A man from Little Rock, Arkansas was
awarded $14,500 and medical expenses after being bitten on the buttocks by his next door neighbour's
beagle. The beagle was on a chain in its owner's
fenced-in yard, as was the man. The award was less
than sought because the jury felt that the man who, at the time, was shooting the animal repeatedly with a pellet gun might have provoked the dog.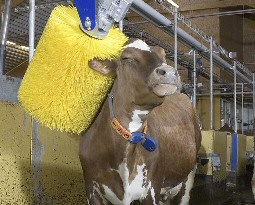 Amusing True Cow Story
English dairy farmers
keep their cows happy and productive by giving them regular brush-ups in
the cow wash. They fit the over-sized brush to their milking
sheds, thus keeping the cows clean and content.
A DeLeval spokesman claimed that brushing improved the cows' blood
circulation, which in turn boosted milk production by 3.5%.
'Daisy 153' looks to be purring with pleasure!
The Bull
A bull in a field caught his head in between the bars of a feeder. The RSPCA inspector and the Fire Brigade were called to the farm to free the animal. Six hefty firemen and the inspector wrestled with the
beast and eventually pulled its head from between the bars. The bull was, by now, very angry and turned snorting at the men and began to attack them.
See more cow and bull stories.
Strange but True Story - Woman, 86, Arrested in Pizza Row
An 86-year-old woman has been arrested for calling emergency services because she couldn't
get a pizza delivered. Dorothy Densmore, of Charlotte, North Carolina, spent two nights behind bars after
dialling '
911'
20 times in 38 minutes. Angry she could not get the meal delivered to her home, she demanded police arrest the pizza proprietors, reports the BBC.
She told police that she had been
called a 'crazy old coot'
by someone at the pizza shop. Mrs Densmore, who is 5ft tall and weighs seven stone, has also been charged with resisting arrest. A police spokeswoman said the octogenarian scratched,
kicked and bit the hand of the officer. She has now been released from jail, pending a court appearance in July, after a judge ordered a medical evaluation.
Well as our in depth reporter said, 'That takes the biscuit'.
People do the Strangest Things:

Man Hangs by Feet in Two Hour Protest
A man suspended himself upside down in Trafalgar Square to protest
against the rising cost of living yesterday. Herbert Crossman, 60, from
Harrow, hung upside down from a crane for two hours in central London,
attached by the ankles with a bungee rope.
Will and Guy heard that he did not prepare for his suspension but he did
have a medical check to make sure he had good blood pressure and
circulation. We have learned that he was protesting against what he
described as the 'take, take, take attitude' of the British Government.
He said he demonstrated how the British public is 'haemorrhaging money'
by lining up three tubs beneath him to catch money as it fell from his
pockets: one tub for the Government, one for utility bills and one in red
for his income.
Mr. Crossman then added, 'Everything is going up - gas, electricity, the
congestion charge, parking, petrol - everything. It's our money the
Government is spending and wasting, not their fat-cat salaries. If I was
doing what they are in my business I'd be out of work by now.'
Easy to Swallow?
My sister, Paula, and her husband, Chris, had just finished tucking their young ones into bed one evening when they heard crying coming from the children's room. Rushing in,
they found Tommy crying hysterically.
He had accidentally swallowed a 5p piece and was sure he was going to die. No amount of talking could change his mind. Trying to calm him, Chris palmed a 5p
coin that he happened to have in his pocket and pretended to remove it from Tommy's ear. Tommy, naturally, was delighted. In a flash, he snatched it from his father's hand, swallowed it and demanded cheerfully
- 'Do it again, Dad!'
Funny Parrot Story
A parrot spent five days under police 'interrogation'
in an Argentina prison
The judge ordered Pepo the parrot to be held in custody until he told police who was his real owner, reports UOL.
Two neighbours, Jorge Machado and R Vega, were disputing ownership of the bird.
Judge Osvaldo Carlos decided the parrot should be kept in prison until he said the name of his owner.
After five days, Pepo said Jorge's
name, and the parrot also sung the anthem of his favourite football team San
Lorenzo.
Mr Machado said: 'I knew he wasn't
going to let me down, he is a real friend and we support the same football team'.
This parrot story shows that sometimes fact is stranger than fiction.
Strange Story - Bullet Lodges in Man's False Teeth
Couple Escape Death:
A traumatised couple survived being killed when
the bullet fired at them ricocheted off the wife's cheek, and the husband
amazingly caught it in his false teeth. This totally miraculous escape
happened in Zagreb, Croatia.
Two men were fiercely arguing about an
overdue debt, Will and Guy have learned from police sources. Seconds later
one of them produced a pistol and fired at the couple at point blank range.
Amazingly the bullet just grazed the cheekbone of Mirna Cavlovic and carried
straight on towards her husband Stipe who caught it in his dentures.
'I thought I was dead for sure,' Stipe informed us, 'I didn't even
see the bullet hit my wife. I just saw the flash of the gun's barrel.
The next thing I knew was something hit my false teeth and I spat out
the hot lead. It hurt like hell but we're both still alive.'

Guy is of the opinion that he was
probably saved because so much of the bullet's speed had been lost when it
first struck his wife's cheek. While Will feels that Stipe may turn it into
a circus act.
The perpetrator of the crime ran from the scene but we
have learned that he is now in police custody awaiting trial.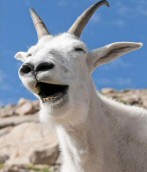 After Dinner Stories
Short stories about School Children
Sayings and Famous
Quotes from Modern times
Sayings and Quotes from old Sages
Airlines to Avoid
3 Short Stories
3 More Short Stories
Footnote:
Please send us your strange but true animal story.
See another short story or an urban myth:
•
Site Home • Short Stories •
After Dinner • Urban Myths • Comedians •
Tests