Here are interesting and funny tales about sea dogs, mariners, navy
escapades and even pirates.
Will and Guy's Humorous Stories an Jokes About Sailors
Don't Tell Anyone!
Rear Admiral Craig fell overboard and was rescued by Solly, a deckhand.
The officer asked the sailor how he could reward him.
'The best way, sir,' replied the *bluejacket, 'is to say nothing about
it. If the other blokes knew I'd pulled you out, they'd throw me in.'
*bluejacket = a term for an enlisted sailor in the US or Royal Navy
The RN Physical
Having passed the enlistment physical, Foley was asked by the doctor,
'Why do you want to join the Navy, son?'
'My father said it'd be a good idea, Sir.'
Oh, and what does your father do?'
'He's a Brigadier in the Army, Sir.'
The Shipwrecked Barrel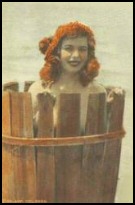 One morning the shipwrecked mariner noticed something floating towards
the deserted island that had become his home since his ship sank six months
ago. As the object came closer, he realized that it was a large barrel. He
very soon thereafter realised that hanging on to the barrel was a very
scantily clad woman. In fact she was the most beautiful woman he had ever
seen.
Arriving on shore the woman left the barrel and slowly and suggestively
walked toward the sailor. She whispered into his ear, 'I have something you
want!'
The mariner broke into a run towards to breaking waves yelling, 'Don't
tell me you've got beer in that barrel.'
Short Sailor Yarns
When I Die
'Well,' snarled the tough old Royal Navy Chief to the bewildered able
seaman. 'I suppose after you get discharged from the Navy, you'll just be
waiting for me to die so you can come and dance on my grave.'
'Not me, Chief,' the seaman replied. 'Once I get out of the Navy, I'm
never going to stand in line again.'
The First Mate's Tale
Lieutenant Hardy, First Mate, was in a rare mood as he finished drilling
the crew. He barked out a final order, 'All right, you idiots fall out.'
The men fell out, but one sailor stood firm.
The sailor stared at the First Mate and smiled, 'There were a lot of them
weren't there sir?'
Captain's Report
This petty officer reminds me very much of a gyroscope -
Always
spinning around at a frantic pace, but not really going anywhere.
Good Looking
A rather old minesweeper was cruising a lonely stretch of the South
Pacific and was overtaken by a new Australian cruiser.
All the US sailors admired the new ship and the Captain sent a
blinker-light message to the Aussies, 'You are beautiful.'
Less than 10 seconds later, the Aussie ship blinkered back, 'I'll bet you
say that to all the ships.'
Sailor's Email
Charlie, a Petty Officer in the Royal Navy, sent an email to his wife,
informing her that HMS York would be returning from deployment a day early.
Arriving home in Portsmouth, he found his wife with another man. Upset,
he stormed off and got a room at the "Home Club" in Queen Street, Portsea to
decide what to do next. His thoughts were interrupted by a call from Jane,
his mother-in-law.
'Charlie,' Jane crooned, 'I checked with my daughter, Ellen, and, as I
expected, there is a perfectly good explanation for this whole episode.'
'This I've got to hear,' Charlie muttered.
'It was an honest mistake,' the mother-in-law, continued unabashed, 'she
never got your email.'
Rabbits at Sea
A rabbit's foot has been a symbol of good luck for a very long time. Even early sailors would carry one to keep them safe as they sailed.
However, whole rabbit was a different story. Even when ships carried live
chickens and other small animals for food on long journeys, rabbits were not
ever brought.
A live rabbit aboard a ship was sure to bring tragedy and death to all
aboard.
Tales of Infamous Pirates
Blackbeard, terrorised the American
coasts in the early 18th centaury. Eventually Blackbeard was captured and
killed in 1718 by Lieutenant Maynard of the Royal Navy.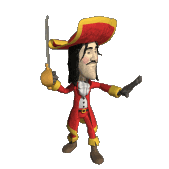 Captain Morgan, exemplified how both the establishment blurred line between good and bad. If you were English and you robbed ships belonging
to countries such as Spain, then you were a good privateer. But if you looted English ships, then you were bad pirate. In 1673 Captain Morgan stood trial for piracy, however instead
of being convicted, King Charles II intervened and personally, knighted Captain Morgan.
Later he became governor of Jamaica.
Captain Kidd, the scourge of the Indian ocean. Famously,
Captain Kidd was hanged in London in 1701; his body was then dipped in tar, and displayed on the bank of the river Thames as a deterrent to would be pirates.
See more
pirate stories »
True Seafaring Stories
A Remarkable and True Story
A pensioner has had a lucky escape after a freak wave flung him off his
small yacht in the Atlantic we have heard.
71-year-old Gerry Beard was washed overboard off the Butt of Lewis, in
the Outer Hebrides, Scotland, before being sensationally flung back onto the
vessel by the next wave.
Mr Beard from Torridon on the west coast of Scotland had been washed off
his yacht by a freak 30ft-wave into the Atlantic and the sailor was left
clinging to a piece of rigging, until the next wave pushed the boat
underneath him and he collapsed back into the cockpit.
He said he was lucky to be alive
After landing back in his yacht Mr Beard managed to activate his personal
locator beacon which scrambled the Stornoway Coastguard helicopter and
lifeboat to the scene 50 miles north of the Butt of Lewis.
Mr Beard had been sailing solo from Reykjavik in Iceland to his home,
before 40-knot winds started battering his 35ft-long boat 'Meris', damaging
his radio equipment and leaving him with no chance to attach his safety
lifeline.
Despite the terrifying ordeal Mr Beard said he has no plans to give up
sailing.
Lifeboat Crew
Rescues Man and Wheelie Bin
Lifeboat crews have made an unusual rescue off the coast of Isle of
Anglesey, Wales, UK: an 81-year-old man and a wheelie bin write Will and
Guy.
The man had gone out in a small inflatable dinghy to recover his
neighbour's garbage bin which had swept out to sea in strong winds, in a
high tide. He was blown about a mile off Red Wharf Bay until Moelfre
inshore lifeboat was launched to rescue him.
He was picked up suffering from mild hypothermia and taken to hospital in
Bangor by ambulance. The crew said the man was not wearing a life jacket or
waterproof clothing. His dinghy was also half full of water because of
the sea conditions.
The Moelfre crew then went back out to tow in the dingy and wheelie bin,
which was still half full of rubbish. Moelfre lifeboat station spokesman
Dave Massey said, 'Everyone at the Moelfre lifeboat station wishes the
gentleman a speedy recovery. The volunteer lifeboat crews at Moelfre have
dealt with a wide variety of emergency calls over the years but I am sure
that this is the first time we have been involved in towing in a wheelie
bin,' he told Will and Guy. See more
cranky people stories.
The Ship's Captain
It was a dark, stormy, night. PJ was on his first ever task, and it was
guard duty.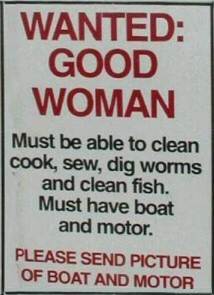 Captain Murdoch strolled by taking his dog for a walk. The nervous young
able seaman snapped to attention, made a perfect salute, and snapped out,
'Good Evening, Sir.'
Captain Murdoch, out for some relaxation, returned the salute and said,
'Good evening seaman, nice night, isn't it?' Well it wasn't a nice night,
but PJ wasn't going to disagree with the Captain, so the he saluted again
and replied, 'Yes Sir.'
Captain Murdoch continued, 'You know there's something about a stormy
night that I find soothing, it's really relaxing. Don't you agree?
Naturally, the seaman didn't agree, but then PJ was just a seaman, and
responded, 'Yes Sir.'
Then, Captain Murdoch, pointing at the dog said, 'This is a Golden
Retriever, the best type of dog to train.'
PJ glanced at the dog, saluted yet again and said, 'Yes Sir.'
The Captain continued, 'I got this dog for my wife.'
PJ, with a glint in his eye responded simply, 'Good trade, Sir.'
See a similar
good wife trade »
Footnote:
Please send us your example of cranky people.
See more Jackson jokes and seafaring stories:
• Home •
Jackson jokes •
Sailors' tales • Sea adventure • Selkirk
settler
• Mayday
• Lighthouse urban myth
• International
talk like a pirate day
• Funny pirate jokes
• Sailor Stories • Sea • Trafalgar
Day