Will and Guy have collected these pictures of authentic snowmen.
The images come from a variety of countries, and the snowmen are adorned
with ingenious accessories.
More Funny Pictures of Snowmen
One of the Most Unusual Snowmen We Have Seen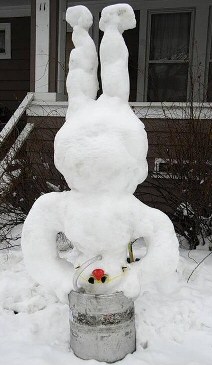 Save Our Real Snowmen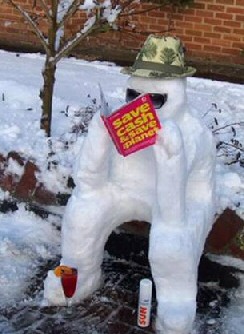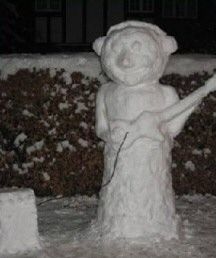 Check out what's at his feet, could that be sunscreen? And is that
cocktail by the snowman's right foot?
Dr Who's New Assistant Arrives in a Frozen Tardis
--->
Snowman Joke:
What did the snowman's hat say to the scarf?
You hang around
while I go on ahead.
See more snowmen
jokes here
Early 1900s Snowman with Pipe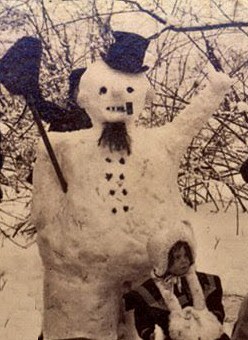 Will and Guy wonder for how long have people been building snowmen?
Then we go on to muse how styles have changed down the years. The
above example is smoking a pipe, a fashion accessory that you don't often
see in the 21st century.
Great UK Freeze in 1963 and
Also 1947
This is a giant 17 ft snowman built by some lads in Aberdeen, Scotland
during the "great freeze" in 1963. Will well remembers this winter; he was
at school on the east coast of Suffolk, England, it was bitterly cold. He
also remembers being unable to play football [soccer] nor rugby from
December 1962 until after Easter 1963 because the fields were frozen solid.
However, 1963 was not the coldest winter in the UK. The winter of 1946-47
was one of the worst on record, and certainly one of the snowiest of the
last 150 years. The really wintry weather, however, didn't set in until late
January 1947, but once it came it was here to stay. Milder weather didn't
return to the British Isles until the middle of March.
The end of January 1947 saw some very cold nights recorded in parts of
southern England. On the night of the 28th-29th Writtle in Essex dropped to
-20.6C and on the night of the 29th/30th Elmstone in Kent dipped down to
-21.3C. Nationally these are some of the coldest nights ever measured in
late January.
Giant Real Snowman Picture
- Stands 9.5m Tall in Poland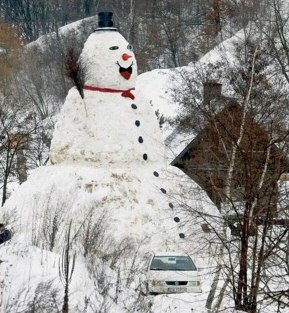 This snowman reached the height of 9.5m in Trzebnica, south-western
Poland. Following a blizzard in December 2010, Poles have decided to make the most of winter snow, building a
9.5m snowman named Milocinek, who wears a barrel for a hat and a road safety
cone for his nose. A Polish newspaper informed Will and Guy that several
people worked for six days on its creation, which stands eye-level with
surrounding two-story homes as can be seen by careful scrutiny of the photo.
Giant Chinese Snowman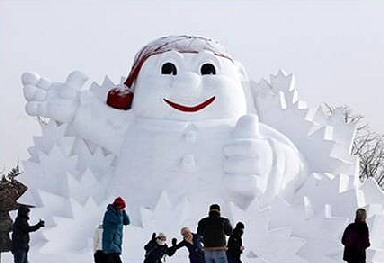 Tourists pose near a snowman sculpture during the 26th Harbin
International Ice and Snow Festival at a park in Harbin, Heilongjiang
province, China early in 2010.
Widest Snowman
More Real Snowman Pictures
Post Operation Inspection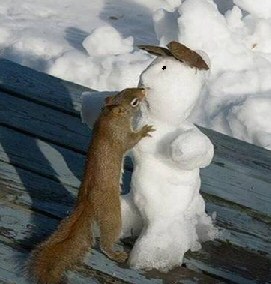 Real Snowmen Jokes:
What do hungry snowmen put on their ice-burgers?
Chilly
sauce!
How do you explain ice to a child?
Skid stuff!
What sort of ball doesn't bounce?
A snowball.See more snowmen
jokes here
Unassembled Snowmen!
This photo must have been taken by a marketing executive!
How to Make An Authentic Snowman
Never miss a chance to build your own snowman. If you are fortunate to get a snowfall, then as soon as
the blizzard stops go out and build an
actual snowman using the fresh snowfall. The best way is to make a regular snowball
then roll it in a snowdrift. If it starts getting cylindrical rather than round, just turn it over and roll the other way.
One you have made one round ball, then use that for his head and make an even bigger giant snowball for the snowman's body. The second ball is always bigger than the first because you have learnt the
technique.
Deluxe snowmen have three huge snowballs, one on top of the other as shown on the snowman to the right. If possible get a friend to help you, a second pair of hands is useful for both rolling the
snowman's body, and lifting his torso into position.
There is a second technique for building your snowman, and that is simply to shovel the snow into a big pile, then shape the column into a snowman. This method works well if you have lots of people and
big shovels!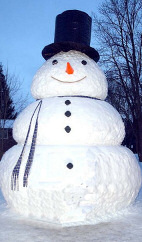 Snowman's Eyes, Nose, Mouth and Arms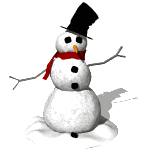 For transforming your snowman into human form you need different skills. Traditionally a carrot is good for the nose, surprisingly a banana also works. The problem comes with the eyes, nobody had coal anymore so you have to improvise. Rummage
around for something black and circular for the eyes, stones or big buttons are good substitutes.
Rather than having a bald snowman, give him an old hat. Some people use sticks for the snowman's arms, but this is strictly optional. Talking of extras, use a little imagination and consider sacrificing
an old scarf or even a cracked pair of sunglasses for the good of the snowmen project. I say snowmen, because what's really fun is to make a family of snow statues.
Preserving Your Snowman
Firstly, think ahead, build your snowman in a place that's sheltered from
the sun. Talking of sun, a garden umbrella would help to keep him cool
in the daytime. Other than that, build him big and don't outsmart you
self and try adding silly stuff like sunscreen!
Footnote:
Once you finish your masterpiece, please take a snowman picture and send it to us.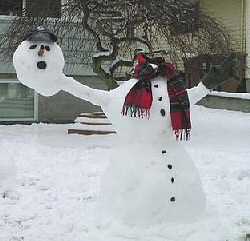 See more snowman
Footnote:
Please send us your real snowman
pictures.
See more funny snowman jokes and funny snow pictures.
∗ Funny Christmas snowman
pictures ∗
Snowmen
pictures ∗ Snowman jokes ∗
Snow women
∗ Funny snow
story
∗ Snowman with Rabbit ∗
Real Snowman Pictures
∗ Snowman carrot
noses
∗ Christmas pictures
∗
Horses throwing snowballs
∗ Snow cartoons
∗ Snow sculpture