1) Rat-snake and Hamster Forge a Friendship
Here is a most unusual friendship. A hamster and a snake have developed an unusual bond at a Tokyo zoo. This is no ordinary snake, it's
a rat-snake which normally eats any rodent that crosses its path.
It all started when the zoo keeper gave the rat snake the hamster, although hungry it refused to eat the hamster. The pair now share a box. 'I have never seen anything like it', a keeper at Mutsugoro Okoku Zoo, in Tokyo, said.
The hamster was offered to Aochan, a rat-snake,
because it refused to eat frozen mice. Clearly, the Japanese have a sense of humour as they named the hamster Gohan, which means meal in Japanese.
2) Dalmatian and Hamster - Friends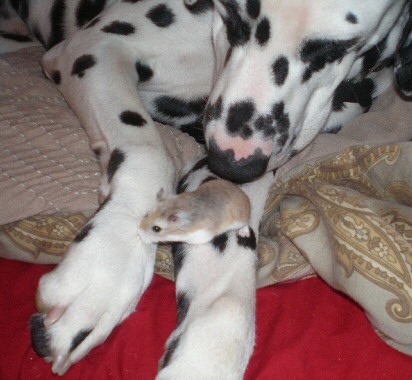 Other animals can also be friends, Jessica Waylett kindly sent in this
delightful picture of her dog with a hamster.
3) Only in Thailand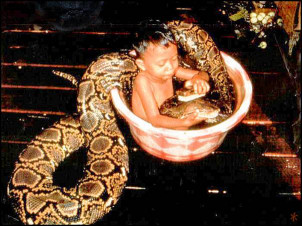 I am no snake expert, but it looks like a python to me.
Tongue in Cheek?
Two snakes were promenading in the forest. One asked the other:
"Are
we poisonous?"
"Why that question all of a sudden?"
"I bit my tongue!"
4a) Take Note: Caution Venomous Snakes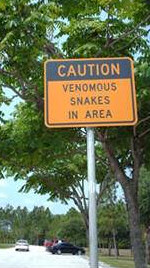 Further down the road...
4b)
Huge Snake -
Anaconda?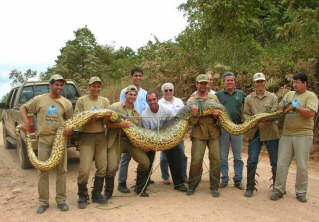 If the above is an anaconda, or water boa constrictor, then the
picture was probably taken in Brazil. This snake lives in water and kills its prey by constriction, or squeezing. Like humans, the female anaconda gives birth to living young, rather than laying
eggs.
5) Rat, Snake, Hamster.................Human........
Six-year-old Sambath Uon, has as his best friend a 6 metre [20feet] Burmese
python named Lucky. The boy refuses to go to bed without the snake reports
the Metro newspaper. 'I love the python like my sister,' said Sambath.
'All my friends are jealous of her.' When Lucky first slithered into the
Cambodian village, she was 50cm (20in) long and Sambath was just three months
old. His parents tried to return it to the forest three times but she kept
coming back.
Sambath's mother, Kim Kanaratold reporters, 'We would find it asleep next to
Sambath. They have slept together every night for the past six years. She is a
member of the family now. We shelter, feed, bathe and even pray to her.'
A Collection of Snakes
The collective
noun for snakes can be knot, as well as the more common, nest, pit or
den.
Footnote:
Please send us interesting pictures of
snakes.
See more funny pictures of snakes, reptiles and
amphibians
•
Funny Reptiles •
Animal videos •
Camouflage in nature •
Odyssey •
Home
•
Interesting facts •
Funny Frogs •
Tortoise •
Snakes •
Funny pictures of crocodiles