As befits a monarch who has been on the throne for 60 years, Elizabeth II is
universally know as 'THE Queen'. In addition to adding our
good wishes and congratulations to The Queen, Will and Guy wish to mark the
occasion with 'Diamond' humour.
The Diamond Jubilee in the UK, 2012
The Queen is Head of State of the UK and 15 other Commonwealth realms.
The elder daughter of King George VI and Queen Elizabeth, she was born in
1926 and became Queen at the age of 25, and has reigned through more than
five decades of enormous social change and development. The Queen is married
to Prince Philip, Duke of Edinburgh and has four children and eight
grandchildren.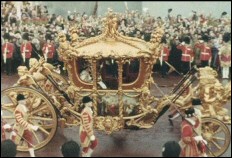 The Diamond Jubilee takes place in 2012, marking 60 years of Queen
Elizabeth 11's reign.
There will be a special bank holiday in the UK for the Diamond Jubilee.
The 2012 late May bank holiday will be moved to Monday 4th June 2012 and an
additional Jubilee bank holiday will be on Tuesday 5th June 2012.
History books show that The Queen ascended to the throne on 6th February
1952. However, her Coronation took place the following year on the 2nd
of June 1953. Does this mean we will get another special holiday in 2013?
Diamond Jubilee Pageant 2012
A Diamond Jubilee Pageant will take place at Windsor Castle in May 2012.
Buckingham Palace is coordinating a programme of events over the long
weekend, including:
Big Jubilee Lunches
A River Pageant on the Thames
A concert at Buckingham Palace
The lighting of 2012 beacons throughout the United Kingdom and the
Commonwealth
The Queen and other members of the Royal Family will also attend a
Service of Thanksgiving at St Paul's Cathedral.
Buckingham Palace is responsible for coordinating the events of the
Diamond Jubilee central weekend (2nd-5th June 2012), as well as for
organising The Queen's programme in her Diamond Jubilee year.
The only other British monarch to celebrate a Diamond Jubilee was
Queen Victoria in 1897.
The Jubilee emblem was chosen after a national competition for
children aged between 6 and 14. The winning design is created by
10-year-old Katherine Dewar, from Chester.

Royal Pageant on the River
Thames
Will and Guy Report the Preliminary Details Buckingham Palace officials
in London have informed Will and Guy of details of the massive pageant on
London's River Thames to mark Queen Elizabeth II's Diamond Jubilee year.
Plans call for roughly 1,000 boats of various sizes to gather on 3rd June
for an unprecedented tribute to the queen, who is marking the 60th year of
her reign. The flotilla will be over seven miles (11 kilometres) long and
include barges on which original works composed for the jubilee will be
performed. The event is planned to celebrate Britain's fabled maritime
history.
The queen, her husband Prince Philip and other senior royals; we think it
likely it will include Prince William and his wife, the former Kate
Middleton; who will travel on board a royal barge, "The Spirit of
Chart well", an opulent cruising vessel that regularly plies the River
Thames. The barge will be decorated with flowers from the queen's gardens,
with an emphasis on the royal colours, red, gold and purple.
Pageant Master Adrian Evans said the royal barge 'must be a jewel - the
most magnificent vessel in the flotilla.'
Organizers say the flotilla, one of the largest ever assembled on the
river, will include rowboats, working vessels and pleasure craft. All boats
will be decorated, including kayaks and canoes.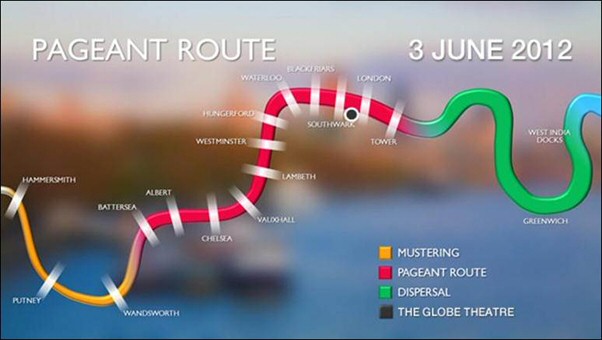 The procession will cover about 14 miles (22 kilometres), from
Hammersmith in west London to the Greenwich Royal Naval College in the east,
and will include a vessel, the Amazon, used in Queen Victoria's Diamond
Jubilee in 1897. Officials expect roughly 20,000 people to be aboard various
craft, with many more lining the river banks and an international audience
watching the spectacle on TV and online.
Prince Charles is patron of the event, which is being paid for by the
Thames Diamond Jubilee Foundation, a privately funded charitable trust
raising money for a variety of jubilee-related events. The river pageant
will be a focal point of a four-day holiday weekend with festivities
throughout Britain.
Funny Diamond Jokes
The Wrong Size Ring?
A lady entered a
jeweller's and said, 'You sold my husband a diamond ring yesterday but it's
the wrong size'.
'No problem madam, we can adjust the finger size
easily'.
'Oh, you don't understand, you sold him a one carat size, and I
take a five carat size.'
The Price of Marriage


Peter asks his wife Maureen
what she wants for their diamond wedding anniversary. 'Would you like a new
diamond bracelet?' he asks.
'Not really,' says Maureen.
'Well how
about a Lexus sports car?' says Peter.
'No,' she replies.
'What
about a holiday home in the south of France?' he suggests.
She again
rejects his offer with a, 'No thanks.'
'Well what would you like for
your anniversary?' Peter asks.
'I'd like a divorce, Peter,' answers
Maureen.
'Hey, I wasn't planning to spend that much!' says Peter.
Cheapskate
A man asked his girlfriend to marry
him by getting down on his knees and offering her one beautiful diamond
earring. She accepted happily but asked why her engagement gift was only a
single earring.
He replied, 'I'm on a lobe budget.'
Oops!
Being the most conservative guy at work, when
John walked in the office sporting his new diamond studded hoop earring, he
made quite a scene. A colleague approached him to try and question him about
his unexpected fashion statement. 'Don't make such a big deal out of it!'
said John, 'It's just a diamond earring!'
The colleague continued, 'I'm just curious to know what made you decide
to pierce your ear?'
John replied, 'The fact that my wife accidently found the ring in our
bed.'
Recipe for a Successful Marriage
A married
couple was celebrating their 60th wedding anniversary. At the party
everybody wanted to know how they managed to stay married so long in this
day and age. The husband responded, 'When we were first married we came to
an agreement. I would make all the major decisions and my wife would make
all the minor decisions. And in 60 years of marriage we have never needed to
make a major decision.' See
more wedding jokes.
Whisky
Distilled to Mark the Queen's Diamond Jubilee
The whisky has been made by Johnnie Walker; and only 60 bottles of
Diamond Jubilee were made by the Johnnie Walker unit of Diageo PLC from a
blend of Malt and grain whiskies distilled in 1952 and will sell for
£125,000 a bottle. [USD $200,148.75]
Why Singapore you may well ask, as did Will and Guy?
Apparently the city-state, home to the world's highest concentration of
millionaires, has become a playground for the global jet-set with casinos,
expensive shops, fine dining, top hotels and showrooms featuring Ferraris,
Lamborghinis and other supercars.
The same package - the vintage whisky in a crystal decanter with silver
trimmings, two crystal glasses and a leather-bound booklet - is priced at
£100,000 in Britain. Asia has seen a boom in wealth and a growing appetite
for luxury goods, including top-of-the-line cars, jewellery, fashion, beauty
products, watches and spirits.
Diamond Jubilee is among the most expensive whiskies ever sold, although
exact comparisons are difficult because of shifting auction prices and
differences between blends and single malts.
Will, certainly, would love to be invited to taste a wee dram. Guy
wonders if there is a business opportunity for Whisky in perfume bottles.
Will and Guy's Top Ten Favourite Diamond Quotations
What I particularly like about these quotes that Will has researched, is
their variety.
A fine quotation is a diamond in the hand of a man of wit and a
pebble in the hand of a fool. - Joseph Roux
Adversity is the diamond dust Heaven polishes its jewels with. -
Thomas Carlyle
Anyone can be confident with a full head of hair. But a confident
bald man - there's your diamond in the rough. - Larry David
Better a diamond with a flaw than a pebble without. - Confucius
Better to be a strong man with a weak point, than to be a weak man
without a strong point. A diamond with a flaw is more valuable that a
brick without a flaw. - William J. H. Becker
I don't like American football. I think it's boring and ridiculous
and predictable. But baseball is very beautiful. It's played on a
diamond. - Jim Jarmusch
I loved being outside. We'd hold lightning bugs in our fingers and
pretend they were diamond rings. - Loretta Lynn
I never worry about diets. The only carrots that interest me are the
number you get in a diamond. - Mae West
My teachers treated me as a diamond in the rough, someone who needed
smoothing. - Mother Jones
Proverbs are mental gems gathered in the diamond fields of the mind.
- William R. Alger
See more about
The Queen's
Jubilee »
CPO
Brian Diamond from HMS Diamond given Diamond Medal
A Royal Navy engineer called Chief Petty Officer Brian Diamond serving on
board the warship HMS Diamond is to receive a Queen's Diamond Jubilee Medal.
CPO Diamond has served on the Type 45 destroyer in Portsmouth since it
entered service in 2010. He has been in the navy for 13 years and qualifies
for the medal which is being presented to armed forces personnel with five
years' service.
The 30-year-old said he felt proud to receive the honour.
He told us, 'When I joined HMS Diamond - my namesake ship - it raised a
few eyebrows. But now to receive a diamond jubilee medal in addition to that
I feel really proud - this is a special time for the whole nation.'
See 80 facts about the

Queen's Jubilee
Footnote
Please send us your Queen's Diamond Jubilee stories.
See more Saints Days and other special days :
•
Special Days •
St David's Day •
St Patrick's Day •
St George's Day •
St Andrew's •
St Matthew
• Australia Day •
Up-Helly-Aa •
Groundhog Day •
Shrove Tue •
Candlemas •
Lady Day
• 4th July Jokes •
Bastille Day •
St Swithin's Day •
Lammas • Remembrance Day •
May Day