Mark 1 The
Original Make-up Mouse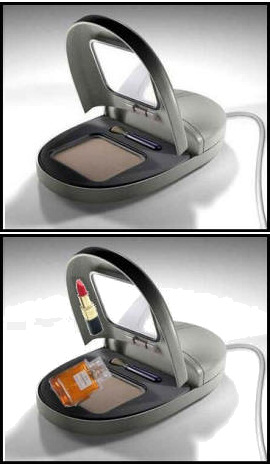 Eye-brow pencil and mascara
Mirror
Thanks to suggestions from
Fashion-era's
forum, we now have Mark II.
Guy and Will are seriously thinking of
giving up their day jobs do design a deluxe version of this make-up mouse. What other make-up items would you want in the up-market compact / mouse? Keep your suggestions coming.
Here is the latest mouse, designed for the well groomed secretary. The cunningly hidden features include a mirror and make-up brush. Mark II now also stores Chanel No. 5 perfume and a Lipstick.
Extra Items proposed for the Mark III version
Lipstick
Nail Polish
Tweezers
Popup Hairbrush
Mini-can of hairspray
Credit card!
People Watching
By Charlene Wexler
I watched her the whole time she worked with her small compact mirror.
Why not? I had nothing else to do. The train ride from Union Station in
downtown Chicago to Fox Lake lasted one hour and forty minutes. I had
planned to read on my iPad but alas, it was sitting in my car in the parking
lot. Rain drops pounded against the dark, dirty windows, so landscape
viewing was not an option. But people watching always is.
Before I spotted the woman with the mirror, my gaze had zoomed in on a
tall, thin fellow wearing a heavy winter jacket. He seemed to be mumbling to
himself. It was the middle of the summer, so the jacket aroused my
suspicions, but the mumbling could just be a man talking on a hidden digital
device. So I couldn't label him crazy--yet. Or ever, since my observations
were interrupted when he exited at the next station. I had to look for
someone else to analyze.
My eyes rested on the woman two seats ahead of me. She sat with her back
to the window with a large make-up bag resting on her lap. Her extremely
pale, pock-marked face reminded me of a cracked bone-china plate. Dyed,
straight red hair was pulled back in a ponytail. What really caught my
attention, though, was the mirror she held in her left hand.
She adroitly manipulated the mirror to help her apply her make-up. I
watched as she put a foundation over her entire face using a rather large
make-up sponge. Next she took out a medium- sized brush, dipped it in her
container of blush, and the rich red color quickly changed her face from
pale to lush.
The creak of the train car wheels and a sudden rolling movement signaled
that the train was turning northwest. New rails and cars were badly needed,
but money from the government never seemed to be available.
The movement didn't affect her in the least, however. Miraculously, she
drew perfect black lines across her eyebrows, and applied green/gold shadow
and thick black mascara. While I tumbled across the seat, this woman, as
skilled as any artist, transformed small, narrow, colorless eyes into large
bright beauties.
A husky booming voice coming from behind me diverted my attention: "It's
your stop; wake up."
When I turned around I watched the conductor as he shook another
passenger in an attempt to awaken him. The sleeper wouldn't budge, and the
conductor had to leave. By the time another passenger woke up the rider, the
train had hurtled on past the gentleman's stop, leaving a very distraught
commuter to try to figure out how to get home.
Lucky for me, my route goes from the beginning to the end, so it would be
hard for me to miss my stop. Actually, I've never been able to sleep on the
train anyway, which affords me more time for people watching.
I turned my attention back to the redhead. By now she was working on her
lips. Another perfect pencil line outlined her mouth, before she filled her
lips in with a nice plum color. Her face was perfect--an artistic
masterpiece.
The compact was put away, and she completed her outfit by unhooking her
ponytail, shaking her hair out, and exchanging her flats for three-inch red
heels that went very well with her short, tight black dress.
The woman who exited the train was very different than the one who had
gotten on an hour earlier. I wondered who she was meeting and where she was
going. It was ten o'clock Friday night, still early for the young, but not
for me.
Only twenty minutes more to my trip. I leaned back and closed my eyes.
Too much thinking and guessing for me in the last hour. Tomorrow was another
day for people watching. As a writer I tended to spin everyone's story my
way. Then again, real life stories are usually stranger than fiction, and
I'll bet the drab-to-fab make-up artist has a good one.
Whether on our faces or in our minds, we all create our own art.
See more stories by
Charlene Wexler.
New Mouse Designed for Women
After many years of research, scientists have discovered that women do not like the standard mouse given away with PC's.
Scientists found that there is not a physical reason for their aversion; it is more of a psychological problem. Some women reported that their mouse "just didn't feel right" in their hands. Based on the
research, a new mouse has been designed especially for women.
Various field tests have been carried out on the new design:
Maureen from Cliftonville, Kent, UK: 'It feels so much better. More comfortable,
more like how it's supposed to be.'
Issy from Horndean, Hampshire, UK added: 'I think mice were originally designed just for men, but this new type is definitely made for women. It fits right in with my
lifestyle.'
Hilary from Memphis, Tennessee, USA: 'I took to it like a duck to water, every woman should have one.'
See below for a picture of the new mouse design: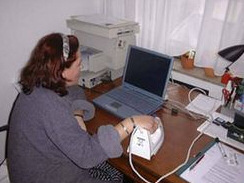 Don't Look in the Mirror!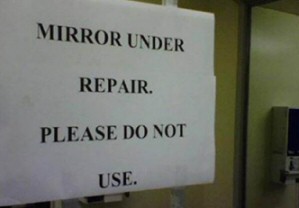 Suisse Army Make-up Pen Knife
Here we literally take a leaf out of the Suisse army pen knife. Instead of a blade
we have the hair-dryer, instead of corkscrew we have a lipstick.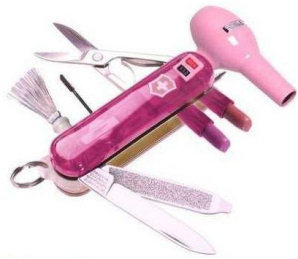 Features of the Suisse Army Make-up Pen Knife
Far from picking stones out of boy-scout's hooves, this knife will help groom any girl into a film star.
1) Miniature hair-dryer to coiffure her hair.
2) Selection of lipsticks for that kiss-me-quick look.
3) Eyebrow pencil for that sultry look.
Future developments for the Suisse Army Make-up Knife
Extra blades with small tubes of
Nail varnish
Mascara
Moisturising cream
Also the engineers are developing an expanding mirror
Latest Must-Have Beach Shoes from Jimmy Choo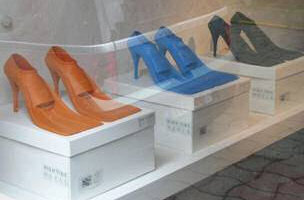 Fashion is something that goes in one year and out the other.
Unknown
Puchi Puchi Sheets - Poppety-Pop
Here is an electronic gadget that much prized by Japanese women. Many regard
the Pucki Pucki noise an antidote to stress.
Bubble-wrap, Pucki Pucki, Poppety-Pop, call it what you will, bursting these
bubbles provides harmless pleasure for office workers. Japan has seen a
craze for an electronic toy that recreates the thrill of squeezing the plastic
packaging material. Bandai sell them for about $10, for that you get a gizmo,
battery and a pack of 10 bubble wraps.
'Eternal Poppety-Pop' fits on a keyring and the electronic gizmo makes an
endless supply of plastic bubbles. Will and Guy are astonished to learn
that three million of the Eternal Poppety-Pop gadgets have been sold in Japan.
Other gadgets include scented bubble wrap, heart-shaped bubble wrap and
high-pressure bubble wrap, designed to produce an extra loud pop when its
bubbles are burst.
The parent company Bandai is not sitting back on its laurels, but trying to
generate the next craze. They are tentatively testing Eternal Eda Mame - a
gizmo that re-creates the joy of squeezing edible Eda Mame soy beans out of a
simulated pod.
Strange Hair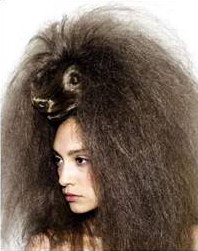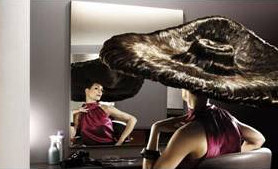 More Woman Jokes
Footnote:
Please send us your gismo for the
well-groomed secretary.
See more clean woman jokes, funny stories and
amusing PowerPoint Presentations
•
Woman jokes •
Body parts
• Wedding jokes
• Marriage bureau
• Funny bride
• Home
• Clean women jokes •
Good wife • Perfect woman
• Women's golf jokes
• Scottish wife
•
Women's stories • Women's day •
Women live longer
• Sisterhood
• Nuns Humour