Yea Though I Walk Through the Shadow of Death
Biblical phrases are amongst the most enduring. However, when David wrote the 23rd Psalm, he cannot have envisaged this scene: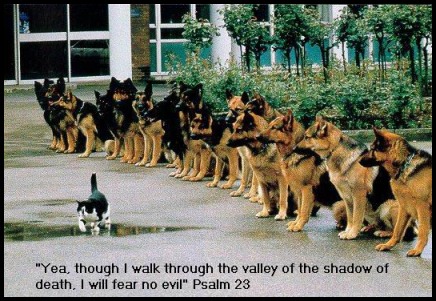 See more funny cat pictures
Altruism is still alive in the dog world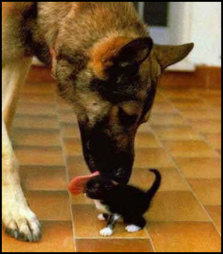 My, what a big tongue you have.
Original and best version of Psalm 23
The Lord is my Shepherd;
I shall not want.
He maketh me to lie down
In green pastures;
He leadeth me
Beside the still waters;
He restoreth my soul;
He leadeth me in the paths
Of
righteousness for His Name's
sake.
Yea, though I walk through the valley
Of the shadow of death,
I will fear no evil;
For Thou art with me;
Thy rod and Thy staff
They comfort me.
Thou preparest a table before me
In the presence of mine enemies;
Thou anointest my head with oil;
My cup runneth over.
Surely goodness and mercy shall
Follow me all the days of my life;
And I will dwell in the house
Of the Lord for ever
Modern Translation
The Lord is my shepherd.
I will not need anything.
He makes me lie down in green fields.
He leads me to waters where I can rest.
He gives me new life.
He is my guide to the right road.
He
does this to his name.
I will not be afraid when I walk through the valley of the shadow of death.
This is because you (Lord) are with me.
Your rod and staff make me feel brave.
You prepare a table in front of me when my enemies are present.
You put oil on my head.
My cup is so full that it overflows.
I am sure that what is good and loving and kind will follow me.
It will
follow me all the days of my life.
I will always live in the house of the Lord.
See more thought provoking pictures:
• Pictures Home •
23rd Psalm • Pavement Art •
View Space • Lightning • Record
Covers