Situation: A street in England, where we
drive on the left. There is a tiny parking space.
1) A dark car tries to park legally, by reversing into the space in front of the shops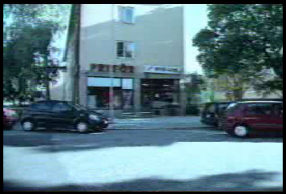 2)
A white car comes screaming into shot - note skid marks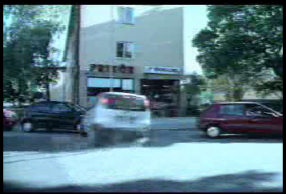 3) Now you can clearly see the skid marks.
Also see
the reddish car moving away.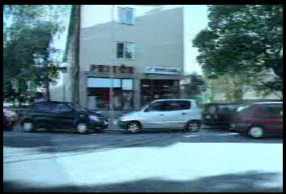 Parking pictures that amazed Will and Guy - Funny Car Video Clips.
N.B. With some browsers you need to click twice on the Play arrow

to start the video.
N.B. Help for Mozilla browsers
Free video download - Parking (Right
Click save target As)
Bollards!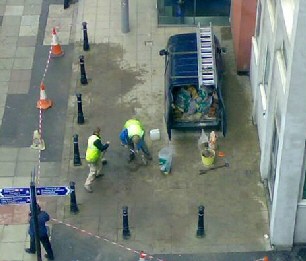 Picture kindly sent in by Maurice O'Brien. We would love to see how
those busy workmen moved that parked van!
No Parking?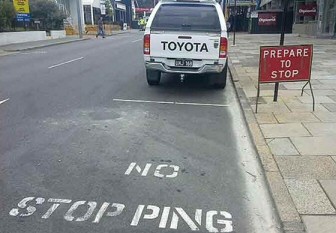 See more funny car crashes videos
•
Car videos •
Parking tight spot •
Wheelclamp revenge •
Car dominoes •
Gimme car
•
Car recovery •
Who drives car? •
Miracle tyre •
Cow driver •
Dog driver •
Clean Car
•
Car crashes •
Car video Russia •
Russian roads •
Bolivian road •
Funny Volkswagen
•
Bollards •
Car flip •
Car wheelie •
Car crash •
Push start •
Nissan Qashqai •
Home