Our best riposte to those who complain about our jokes is that we
insult all people equally; here we have one section about men for women
followed by a section about women which may make men laugh.
Differences
Between Male and Female Brains
New
Evening Classes for Men
All are welcome - Open to men only.
Note: due to the complexity and level of difficulty, each course will accept a maximum of eight participants. The course
lasts for 4 weeks and topics covered in this course include:
Week One of Evening Classes for Men
1) TOILET ROLLS - DO THEY GROW ON THE HOLDERS?
Roundtable discussion
2) DIFFERENCES BETWEEN LAUNDRY BASKETS AND FLOOR

Practising with hamper (pictures and graphics)
3)
DISHES & CUTLERY;
DO THEY LEVITATE/FLY TO KITCHEN SINK OR DISHWASHER BY THEMSELVES?
Debate among a panel of experts
4) HOW TO FILL ICE CUBE TRAYS
Step by step
guide with slide presentation
5) EMPTY MILK CARTONS; DO
THEY BELONG IN THE FRIDGE OR THE BIN?
Group discussion and role play
6) LEARNING HOW TO FIND THINGS
Starting with looking in the right place instead of turning the house upside down while screaming - Open forum
Week Two - Evening Classes for Men
7) LOSS OF VIRILITY
Losing the remote control to your significant other - Help
line and support groups
8) HEALTH WATCH; BRINGING HER FLOWERS IS NOT HARMFUL TO YOUR HEALTH
PowerPoint
Presentation
9) REAL MEN ASK FOR DIRECTIONS WHEN LOST
Real life testimonial from the one man who did
10) IS IT GENETICALLY IMPOSSIBLE TO SIT QUIETLY AS SHE PARALLEL PARKS?
Driving simulation
11) LIVING WITH ADULTS;
BASIC DIFFERENCES BETWEEN YOUR MOTHER AND YOUR PARTNER
Online class and role playing
12) HOW TO BE THE IDEAL SHOPPING COMPANION Relaxation exercises,
meditation and breathing techniques
13) REMEMBERING IMPORTANT DATES & CALLING WHEN
YOU'RE GOING TO BE
LATE
Bring your calendar or PDA to class
14) GETTING OVER IT; LEARNING HOW TO LIVE WITH BEING WRONG ALL THE TIME
Individual counsellors available
This man joke lends it self to adding more items. Let your imagination run riot - send Will and I any new
jokes to add to this saga.
More Funny Gender Differences
To balance classes for men jokes, we have evening classes for women.

Classes for Women at Your Local Adult Learning Centre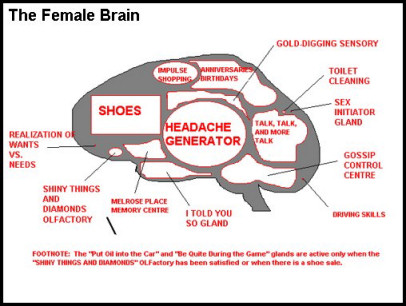 This humour based on male female differences is suitable for amending to suit your
work or office. Training is a particularly fertile area for spoof courses. Meanwhile, sit back and have some fun.
Hilarious, Funny, Insulting and Male-Organised Courses for
Women
Note: That due to the complexity and difficulty level of the
subject area, class sizes will be limited to 5 women.
Class 1: Up in Winter, Down in Summer - How to Adjust a
Thermostat
Step by Step, with Slide Presentation. Meets 4 weeks, Monday and
Wednesday for 2 hours beginning at 7:00 pm
Class 2: Which Takes More Energy - Putting the Toilet Seat
Down, or Moaning About It for 3 Hours?
Round Table Discussion. Meets 2 weeks, Saturday 12:00 for 2 hours.
Class 3: Is It Possible To Drive Past a Waitrose Without
Stopping? - Group Debate.
Meets 4 weeks, Saturday 10:00 pm for 2 hours.
Class 4: Fundamental Differences Between a Handbag and a
Suitcase - Pictures and Explanatory Graphics.
Meets Saturdays at 2:00 pm for 3 weeks.
Class 5: Curling Irons - Can They Levitate and Fly Into The
Bathroom Cabinet?
Examples on Video. Meets 4 weeks, Tuesday and Thursday for 2 hours
beginning At 7:00 pm
Class 6: How to Ask Questions During Commercials and Be Quiet
During the Programme
Help Line Support and Support Groups. Meets 4 Weeks, Friday and Sunday
7:00 pm
Class 7: Can a Bath Be Taken Without 14 Different Kinds of Soaps
and Shampoos?
Open Forum. Monday at 8:00 pm, 2 hours.
Class 8: I Was Wrong and He Was Right! Real Life Testimonials.

Tuesdays at 6:00 pm. Location to be determined.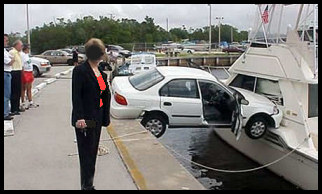 Class 9: How to Parallel Park In Less Than 20 Minutes Without
an Insurance Claim.
Driving Simulations. Meets 4 weeks, Saturday's noon, 2 hours.
Class 10: Learning to Live: How to Apply Brakes Without
Throwing Passengers Through the Windshield .
Tuesdays at 7:00 pm. Location to be determined
Class 11: How to Shop by Yourself.
Meets 4 weeks, Tuesday and Thursday for 2 hours beginning at 7:00 pm.
Upon completion of ANY of the above courses, diplomas will be issued
to the survivors.
Footnote:
Please send us your funny gender
differences.
See more clean men jokes and funny man stories:
•
Home •
Man jokes •
Husband Mike •
New cot •
Computer husband joke
•
Clean men jokes •
Milkman •
Travel Agent •
Boys night out •
Sissy
•
Classes for men jokes •
Dads •
Funny pirate jokes •
Women jokes