The term 'Jobsworth' is almost exclusively a British word. However,
the phenomenon of officious public servants is universal, every country has
its share of bureaucrats who have little authority, and respond to
reasonable requests for action with: 'I can't do that, because it's more
than my job's worth.' For example, the Germans have the comparable
word: Überzwerg (Super dwarf!).
Jobsworth
Tales and Funny Stories
Jobsworth on the Road
Well,
this is where the plan of the jobsworth says the pole must go, so here it where we will dig
the hole - even if it is in the middle of the road.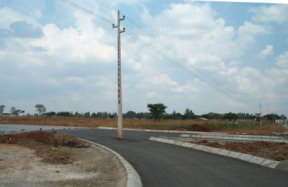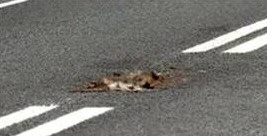 Jobsworth Workmen Paint White Lines Around Dead Badger
Workmen painting white lines on a road left a gap for a dead badger
because they said it was not their responsibility to move it. The animal had
been killed about a week before on the A338 near Downton, on the
Hampshire-Wiltshire border, England.
Hampshire County Council said the workers did what they thought 'was
best' because it is the district council's job to remove carcasses.
Subsequently the dead badger has been removed and the lines will be painted.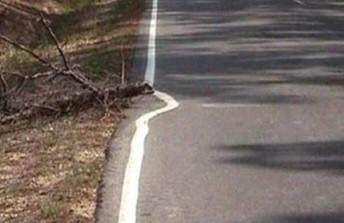 Jobsworth - Painting Yellow Line
The 18-inch single yellow line
in Highbury Crescent in Highbury, London is just long enough to fit one wheel, reports the BBC.
Islington Council said no ticket has ever been issued on the line, which was put there 'to help drivers'.
Councillor Lucy Watt, of Islington Council, said the stretch of kerb was shared by residents' bays and pay and display bays. She added, 'In Islington we take a common sense approach to parking enforcement.
This means making sure signs and lines clearly identify the different parking bays we provide for residents and visitors.'
Will and Guy say: In the old days, a 'common sense approach' would have
meant extending the adjacent parking bays by 9 inches each.
Another Candidate for the World's Silliest Double Yellow Lines
As if the yellow lines in Highbury Crescent, London were not stupid enough,
we have found another example of money wastage by a local council because of a
'jobsworth' attitude.
This time the lines are in Islington, London, where a road, which is just
over a metre wide, has been painted on both sides of the street to emphasise
that parking there is prohibited.
Once again Will and Guy say, 'You couldn't make it up.'
See more funny yellow lines.
Jobsworth In the Parking Lot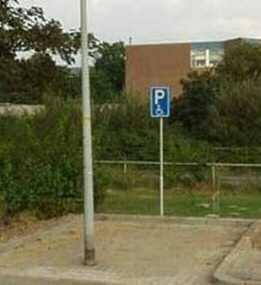 Essex Jobsworths Bungle Lettering on Road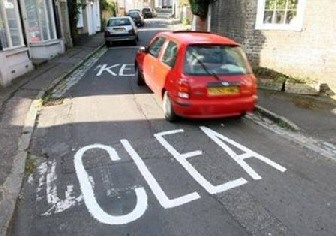 The bungling crew became a laughing stock in Manningtree, Essex, England
when they ran out of space after painting on the first four letters of the
word.
Will and Guy suggest you look closely and find the first word, in front
of the red car, saying KEEP ....... the letters behind the red car are left
unfinished as the disorganised road painters ran out of space and road. It
should, of course read CLEAR.
Instead of burning the letters off and doing it again, the painters left
things as they were ........ quite ridiculous but amusing.
Jobsworth Update 2013
Health and Safety is often cited as an excuse for bad service or to put a
stop to legitimate activities which are perfectly safe.
The Health and Safety Executive now operates a Myth Busters Challenge
Panel to draw attention to bogus claims. Employment Minister, Chris
Grayling, said it was "hugely frustrating when excuses are being made in the
name of health and safety"
"The Myth Busters Challenge Panel is helping the man and woman on the
street to fight back against the jobsworths."
Here Are Some Recent
Jobsworth 'Cases'
In Derbyshire, an investigation revealed a restaurant which had
refused a 42-year-old diner a toothpick on the grounds of health and
safety. The diner told them that - as a grown-up - he was happy to take
the risk of putting a toothpick in his mouth.
A couple staying in a hotel were informed that the chambermaid could
not make up a cot bed because it was a health and safety hazard.
A woman was refused a blanket on a Monarch Airlines flight when
returning from a holiday in Turkey. Zoe Hammond claimed she asked an
attendant for a blanket because she was cold but was told she could not
have one on grounds of health and safety. The attendant then said a
blanket could be purchased for five pounds.
A boot supplier claimed that it was banned from accepting dirty
boots for return.
A number of cafes and restaurants have refused to heat up baby food
because the hot food might burn the baby's mouth.
A golf club told players that golf buggies could not be used as they
were not health and safety authorised.
A campsite banned sleeping in a camper van.
Bubbles were banned at a child's party.
Will has been doing
more Jobsworth research - his findings are hard to believe: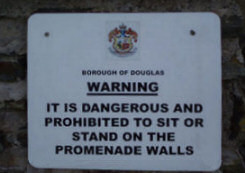 The Wall
Here is a sign on the wall at Douglas, Isle of Man. The wall separates the promenade from the sunken gardens,
and it's only about 3 feet high.
Fishy?
There is a tale, reported on the BBC, about a woman who was caught out by 'fishing inspectors' because she was holding her husband's fishing rod while he was putting a maggot on the hook. She was holding the
rod, but it was her husband who held the licence to fish, and inspectors caught her. [Will thinks that since she was not fishing she had done nothing wrong]
Incredulous
Another story, also heard on the BBC, tells of
American officials who suspended a pub's licence for three days, because they said topless male dancers broke a law against the showing of bare breasts.
See more tales of American
Jobsworths
Ode to Jobsworths by Jeremy Taylor
Jobsworth, Jobsworth, It's more than me job's worth,
I don't care,
rain or snow,
whatever you want the answer's no,
I can keep you
waiting for hours in the queue,
and if you don't like it you know what
you can do.
Media Jobsworths
The BBC was once famous for a particular breed of Jobsworth. One of these is supposed to have been on duty at Broadcasting House when King Haakon of Norway
appeared at the security desk, gave the Jobsworth his name and told him that he was due to participate in a programme in studio 6. The Jobsworth went to ring the studio. A moment later he put his hand over the
phone and called out, 'Excuse me, Sir, where was it you said you was King of?'
Another Jobsworth story tells how Agatha Christie was the guest of honour at a Foyle's literary luncheon. The doorman asked
her for her invitation and refused to admit her when she couldn't
produce it. She didn't
make any fuss but just went home. I would have loved to have seen the resulting panic as the literati looked for their
guest of honour and realised the important role played by the doorman.
Jobsworth Defined
The true 'Jobsworth'
is one who knows the rules backwards, if there is any flexibility with a rule he
will ignore choose not to use it. It's
important to distinguish jobsworths from someone who really has no flexibility and really would lose
their job.
Will and Guy first heard the term Jobsworth in the 1970s when Esther
Rantzen in the TV programme That's Life! introduced a 'Jobsworth of
the Week'. The compound word comes from the phrase 'I can't do that,
because it's more than my job's worth.'
Guy and Will have researched the following examples which we hope will amuse you:
Funny Jobsworths - Can You Believe It?
A woman has been accused of littering, after sweeping leaves into a pile. Street sweepers refused to remove the leaves at the end of Sandra Pote's drive because some were in her garden. Sandra, 61,
thought she was doing the cleaning truck crew a favour as they drove down the road in Torquay, Devon, but she was accused of fly-tipping by the council, reports BBC news.
Torbay council insisted the couple
should have taken the leaves to a tip. A spokesman said, 'Householders have a responsibility to deal with leaves on their property'.
Keep of the Grass
This silly sign has been spotted in Raynes Park, a suburb of Merton,
London, England report Will and Guy.
The verge measures only 3ft by 2ft but has its own 'Keep off the Grass'
sign. This jobsworth warning has appeared as officials plan £70 million of
cuts because of the ongoing recession.
We concur with the residents of the borough who told us, ... not only is
the "grass" mostly weeds [dandelions] but that it is an enormous waste of
public money.
Please send us your stupid signs.
You will rarely hear anything quite so stupid: [except on our
'jobsworth' pages]
A Lincolnshire pensioner was fined £75 [$150.50 USD] for putting a bag of rubbish [wait for it] in a bin. John Richards, 84, a retired journalist, left a neatly parcelled carrier bag
in a lamp-post bin rather than wait ten days for his fortnightly waste collection. Council officials tracked him down and accused him of fly-tipping.
They said he faced a fine of up to £2,500 if he
went to court so Mr Richards, of Boston, handed over nearly three-quarters of his weekly pension to pay the £75 penalty. He remarked, 'It's just ludicrous. I've never thrown litter in my life. It's only a small
house and it would be intolerable to keep rotting food waste indoors until the next collection.'
A council jobsworth opined, 'Public bins are there for everyone to use. If one is repeatedly filled by an
individual it creates a problem.'
Council Jobsworth and
the Pirate Flag
A seven-year-old boy who was told to take down his pirate flag by a
Lincolnshire council has received a letter of apology. The young lad, who
has Asperger's syndrome, was told his Jolly Roger breached planning
regulations.
East Lindsey District Council said it had acted after a complaint was
made about the flag. However, it has now sent the family an official apology
saying no further action would be taken.
In a letter, the authority said it wanted to 'take the opportunity to
apologise to you formally for the severity of the letter you received in
relation to the pirate flag you were flying in the garden for your son,
Anthony. When we receive a planning related complaint, the council has a
duty to write to make those concerned aware, but accept on this occasion our
letter was over the top.'
A good thing too, say Will and Guy.
Jobsworth Silences Poets'
Corner
Bureaucratic Council Bans Poetry Readings in Local Hostelry
This is a photograph of The Royal Standard Pub in the charming and
historic market city of Ely, Cambridgeshire, England.
Will and Guy have not visited this particular hostelry but we have
learned that it is a popular local pub which has a license for
entertainment. That means it is licensed for music and for singing.
This is quite normal in pubs throughout the UK.
However, to our horror, we can establish that the landlord of the pub, Mr
Richard Whitmore, has been threatened with a £5,000 [$80000 USD] fine on
health and safety grounds because he hasn't a licence for speaking.
What? I hear you cry: however, it is true. East Cambridgeshire District
Council has called time on the 'Turning Point' poetry group which had been
attracting customers to the Royal Standard on quiet Tuesday evenings. It is
this type of 'jobsworth' attitude which amuses and sometimes infuriates Will
and Guy.
In response to the Council's threat Mr Whitmore is reported to have said,
'It's trivial and pathetic. We've got a licence for 200 burly men to bounce
around to whatever music they want, but not for a small number of quiet
people to have a talk. When they give recitals it's not even amplified. They
just get up and speak.'
Jobsworth Fines
Dead Woman for Late Library Book
...(vidFL2)
Elizabeth Schaper was stunned by
the librarian's 50-cent demand when she returned her late mother's book to a library in Westchester County, New York, USA. 'I told him that maybe he didn't hear me right, that my mother had just died, otherwise
I'm sure that she would have returned it on time,' she said. 'His only reply was: 'That will be 50 cents.' reports the Metro newspaper.
She had only found the book, 'The Price of Silence by Camilla
Trinchieri', a few days after her mother's death. 'My mother was an avid reader - she read an average of two books a week,' Ms Schaper added. 'She was a frequent patron of the library.'
Connie Perrotta,
a secretary for the director of the Harrison Public Library, confirmed the incident occurred but said the library would have no comment.
It gets worse..... Here follows an account of
another jobsworth, this time in bank.
Cancel
Your Credit Cards Before You Die
An elderly lady died in January 2007 and a world renowned bank billed her for February and March for their annual service charges on her credit card, and then added late fees and interest on the monthly
charge. The balance had been $0.00, and it became somewhere around $60.00USD [£30 sterling].
A family member telephoned Citibank [the Jobsworth in the tale] and here is the supposed verbatim transcript of the
conversation. It may make you smile at the inefficiency and intransigence of the employees at the bank or on the other hand it will probably make you cringe.


Family Member: 'I am calling to tell you that she
died in January.' Bank: 'The account was never closed and the late fees and charges still apply.'
Family Member: 'Maybe you should turn it over to collections.' Bank: 'Since it is two months past due, it
already has been.'
Family Member: 'So what will they do when they find out she is dead?' Bank: 'Either report her account to the frauds division or report her to the credit bureau, maybe both!'
Family
Member: 'Do you think God will be mad at her?' Bank: 'Excuse me?'
Family Member: 'Did you just get what I was telling you - the part about her being dead?' Bank: 'Sir, you'll have to speak to my supervisor.'
Supervisor comes to the phone:
Family Member: 'I'm calling to tell you, she died in January.' Bank: 'The account was never closed and the late fees and charges still apply.'
Family Member: 'You mean you
want to collect from her estate?' Bank: 'Are you her lawyer?'
Family Member: 'No, I'm her great nephew.'
(Lawyer information given)
Bank: 'Could you fax us a death certificate?' Family Member: 'Sure.'
(fax number is given)
After they get the fax:
Bank: 'Our system just isn't set up for death. I don't know what more I can do to help.' Family Member: 'Well, if you figure it out, great! If not, you could
just keep billing her. I don't think she will care.'
Bank: 'Well, the late fees and charges do still apply.' Family Member: 'Would you like her new billing address?'
Bank: 'That might help.' Family
Member: 'Odessa Memorial Cemetery, Highway 129, Plot Number 69.'
Bank: 'Sir, that's a cemetery!' Family Member: 'What do you do with dead people on your planet?'
Worst Jobsworth Yet -
Warden Clamps a Hearse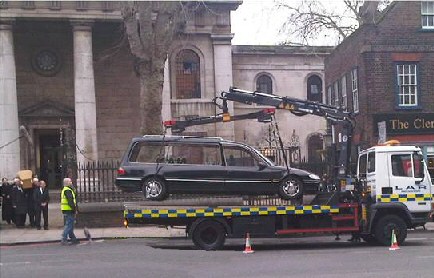 An overzealous traffic warden removed the hearse for a supposed parking
violation, just as the deceased's coffin leaves the church. You can see the
distraught funeral party on the bottom left. Well done
another jobsworth!
Garden Birds Too Loud Says
Council Jobsworth
A great grandmother was ticked off
by her local council over noise from birdsong in her garden. The official note from environmental health warned of 'a complaint alleging nuisance caused by birds singing.'
Dorothy Berry, 65, of Fulham,
West London, said, 'When I saw the letter I thought someone was larking about. I have a lovely garden in which the blackbirds sing in the trees and on the aerial of the house. But I really don't see what we can
do about that.'
The letter to Dorothy claimed the problem was caused by birdsong 'arising from your premises during the early hours'. It continued, 'In the interests of preventing any possible disturbance
to nearby residents you may wish to consider if any such noise is likely to cause offence.'
Dorothy has not kept birds inside her home since her beloved pet cockatiel died last year.
A spokesman
(Jobsworth)
for Hammersmith and Fulham Council said, 'We are aware that this matter has ruffled a few feathers, but we must investigate all complaints from residents however bizarre they may appear.'
Jobsworth Targets Wrong Person
Will and Guy have discovered that a single mother of two, Zoe Watmough from
Horwich, Lancashire, England, has been fined £265 [$530 USD] for putting her
rubbish bins out a few hours early. She was initially fined £75 [$150 USD] when
her bin was spotted by council workers, however she refused to pay the fine and
was taken to court, reports The Bolton Evening News.
Zoe was told she was fined because the council's rules state that bins should
not be out before 7.30am on the day of collection in case they are set on fire
by yobs. Zoe was fined as she put two bins [one grey and one green recycling
bin] in the alley behind her home the day before collection day.
The 22-year-old said, 'I'm flabbergasted. Surely they should be targeting the
vandals. All I did was put my rubbish out the night before it was due to be
collected. Surely households up and down the country do that every week?'
Will and Guy can confirm that putting your wheelie bin out in the street the
night before collection is common practice throughout the UK.
Children's
Scissors? No, Your Child Can't Have Them!
Published Date: 04 March 2010 (Kindly sent in by Ken Green)
A mother has spoken of her astonishment after a shop refused to sell her
a pair of children's scissors because they were not sure she would supervise
her daughter using them at home. Nadine Martin was with her three-year-old
buying art materials in WH Smith, North Street for some wet-weather
activities last week.
They selected various items including a pair of brightly-coloured chunky
plastic scissors. At the till, her daughter put the scissors on the
counter but the assistant said that because she had put them on the counter,
it raised the issue of supervision.
Mrs Martin said she was flabbergasted by the remark. "When we were
in the queue my daughter said to me 'can I give the lady the scissors?' and
I said it was fine, but when we got there the woman said 'will you be
supervising her?'
"I said 'sorry?' and she said there was a problem because my daughter had
put the scissors on the counter. "She called over another woman and
she said it was company policy that because she had put them on the counter
it called into question whether she would be supervised using them and said
I wouldn't be able to buy them."
Mrs Martin, who had £25 of stationery in her basket, was asked whether
she wanted to still buy the rest of the items but she declined.
"I can't believe a parent can't buy plastic scissors. They were clearly
labelled and had '3+' on them. "There was a queue of about four people
and it was embarrassing. When I got outside the shop, a man who had been in
the queue came up to me and said 'did that just happen? I don't believe
it'."
Mrs Martin said she had told lots of people about the incident and they
were shocked. "It was a really innocuous little thing. People can't
believe what a nanny state it is. I can understand if you are 16 and there
are blades, but not children's scissors."
She added: "When children are excited they want to put their purchase on
the counter - it's a really natural thing for little ones to want to do."
A spokeswoman for WH Smith said in this case the rules may have been
taken a little too far.
Jobsworth at Tesco
Tesco are trying to clampdown on underage drinking - fair enough.
However, some jobsworth has instructed checkout staff not to serve adults
accompanied by children. Consequently Tesco staff are alienating
customers by refusing to sell beer and wine to adults who happen to have
their children in tow when they are doing their weekly shopping.
For example, Television medium Dominic Zenden could never have predicted
that he would have been barred from buying a six-pack of beer at the
respectable age of 45, which is 27 years over the legal age. And
Debbie Bell, 39, was shocked when staff refused to sell her alcohol while
she was shopping with her 18-year-old stepson.
Each case was in different Tesco store, but both were given the same
jobsworth explanation by staff who refused to serve them.
Mr Zenden, who presents his own show on Sky TV, was stunned when he was
snubbed at the shop in Sprowston, Norwich. The television star was
with his daughter Devon, 15, when he tried to buy six bottles of Budweiser
beer. But staff refused to believe his insistence the alcohol was not
for the schoolgirl - and would not sell him it.
"I was dumbfounded," said Mr Zenden. "There was absolutely no
indication that my daughter would be drinking the alcohol - it was for me.
I fancied a nice cool beer on a warm evening. But the woman told me
that they don't sell alcohol to people who have children with them."
Tesco today said they trained their store workers to ask for proof of age
for anyone present at the purchase who they suspect may consume the alcohol.
Footnote:
This story was send in by Brian
Withers, please send us your amusing jobsworth tales
See the biggest collection of 'Loser of the Week' and heroic failures ever assembled
•
Coolest losers •
Loser week •
Funny loser of the week •
Loser month •
Heroic failures
•
Jobsworth •
American jobsworth •
Plodsworth •
Stupid boy •
Bad luck superstitions •
Home
•
Prison or work? Difference? •
Jerry Builders •
Funny folly houses •
Murphy's Law •
Bad jokes