Here is a video to put you in the Christmas mood. This short clip has all the festive ingredients, snow, snowballs
and that carefree Christmas feeling. After the horses have finished their exertions, I can imagine them hanging up their Christmas stockings.
Here below, is a funny video clip which shows a clever mixture of animation and film.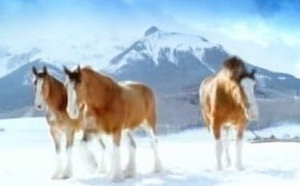 What is the horse doing leaning on that tree?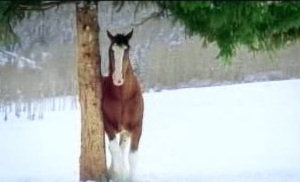 Butter would not melt in the horses mouth, but look at that hoof back-heeling a snowball.
See our funny video clip of the Snowball Fight (Click twice on Play)
---
Jockey - in trouble with the Stewards
Riding the favourite at Cheltenham, a jockey was well ahead of the field. Suddenly he was hit on the head by a turkey and a string of sausages.
He managed to keep control of his mount and pulled back into the lead, only to be struck by a box of Christmas crackers and a dozen mince pies as he went over the last fence.
With great skill he managed to steer the horse to the front of the field once more when, on the run in, he was struck on the head by a bottle of sherry and a Christmas pudding.
Thus distracted, he succeeded in coming only second. He immediately went to the stewards to complain that he had been seriously hampered.
If you have any pictures of snowball fights please send them to us.