Special days at the beginning of February.

The most obvious derivation of the name Candlemas is from the blessing of candles.
In St Luke's Gospel the baby Jesus is presented to the holy man Simeon.
The priest calls Christ 'a light for revelation' thus creating the symbolism
with candles.
The Christian significance of 2nd of February is that this date is forty days after Christ's birth
at Christmas. Moreover, under Jewish Mosaic law the ceremony of
purification takes place 7 + 33 days = 40 days after a child's birth. See picture
right depicting Jesus being purified.
Incidentally, while 'mass' has a double 's', the name is spelt 'Candlemas', like Christmas and
not 'Candlemass', like landmass.
Celebration for Candlemas Around The World
In France, Candlemas is known as La Chandeleur. Crêpes are served with the
evening meal. One superstition is that if the cook can flip the crêpe while
holding a coin in the other hand, the household is assured of prosperity in the
coming year.
The Mexicans refer to Candlemas as Día de La Candelaria. There the local
delicacy is Tamales. These are made from corn meal dough and filled with
meat, cheese, and especially sliced chili. Tamales are cooked, or rather
steamed in pots, and not baked in the oven like Tortillas.
Imbolc, the 1st Cross-quarter Day
February 2 is also significant because it falls nearly midway between the winter
solstice and the spring equinox. Other Cross-quarter days roughly
correspond to Beltane or May Day, Lammas (1st of August) and Halloween. It
is most likely that the ancients weren't as precise as modern astronomers in
calculating these dates. Moreover the precise date may have been
fine-tuned to climatic conditions prevalent at a particular latitude.
True Cross-quarter Days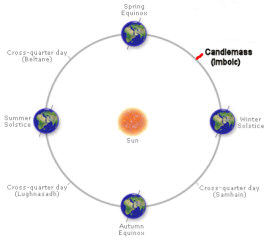 Feb 4 Near Candlemas
May 5 Near Beltane (May day)
Aug 7 Near Lammas
Nov 7 Near Samhain (Halloween)
Imbolc
The Celts in general and the Irish in particular have a different name for
Candlemas - Imbolc. At this time of year lambs are born and the name Imbolc
means in the (Ewe's) belly.
Other pagan superstitions and rituals focus on using this day to forecast
whether spring truly has arrived. In Europe the chief priest or grand
wizard would check whether hibernating mammals such as badgers were emerging
from their burrows. Does this ring a bell? Could this be a
pre-cursor to Groundhog day?
In Scotland this spring festival is also known as Là Fhèill Bríghde, in
Ireland it is called Lá Fhéile Bríde, and in Wales as Gwyl Ffraed. When
Christian influences sought to play down the pagan influences, without
completely alienating the population they created Saints' days such as St Brigid's
Day on the 2nd of February.
Footnote:
Please send us your interesting facts about
Candlemas or Imbolc.
See more Saints Days and other special days in
spring :
• Australia Day •
Up-Helly-Aa •
Groundhog Day •
Shrove Tue •
Candlemas •
Happiness Day
•
Special Days •
St David's Day •
Charles Dickens •
St George's Day •
Shakespeare's Day
•
Cherry blossom day •
May Day •
Special day today •
St Patrick's Day •
Lady Day