Here is a crash video clip showing a helicopter crashing in a field. The chopper seems to be on manoeuvres with a squad of soldiers. This clearly is not a faked crash, just fortuitous that someone
was filming the helicopter. Let us hope that nobody was hurt and that the video clip helped the accident team find out what went wrong.
Stage 1 - All seems well in the helicopter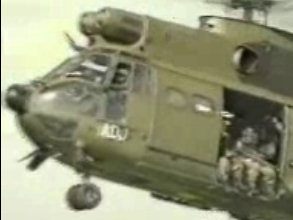 Stage 2 - See the crazy angle of the helicopter's wheels.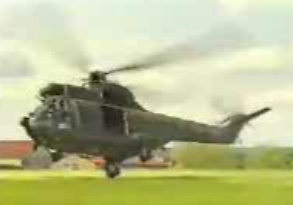 Stage 3 - Hitch a rope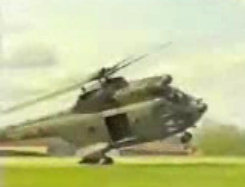 Stage 4 - Take the Strain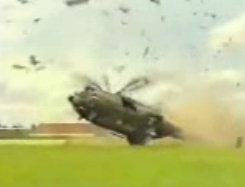 Check out the full story in our Helicopter Crashes Video Clip
N.B. With some browsers you need to click twice on the Play arrow

to start the video.
N.B. Help for Mozilla browsers
Free Crash Video Clip - Helicopter Goes Down (Right Click, Save Target As)
Helicopter Crashes:

A Mi-24 was practising auto rotations during a military training exercise and
having a problem landed on the tail rotor. It ended up careering down the runway
doing 360 degree turns in a brilliant shower of sparks.
As the Mi-24 passed the tower, the following exchange was overheard:
Tower: 'Sir, do you need any assistance?'
Pilot, Mi-24: 'I don't know, tower. We haven't finished crashing yet.'
Mi-24 helicopter gunship and low-capacity troop transport, at present flying
in Afghanistan; note the rather special livery painted like a bird of prey.
Helicopter Lessons:
Hilary received a voucher for helicopter flying lessons as a Christmas
present. She decided to take advantage of the opportunity and drove out to
Tangmere aerodrome in West Sussex, UK, to take up her opportunity.
When she arrived at the place, the instructor explained, 'OK , there's only
one helicopter here at the moment, and it only has one seat, if I show you how
to fly it, do you mind going up solo, on your own?'

Hilary, never short on confidence, agreed wholeheartedly, 'Oh of course! I
can handle it.'
The instructor he showed her the workings of the helicopter and its
instruments were fully explained to her during the morning and Hilary went on
her flight in the afternoon. The instructor insisted that she radio in every 400
feet just to make sure everything was going smoothly. At 400 feet, she radioed
in saying, 'Yippee, this really is fun.' At 800 feet, Hilary radioed in again
saying, 'This is easy, I can do this all day.' At 1200 feet, she didn't send a
radio message and the instructor waited in some trepidation. Seconds later he
heard an explosion in the field next to the aerodrome. He ran out to see what
happened; Hilary had crashed.
Luckily she survived, 'What happened?' he demanded.
'Well, everything was going really well when I started to feel very cold, so
I just turned off the big fan.'
Footnote:
Please send us your helicopter crashes
video clip
See more funny plane pictures and videos. Also
aircraft and pilot jokes
•
Planes and Pilots Home •
Low Flying •
Plane Illusion •
Plane, Lucky Escape • F-15
Hoax
•
Flight 1549 Rescue •
Airports & Airstrips •
Will's Plane Landing? •
Typhoon F2 Approach
•
Helicopter Crashes Video •
Grandma Flying •
Yorkshire Airlines •
Russian Air Show •
Home