The word pumpkin derives from the Greek word pepon, which means "large
melon". Thus you could think of the Pumpkin babies as little melons.
Pumpkin Patch Babies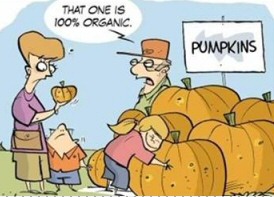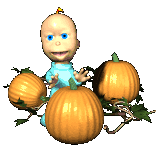 Poor Pumpkin Baby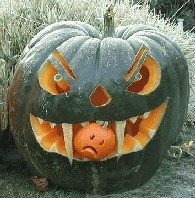 Scary Pumpkin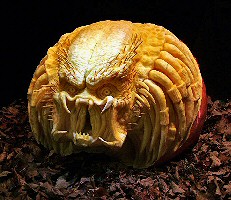 What a lot of work went into creating this pumpkin baby!
Pumpkin Teddy Bear & Monster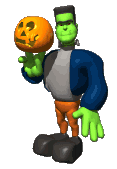 May Jack-o-lanterns burning bright
Of soft and golden hue
Pierce through the future's veil and show
What fate now holds for you.
See how to make your Jack-o-Lantern
Famous Pumpkin Babies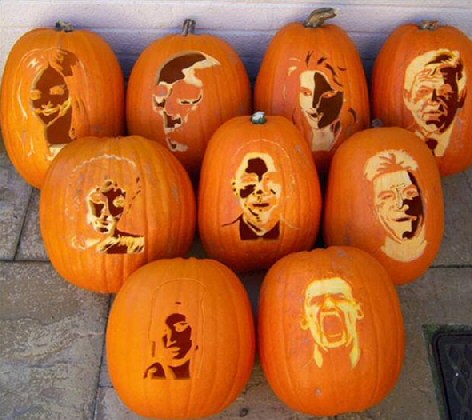 Are you able to determine the celebrity character shown by Will and Guy?
[above] These pumpkins have been carved by gardener David Finkle
Rather than carving out the traditional sinister smiles on his prized
fruit for Halloween, gardener David Finkle is busy carving out the faces of
his favourite stars for decorative "jack-o'-lanterns." David, 30, has carved
out the faces of X Factor judge Simon Cowell, glamour model Jordan and Prime
Minister, Gordon Brown on the fruits of his labours which grow on his small
holding in Chelmsford, Essex, England.
Other celebrity pumpkins he has completed include singer Amy Winehouse,
Manchester United and England soccer player, Wayne Rooney, Girls Aloud
singer Cheryl Cole, Michael Jackson and US president Barak Obama. [see
below]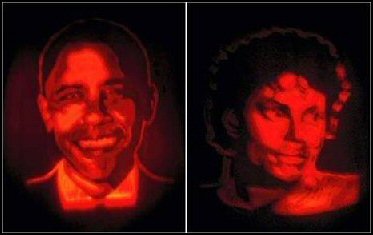 Halloween Pumpkin Cats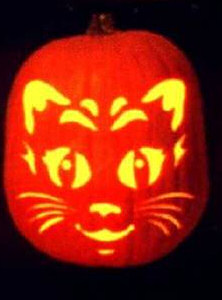 Will and Guy's Savoury Pumpkin Pie Recipe
The secret of making a good savoury pumpkin pie is to use as little pumpkin as possible! Just retain the shell to give the illusion of a Pumpkin Pie! Let me explain, pumpkin is pretty tasteless,
thus replace the flesh with your favorite food.
If you like savoury dishes such as rice then make a tasty
risotto, and use it to fill the pumpkin; should your preference be for curry, then stuff the pumpkin with a chicken masala. For those who like chili - see here for ideas.
Once you have added your favorite dish into the pumpkin shell, cook in the oven as normal. 30 minutes at 450 °F is a good starting point. Put back in the oven if the dish needs more cooking.
The skill of this technique is to select the size of pumpkin to match the number of people you wish to feed.
Traditional Sweet Pumpkin Pie Recipe
For a more traditional cinnamon and ginger Pumpkin Pie, here is a recipe.
Ingredients:
2 cups of fresh pumpkin
1 cup sugar
1/2 teaspoon ground ginger
1 teaspoon ground cinnamon
1/2 teaspoon salt
2 teaspoons of flour
2 eggs
1 cup of evaporated milk
2
tablespoons water
1/2 teaspoon vanilla extract
1 unbaked pastry shell (10-inch)
Preparing:
Throw the pumpkin into the mixing bowl, add the sugar, salt, spices, and flour. Crack the eggs; mix well. Add
evaporated milk, water, and vanilla; give it a good stir. Pour into pastry-lined pie pan.
Cooking:
Start cooking at 420°F for 15 minutes; then reduce oven to 350°. Bake for another 40 minutes until the center is set.

From One Pumpkin to Another!
A co-worker asked Abegale,
'What is it like to be a Christian?'
Abegale replied, 'It is like being a pumpkin.' God picks you from the
patch, brings you in, and washes all the dirt off of you. Then He cuts off
the top and scoops out all the yucky stuff.
He removes the seeds of doubt, hate, and greed. Then He carves you
a new smiling face and puts His light inside of you to shine for all the
world to see.'
This was passed on to us by another pumpkin called Joe Muise. We liked
this enough to send it to all the pumpkins in our patch. Now it's your turn
to pass it to other pumpkins.
The Fate of Baby Pumpkins
It is true that, after we have carved it, most of the pumpkin ends up in
the bin. In fact, in the USA, where Halloween has spawned a multibillion
dollar industry, it is estimated that more than 90% of pumpkins that are
grown are never eaten.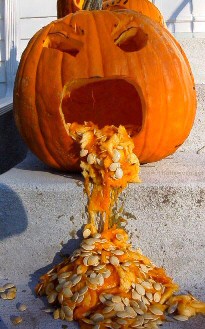 Will and Guy feel that this wastefulness is a pity.
1. Firstly, these gourds are very tasty. Not many things are more
comforting than a good pumpkin soup.
2. Second, it takes a lot of water,
warmth and, often, pesticides to grow these bulbous beasts - especially if
there is a poor summer.
We have discovered that the smaller varieties offer the best flavour. The
football-sized Jack-o-lantern pumpkins that most of us buy to carve are
usually Howden Fields, Hundredweight or Connecticut Fields. The truly
massive pumpkins grown to show, some weigh up to half a tonne, are Atlantic
Giants, typically. If you want a variety to cook and sculpt, try Jack of all
Trades, Jaspee de Vendee or Baby Bear.
Or perhaps you may choose to use beetroots or turnips to sculpt out the
'souls of the dead', just as the Irish did before emigrants discovered
pumpkins on arriving in the USA.
Once you are finished with the hollowed-out skin, compost it, or do as
Martha Stewart does: cut it into two halves, fill it with seeds and hang up
as giant bird feeders.
See how to make a Jack-o-Lantern »
Footnote:
Please send us your pictures of Halloween
pumpkin babies.
See more funny Halloween pumpkin carvings and
Jack-o-lantern pictures
•
Halloween jokes
•
Halloween pictures • Pumpkin
jokes •
Jack-o-Lantern •
Home - Clean jokes
•
Pumpkin carvings •
Pumpkin carving designs •
Pumpkin babies •
Stamps • Coven of witches
• Optical
illusion •
Halloween fashion
• Halloween 2012 Date
•
Halloween stories • Bonfire Night