These funny street signs make Will and Guy
ponder: 'Who made the decision to compose these notices?'
Dumb Woman's Lane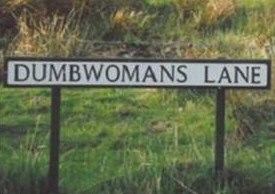 Incongruous Flood and No Footway
Signs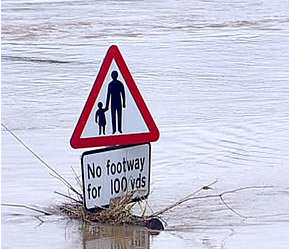 It never rains, but it pours.
The Last Word in No Parking Signs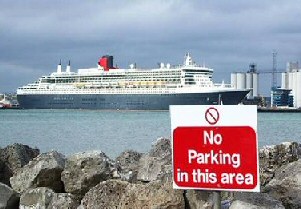 Never Mind - Keep on Drinking to the Bitter End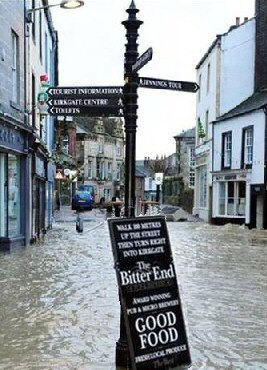 Sign-writer Had One Beer To Many?
A local resident snapped this photo (left) in Chadderton before council workers came back to correct their
mistake.
A spokesman for Oldham Council told us, 'a genuine error was made by
staff'.
Chadderton is about 7 miles north of Manchester, England.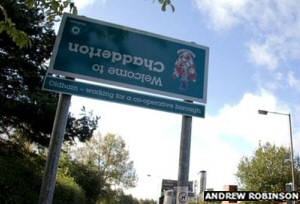 Silly Street Signs in and
Around Town
No Entry to This Street? - And Two Way Traffic?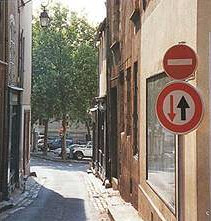 This confusing combination of signs reminds Guy of driving in Spain, every
side-street seemed 'No Entry'; the signs conspired to lock me into the
city centre.
Perhaps This Sign Clarifies Traffic in This Street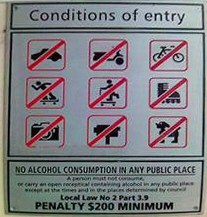 Maybe not!
Here is Another Funny Street Sign that Defies Logic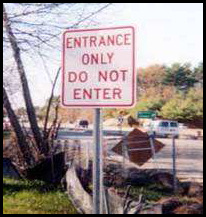 A classic stupid notice. Will and Guy muse, how much do
sign-writers mistakes cost the economy?
Chichester Tales
Dunstan's Choice
The naming of new streets is the responsibility of the parish council of
the area in which the street occurs. However it is usual for developers to
put forward their preferred names, which, if fitting, are agreed by the
council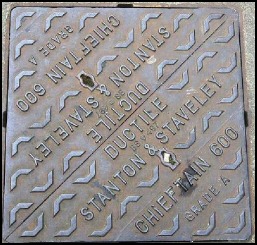 One of the most unusual tales concerning the source of street names must
be that of the small estate of detached houses that were built in a Georgian
style on the site of the former gravel workings off The Drive in
Summersdale. Apparently the authority had received no reply to their letters
asking for suggestions of names so, when the day of the committee meeting to
consider these matters arrived, a council officer rang the site to request
the names.
Allegedly it was a hot day and Mr Dunstan, the site foreman who took the
call, had more pressing matters to deal with, he looked out of his site
office window where Messrs Harberton's lorry was delivering cast iron
drainage goods from the well known firm of Stanton and Staveley Ltd. He
quickly reeled off four names, Harberton Crescent, Staveley Gardens, Stanton
Drive and Dunstan Close.
The names were taken down and that evening adopted by the Committee, it
was some time before their significance was realised but by that time
Chichester had possibly the only streets in the United Kingdom named after a
load of manhole covers.
[Kindly sent in by Ken Green]
Out of Town Funny Street Signs
Obey This Sign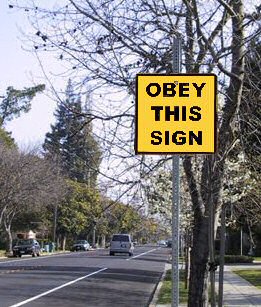 Secret Bunker - Not any more!
I thought we British were good at intelligence! Perhaps this is all a fiendish plot designed in the secret bunker to confuse the enemy?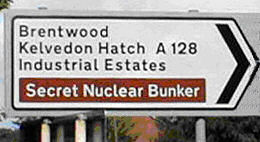 See more funny pictures of road signs in
the UK
A Town Worth Visiting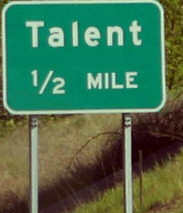 Whitebeam 'No Parking' Tree
A newly discovered species of tree has been named 'No Parking'. What
happened was the National Museum of Wales set about finding new species, or
sub-species of trees. They discovered a new whitebeam and named it 'Sorbus
no parking'.
The team did not confine their search to Wales and they found this new
tree growing in a layby at Watersmeet in North Devon, UK. As this was
a layby, a local official had once nailed a 'No Parking' sign to the trunk
of this particular tree.
When they listed the no parking whitebeam in Watsonia, the official
journal of the Botanical Society of the British Isles, they chickened out
and called it Sorbus admonitor (Admonish tell-off).
Two anniversaries coincided with this search for new species in March
2009, the bicentenary of Charles Darwin's birth and the 150th anniversary of
the publication of his seminal work 'Origin of the Species' in 1859.
Silly Plaque

Footnote:
Please send us your funny street signs
See more pictures of funny road signs, featuring
cars and street notices
•
Funny traffic signs •
Funny road signs
• Funny road signs UK •
Funny animal road signs
• Pictures of stupid signs •
Funny car pictures •
Dyslexic signs •
Funny garbage •
Funny signs
• Pointless signs •
Funny street signs •
Funny no parking signs •
Parking yellow lines
• 'No' signs