Here is Will and Guy's collection of funny snow
caricatures, cartoons and funny picture.
Funny Santa
Cartoons
Funny Christmas
Cartoons
Snow Rage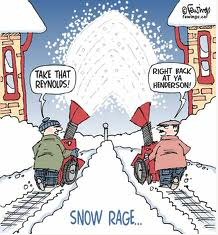 Did You Know?
The latest cold spell which has brought chaos to parts of the UK has its
funny side also. Heard on BBC Radio was an announcement which said, 'The Open
Air Winter Wonderland Show in Cardiff, Wales, has been closed because of the
snow.' [You couldn't make it up!]
Ski Chat Up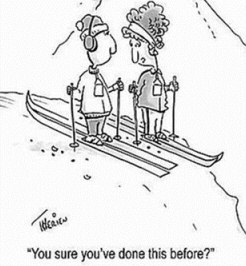 More Snowy Cartoons and Joke Pictures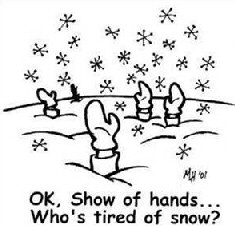 Not a

Snow


Cartoon - But Still Funny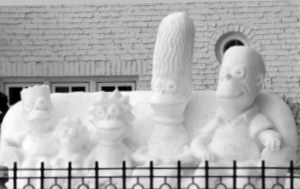 The Simpsons at home for Christmas
Funny Snow Men and Snow Women Cartoons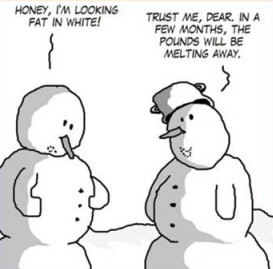 Saga of
Bus Mowing Down Snowman
A HAPLESS bus driver in the US has resigned after his bus was videoed
colliding with a 1.2 metre snowman standing in the road.
The hit-and-run was captured in the University of Illinois campus and
posted on Youtube on Dec 4, along with the title "Insane Bus Driver Brutally
Murders Snowman."
In the video clip, a car carefully swerves the snow-clad obstacle on the
icy road, whereas the public transit bus veers onto the wrong side of the
road and annihilates the unwanted object. The video has been watched more
than 66,000 times since its release, and the number of hits is likely to
rise.
According to Champaign-Urbana Mass Transit District spokeswoman Jan
Kijowski, it is highly likely that the driver has quit after his deed became
known.
After the video had been posted and spread on the website, it stirred a
controversy over who is responsible -- the bus driver or the person who
deliberately made a snowman on the road.
The driver said he had seen two cars almost crash trying to avoid the icy
impediment, and decided to get rid of it. Amid the hot debate, more than 800
Facebook users insisted that the bus driver be restored to his former
position.
The Korea Herald/Asia News Network
How Dogs Cope with Snow - Or Not!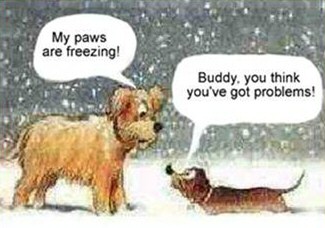 Classic Snow Scenes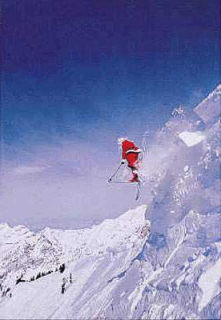 One More Funny Snow Cartoon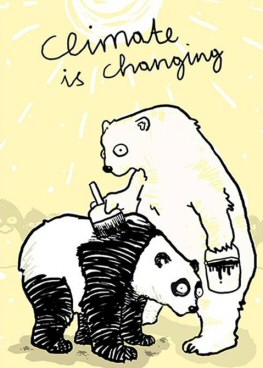 See polar bears with huskies
Footnote:
Please send us your clean
but funny Christmas cartoons
See more amusing Christmas pictures and funny cartoons:
∗ Funny Christmas cartoons
∗ Snow pictures
∗ Funny Christmas riddles
∗ Funny turkey
pictures
∗ 'Feel good'
Christmas pictures ∗
Snowmen pictures ∗
Funny Christmas pictures
∗
Home
∗ Traditional Christmas food
∗ Nativity
animation ∗ Funny advent calendar
∗
Funny Santa sleigh